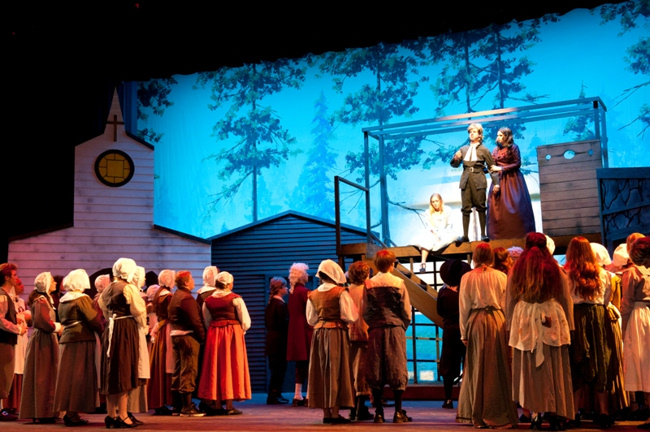 In 1666 in the Massachusetts Bay colony, Puritans and Algonquian have an uneasy truce. Hester arrives from England, seeking independence. Awaiting her husband, she establishes independence, fixing up a house, befriending Quakers and other outsiders. Passion draws her to a young pastor. He feels the same, and when they learn her husband has probably died at the hands of Indians, they consummate their love. A child is born, and without her husband at hand. Accusations and public humiliation ensue, whereupon she is forced to wear a scarlet letter as punishment. Her husband appears in disguise after a year living with Indians. Calling himself Chillingworth, he is disgraced, angry, and seeks revenge, searching out Hester's lover and stirring fears of witchcraft. The story finally ends in a tragic confession by the minister, which ultimately kills him. Chillingworth dies within a year later and Hester and Pearl set off to England. Hester returns to the colony, however, to be near the remains of the one she loved, voluntarily wearing the scarlet 'A' upon her chest for the rest of her life.

Senior Finn Mitchel plays Chillingworth, the antagonist. "I feel it's very important for high school students to see," he said. "We study the book in school but seeing the play is different from reading it. You see life lessons, how they were applied back then and how they apply today. When you see it on a stage, you are much more able to pick up on it."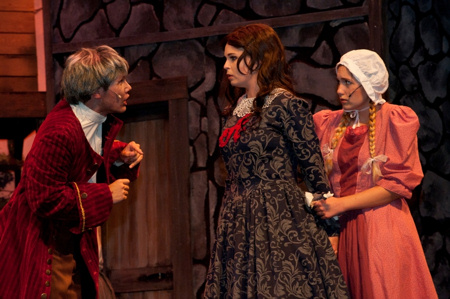 Junior Alyssa Hall plays Hester Prynne. "I auditioned for Hester because I thought it was a strong female lead and it was a really challenging role," said Hall. "I felt I'd be up for the challenge. I think the story is really powerful. It's one of the greatest tragic love stories ever written."



Senior Mason Marie portrays Dimmesdale. "The most challenging aspect of the play for me is being able to communicate Dimmesdale's inner torment – he's shirked his responsibility for seven years – and communicate it well to the audience without seeming overdramatic," he said.
I believe APA really outdid themselves in this amazing stage presentation. I was mesmerized throughout the entire production and found the dramatic elements not on histrionic, but powerful and gripping.

Another thumbs up for APA!
Performed April 23 - 26, 2015
Chris Daniels
National Youth Arts
~ Cast ~
Add Artist Page


Hester Prynne: Alyssa Hall
Arthur Dimmesdale: Mason Marie
Chillingworth: Finn Mitchel
John Wilson: Jacob Menke
Pearl: Haley Blizzard
Mistress Hibbins: Katie Peterson
Gov. Bellingham: Grant Rincon
Student 1: Kate Napoli
Student 2: Sam Johnson
Student 3: Shannon Mahoney
Student 4: Nicholas Stenseng
Goodwife 1: Caitlyn Abrahams
Goodwife 2: Brooke Teasley
Goodwife 3: Amaras Miller
Goodwife 4: Kayla Boogar
Goodwife 5: Emma Baltadano
Townsman 1: Benjamin Belhassen
Maiden 1: Sidney Farrar
Maiden 2: Rachel Fishbough
Maiden 3: Brooke Robinson
Townsman 2: Charles Warren
Townsman 3: James Volonte
First Girl: Thuany Cruz
Second Girl: Makena Low
Third Girl: Megan Krizan
First Boy: Erik Drake
Second Boy: Andy Jacobson
Other Children:
Madison Correia
Aaron Stafford
Jaqueline Urquieta
Ethan Valonte
Alex Vasquez
Beadle: Nathan Coffey
Judge: Ethan DeMarino
General: Christopher Delfino
Brackett: Alberto Hernandez
Bond Servant: Lucy O'Connell, Hannah Looper (4/25)
Seaman/Indian: Jacob Mesa
Townspeople:
Maddison Hamonds
Ilana Simon
Adriana Sweigart
Townspeople/Witches:
Mia Palacious
Valerie Robfogel
Taylor Thomas
Bumpkins:
Tristen Blackwell
Brigette Butler
Hannah Looper
Claudia Valenta
Ayla Valentine

Director: Robert Rotenberry
Technical Director: Joe Batte
Costume Supervision: Rachel Engstrom
Stage Manager: Tommy Hinchee
Lighting Designer: Isabella DiLauro
Scenic Designers: Wendoly Espitia, Allison Pickle
Costume Designers: Katelyn Mandich, Kamari Rhone