The Huntington Beach Academy for the Performing Theatre department's annual dinner show was held September 8th through the 11th this year at Huntington Beach High School. The Academy featured this year's production - "Rumors," which is a comedy farce written by Neil Simon, and directed by Jojo Bogard, a graduate of USC's Cinema School. It will run in the APA Studio Theater (Black Box) located behind the Historic Huntington Beach District Auditorium and Bell Tower on the HBHS campus at 1905 Main St. Huntington Beach, CA 92648.

Ms. Bogard's unique directing style added a twist to the original production on Broadway in 1988. "Rumors has been produced by many theatres and High Schools," said Bogard, "but I've never seen them really take it to the 1980's. So enjoy this homage to my favorite decade."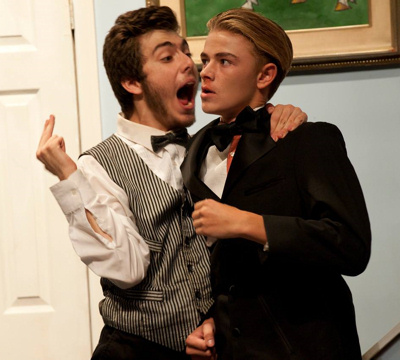 At a large, tastefully appointed Sneden's Landing townhouse, the Deputy Mayor of New York has just shot himself. Though only a flesh wound, four couples are about to experience a severe attack of Farce. Gathering for their 10th wedding anniversary, the host lies bleeding in the other room and his wife is nowhere in sight. His lawyer, Ken and wife Chris must get "the story" straight before the other guests arrive. As the confusions and miscommunications mount, the evening spins off into classic farcical hilarity in this Tony Award-winning play.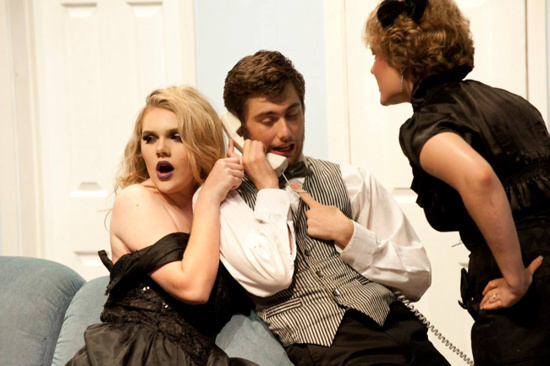 According to Theatre Department Chair Robert Rotenberry, this was the Theatre department's biggest fundraising event of the year. "2016-2017 looks to be an incredible season as we add three new directors to our staff. Jojo was fearless directing two casts of 'Rumors,' which gave twice as many actors the chance to perform for you. The shows will make you laugh, cry and marvel at the magic of theatre."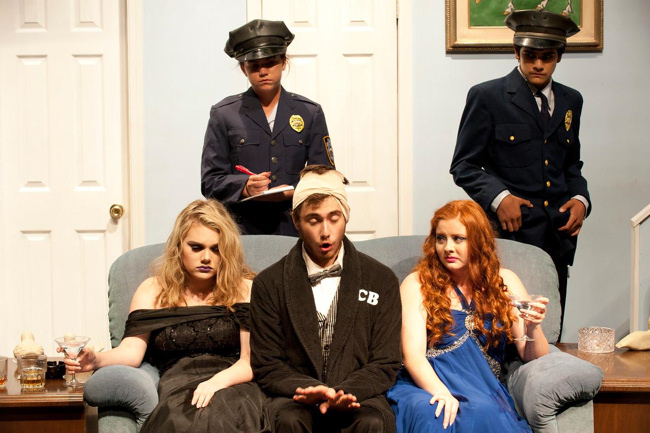 Courtesy of MMET Pop, there was an 80s music preshow one hour before each curtain call to reflect the time period of the production, raffle baskets and heavy dinner-style appetizers. Cost: VIP reserved seating was $40 and general admission was $30. Both ticket types covered dinner, dessert and show.

Performed September 8 - 11, 2016

Chris Daniels
National Youth Arts

~ Cast ~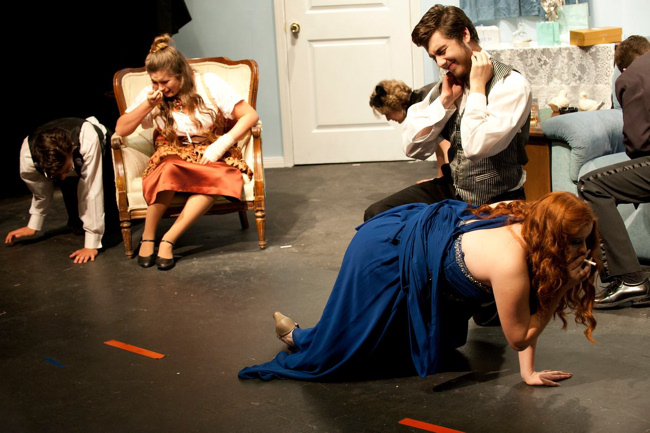 Add Artist Page

Ken Gorman: Daniel Lesnick
Chris Gorman: Kaylie Flowers
Lenny Ganz: William Boyer-Montgomery
Claire Ganz: Mia Palacios
Ernie Cusack: Christopher Delfino
Cookie Cusack: Cassie Walsh
Glenn Cooper: Foster Kirkconnell
Cassie Cooper: Alisha Sweeting
Officer Welch: Nathan Coffey
Officer Pudney: Ilana Simon

Director: Jolene "Jojo" Bogard
Costumes: Courtney Gilio, Dixie Chatt, Gianna Francisco, Marissa Wilson, Malia Wu
Hair/Makeup: Danielle Bazan, Julia Capelle
Set Design: Joe Batte
Lighting Design: Faith Burke, Seth Haden, Staciabella Roy
Sound Design: Robert Adams
Choreographer: Clayton Zarate
Musical Director: Anthony Grisham
Other Cast:
Matthew Miltimore................KEN GORMAN
Valerie Robfogel.................CHRIS GORMAN
Max Vallocchia...................LENNY GANZ
Vivian Cronk.....................CLAIRE GANZ
James Volonte....................ERNIE CUSACK
Alya Valantine...................COOKIE CUSACK
Stone Sharp......................GLENN COOPER
Catlynn Yates....................CASSIE COOPER
Jacob Mesa.......................OFFICER WELCH
Taylor Thomas....................OFFICER PUDNEY

The Band - Night After Prom
Kameron Moon - Drums
Zach Mustafa - Guitar
Aiden Petersen - Keyboard
Sam Sitton - Vocals
Carla Laszlo - Vocals
Atreyu Adams-Meacham - Bass & Vocals
Ian Westerbeck - Guitar
Supervised by MMET Master Teacher: Anthony Grisham