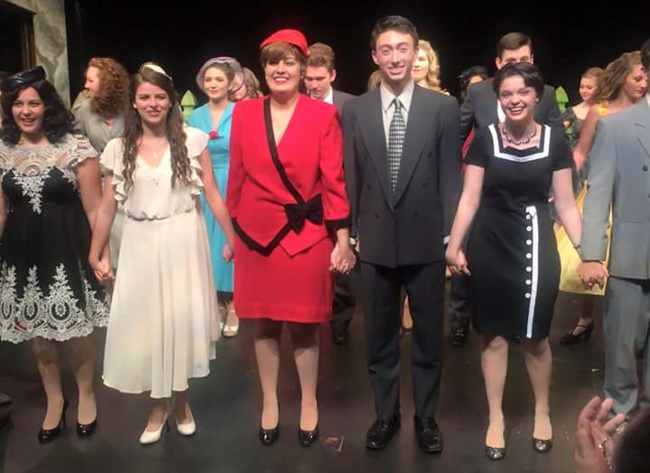 Based on Elizabeth Spencer's 1959 novella of the same title, "The Light In The Piazza," from the Huntington Beach Academy of Performing Arts, is running from January 14th through the 17th and centers on a domestic but gripping drama.

At APA's Studio Theatre, the story unfolds on a simple set consisting of shimmering pieces of marble and uncomplicated props. Director Tim Nelson has assembled a cast of strong actors with gorgeous voices who make the substantial amounts of Italian dialogue and lyrics sound utterly authentic.

In 1953 Margaret (Rossella Juliano), a wealthy American woman, and her unusually innocent daughter Clara (Katherine Chatman) are touring Italy, when in Florence Clara and a charming local boy Fabrizio (Cole Wachman) fall in love. With matters complicated by the language barrier (some of the dialogue and songs are in untranslated Italian), the over-protective Margaret has to decide whether Clara and Fabrizio's love is real and whether to reveal a secret about Clara that could jeopardize Clara's happiness. As the couple appear headed for marriage, Margaret's dilemma grows more urgent by the day.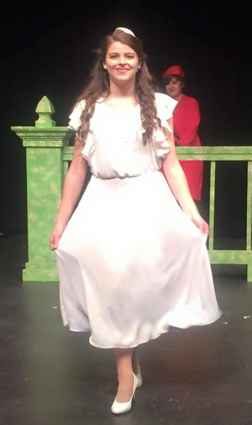 Guettel's score, played in a scaled-down version with keyboard, piano, percussio and flute, is simply gorgeous. One beautiful song follows the next, complex both in structure and mood. Although the main leads are all on wireless mics, it's almost unneeded in this intimate close audience gathering. Throughout the show, sung monologues and dialogues are perfectly delivered. Adrian Villegas is suave and wise as Fabrizio's father. Grace Bowen is tart and commanding as Fabrizio's unhappy sister-in-law. Margaret's meditation on the emotional distance that has come between her and her state-side husband in "Dividing Day," is melodic and brooding. Clara's cascading "The Beauty Is" captures the yearning and uncertainty of youth. Allyson Peffers plays an authentic Franca, and Giuseppi Naccarelli is played by the multi-talented Marcus Veyette.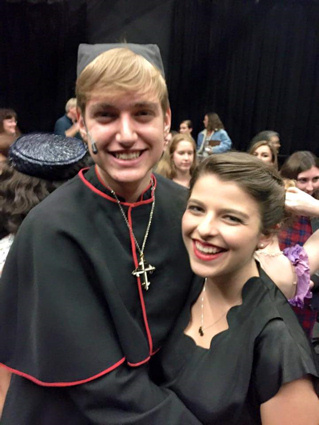 Margaret as the narrator for the audience is also the anchor figure and Rossella Juliano is exquisite in the part. A truer match of look, manner and role is hard to imagine. Katherine Chatman, who has a voice that really transcends as it grows louder, is ideally cast as Clara. Her characterization of Clara is at first puzzling, until a plot point is revealed that makes perfect sense, and gives us a nice "aha" moment, right before the intermission. Cole Wachman is delightfully captivating as he pours out his heart to Clara in Italian and conveys all the joys and anguish of Fabrizio's love. Lovely costumes by Carole Zelinger, Melissa Cook's clear sound and Chris Caputo's unobtrusive lighting round out the beautiful staging of a tale that may leave you feeling reminiscent of Sondheim — haunting and poetic with a rich, lush score.

Fortunately, for the art form and those who love it, there are composers like Adam Guettel who believe a musical can be a true work of art. That's exactly what Piazza is, a sublime, neo-romantic creation that pushes the boundaries of what music theatre can be.

Performed January 14 - 17, 2016

Chris Daniels
National Youth Arts

~ Cast ~

Add Artist Page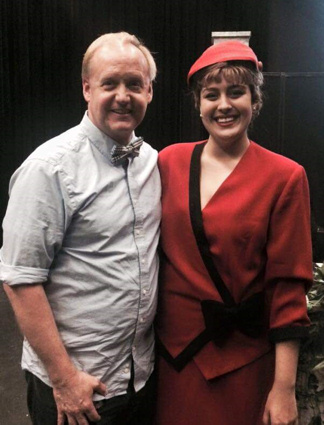 Margaret Johnson: Rossella Juliano
Clara: Katherine Chatman
Fabrizo Naccarelli: Cole Wachman
Signor Naccarelli: Adrian Villegas
Franca: Allyson Peffers
Giuseppi Naccaretti: Marcus Veyette
Signora Naccarelli: Grace Bowen
Roy Johnson: Adam Blanchard
Priest: Austin Schulte
Tour Guide: Vivian Cronk
Maid: Kat Lewis
Waiter: Riley Hayward
ENSEMBLE:
Taylor Aragon
Lauren Beebe
Allison Bossart
Sophia Courtemarche
Vivian Cronk
Brenna Donovan
Cassidy Dorain
Natalie Doumanian
Chyna Gudgel
Darla Jacobs
Maggie Keller
Kat Lewis
Cassidy Love
Alicia Mansfield
Bailee O'Connell
Selah Rabin
Tessa Rawlinson
Riki Resch
Dorothea Seibert Von Fock
Mallory Stiles
Paige Taylor
Autumn Thelander
Helen Thorme
Nina Wheeler
Riley Hayward
Alberto Hernandez
Michael Kriesel
Sean McCrimmon
Seth Merrill
Austin Schulte
Damon Williams
Clayton Zarate
ADDITIONAL CAST MEMBERS:
Clara Understudy - Autumn Thelander
Guiseppi - Sam Melvin
Signora Naccarelli - Autumn Kirkpatrick

Director: Tim Nelson
Costume Design/Hair/Makeup: Carole Zelinger
Set/Lighting Design: Chris Caputo
Sound Design: Melissa Cook
Choreographer: Diane Makas
Musical Direction: Tim Nelson