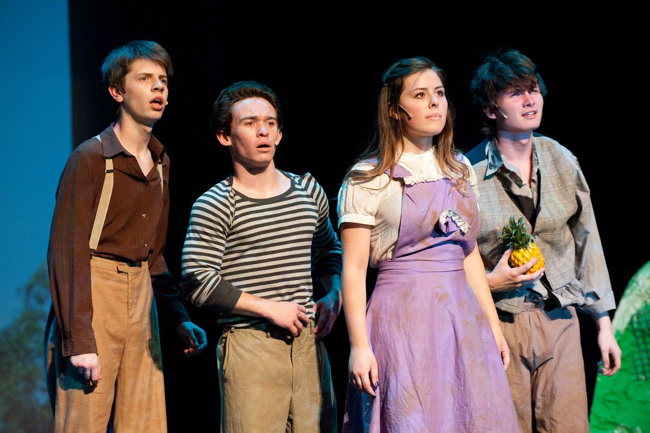 The renowned Huntington Beach Union High School Academy for the Performing Arts presents Peter and the Starcatcher, directed with abundant skill and verve by Robert Rotenberry, April 6th through 9th at The Huntington Beach Historic Auditorium and Bell Tower. APA once again sets the bar high, marshalling an ensemble of super-energized young performers to cavort through this prequel to "Peter Pan." And they do so with the eagerness of a kid taking flight for the first time.

Rick Elice's ("Jersey Boys") Tony-winning adaptation was written by Dave Barry and Ridley Pearson, and is a magical adventure that takes Peter from his beginnings as a mundane English orphan boy to being an immortal flying boy on the magical island of Never Land.

When the intrepid young co-protagonist Molly and her eminent father Lord Aster (Daniel Lesnick) hit the high seas bearing a valuable cache bound for Queen Elizabeth, they encounter some nasty buccaneers, and Molly teams up with "lost boy" Peter and his friends.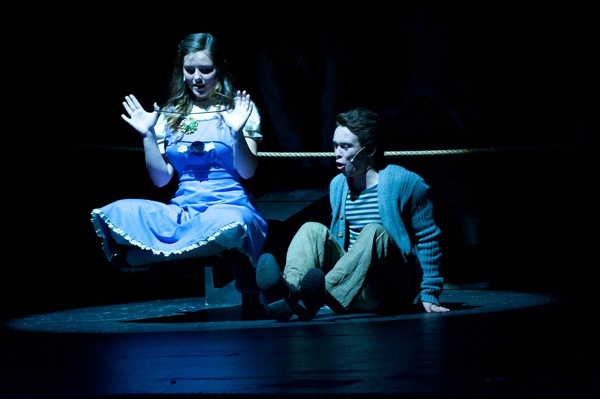 After some pirate shenanigans, and a switcheroo of cargo between two ships, the amusingly convoluted plot lands Peter, his ragamuffin pals and the very plucky and initially condescending Molly into many a threatening jam.

Isabelle Krajewski anchors the show emotionally as teenage Molly, whose mission is to protect a trunkful of magic at all costs. Miss Krajewski exhibits a bravery and clarity of purpose that gives the lost boys a worthy model of heroism to emulate. The tale is assuringly contemporary in its feminist insistence that girls can be as smart and as brave as boys, and that mental agility and collaboration may help you out of jams more than swordplay or fisticuffs.

With stage presence to burn, Coleton Ray fully embodies the larger-than-life melodrama and villainy of Black Stache, the plummy precursor to Captain Hook, with a lanky, sneering charisma. And Andy Jacobson plays young Peter with a lanky athleticism and wistful yearning for wide-eyed adventure. Valerie Robfogel steals scenes with conviction as Ms. Bumbrake, an English teacher who somehow fuses saucy seduction with high propriety. Max Vallocchia is amusing and nuanced as Stache's sidekick Smee; James Volonte adds brio to the role of Captain Scott and Matthew Miltimore is an authentic Prentiss.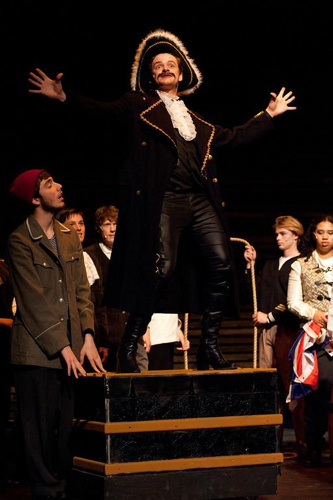 An army of scenic designers and artists, Faith Burke's golden-hued lighting, and a strong trio of costume designers help make a magical world seem hyper-real. The designers, directors, supporting cast and ensemble deserve a big hand — though no one should be surprised if Black Stache steals it.

By the end of the show, you may not quite believe that Peter Pan can fly, but you'll be soaring high from this stellar cast and crew.

Performed April 6 - 9, 2017

Photos by Benjamin Jones

Chris Daniels
National Youth Arts

~ Cast ~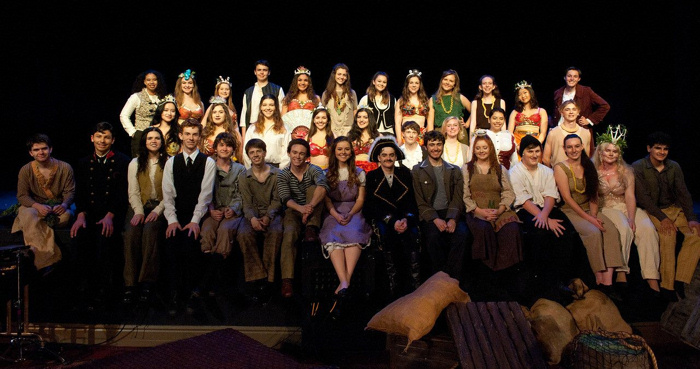 Add Artist Page

Boy/Peter: Andy Jacobson
Prentiss: Matthew Miltimore
Capt. Scott: James Volonte
Smee: Max Vallocchia
Molly: Isabelle Krajewski
Lord Aster: Daniel Lesnick
Ted: Christopher Delfino
Black Stache: Coleton Ray
Fighting Prawn: Taylor Thomas
Slank: Lucy O'Connell
Mrs. Bumbrake: Valerie Robfogel
Alf: Jake Schroeder
Grempkin: Nathan Coffey
Cat: Kyle Martinson
Greggors: Max Vallocchia
Seaman:
Ayla Valantine
Kaylie Flowers
Mia Palacious
Nathan Coffey
Catlynn Yates
Mack: Stone Sharp
Merchant Sailors:
Katherine Lane
Olivia Pfost
Sophia Shajari
Taylor Thomas
Julia Quang
Sanchez: Jackie Urquieta
Pirates:
Kara Tran-Wright
Frankie Shulte
Levi Lindsey
Ilana Simon
Tatum Allen
Kenny Cook
Orphans:
Destiny Van Wormer
Aoi Tsuda
Mia Palacious
Morgan Aranda
Kyle Martinson
Jillian Ponchak
Jacob Mesa
Frankie Shulte
Chloe Reiderich
Ayla Valantine
Sea Gull: Taylor Thomas
Boxing Announcer: Levi Lindsey
Mermaids:
Morgan Aranda
Kaylie Flowers
Chloe Riederich
Mia Palacios
Ayla Valentine
Destiny Van Wormer
Aoi Tsuda
Julia Quang
Jillian Ponchak
Christopher Delfino
Daniel Lesnick
Matthew Miltimore
Coleton Ray
Jake Schroeder
Stone Sharp
Yellow Bird: Ilana Simon
Hawking Clam: Jacob Mesa
Mollusks:
Lucy O'Connell
Kenny Cook
Frankie Shulte
Levi Lindsay
Nathan Coffey
Tatum Allen
Ilana Simon
Katherine Lane
Kyle Martinson
Kara Tran-Wright
Olivia Pfost
Sophia Shajari
Stone Sharp
James Volonte
Jackie Urquieta
Levi Lindsay
Danitel Lesnick
Stone Sharp
Jake Schroeder
Valerie Robfogeli
Yellow Birds:
Olivia Pfost
Sophia Shajari
Kara Tran-Wright
Tatum Allen
Teacher: Catlynn Yates
Understudies:
Stone Sharp - Boy
Tatum Allen - Molly
Daniel Lesnick - Black Stache
James Volonte - Lord Aster
Frankie Shulte - Prentiss/Ted
Katheringhe Lane - Mrs. Bumbrake
Jacob Mesa - Smee
Levi Lindsey - Capt. Scott/Fighting Prawn
Kaylie Flowers - Slank
Kenny Cook - Alf/Grempkin
Julia Quang - Teacher
Mia Palacious - Hawking Clam

Director: Robert Rotenberry
Costume Designer: Courtney Gilio and Debra Klinginsmith
Lead Costume Designers: Dani Bazan, Julia Capelle, Dixie Chatt
Set Designer: Jennifer McLean and Michelle McLean
Lighting Designer: Faith Burke
Sound Designer: Sydney McWilliams
Hair/Makeup Designer: Dani Bazan, Julia Capelle, Dixie Chatt