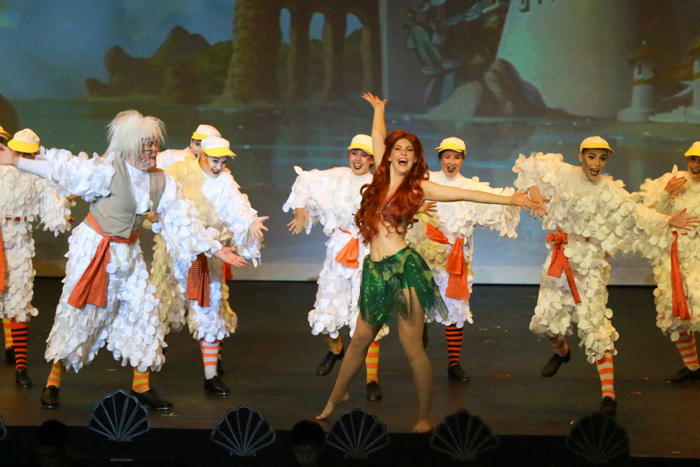 The Academy for the Performing Arts in Huntington Beach at the esteemed Huntington Beach Union High School Historic Auditorium and Bell Tower is currently running one of the most popular Disney tales ever! Director Tim Nelson presents Disney's The Little Mermaid - a stage musical based on the successful 1989 Disney film of the same name and classic story by Hans Christian Andersen. The book, The Little Mermaid, is by Doug Wright, music by Alan Menken and lyrics by Howard Ashman and Glenn Slater.

With its catchy songs, its plucky, independent-minded heroine, its irresistibly campy villainess and a happy ending far more uplifting than Hans Christian Andersen's ethereal original, "Mermaid" single-handedly changed the face of musical entertainment when it debuted.

Having elevated animation to an art form, Disney's storyline centers around a mermaid with big ambitions who dreams of the world above the sea and finding true love. To do that, she must enlist the aid of Ursula, the evil sea witch, who transforms Ariel's fishtail into human legs. But…on one condition. If she fails to find love's first kiss, her soul pays the price. "Poor child. Poor, sweet child."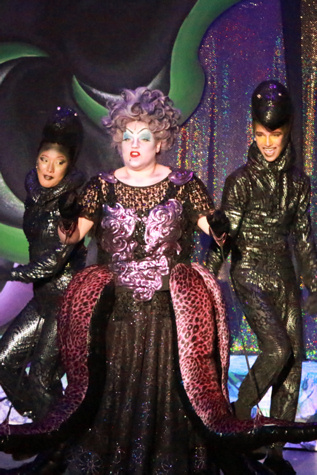 Ariel, our star, is a spirited lass whose rebellious nature often gets the better of her. She is the youngest daughter of King Triton, ruler of the merpeople, and as such is probably his favorite daughter and his greatest headache. Ariel is passionately curious about all things having to do with the wonderful world up above and goes out of her way to collect human things that she keeps in her secret grotto. It is this curiosity that eventually leads her to cross paths with Eric, a human prince that captures her heart.

Featuring a host of characters too numerous to name, here are only a few of the standouts from this past weekend's performance: Ariel, our protagonist, is charmingly played by Allison Bossart (Emma in Jekyll & Hyde; Ulla in The Producers); Sebastian the Crab (played by the inimitable Marcus Veyette), the Creole-scolding sidekick to Ariel, in a red suit, a red fedora, and a trademark Caribbean accent. Prince Eric (exuberantly performed by Austin Schulte, who you may have seen before as Simon Stride in Jekyll & Hyde and Leo Bloom in The Producers). King Triton (Patrick McCormick) rules the deep and also every scene he's in. And of course, Scuttle (Damon Williams), the malapropism-prone sea gull, in a full white feathered costume (I keep thinking Patricia Field playing a joke on Sarah Jessica Parker). Damon provides riotous comedy relief throughout the show.
Lucas Wilson is amazing as Grimsby, and I fell out of my seat when Blake Laszlo took the stage as Chef Louis. Flotsam (Seth Merrill) and Jetsam (Malia Merrill) stand out as Ursula's sly, manipulative, moray-eel henchmen, with magic eyes who speak in unison and finish each other's sentences. The winsome little guppy Flounder is wonderfully portrayed by Matthew Rangel. And the host of supporting cast, ensemble, and tech crew from APA's venerable musical theatre department, accompanied by Gregg Gilboe's spot-on orchestra, deserve much, much applause for their faultless spectacle of emotion, fascination, and enchantment.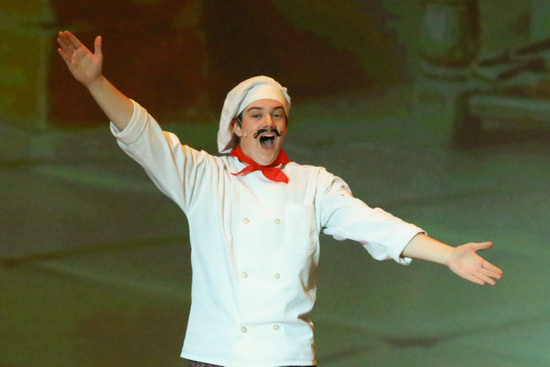 What's not surprising is how overwhelmingly delightful the numbers are. It's something we've come to expect from Disney. The joyous pull-out-all-the-stops calypso-flavored frolic "Under the Sea" and the gloriously romantic "Kiss the Girl" are delicious songs bedazzled with interesting choreography and complete ensemble, and it's all you can do not to get up and sing with them.

Among the best songs in the show: "Her Voice" gives Austin Schulte's dreamboat prince a yearning anthem to match Ariel's "Part of Your World." Scuttle leads a fun bunch of tap-dancing seagulls in "Positoovity;" the Mersisters, along with Flounder at the end, do an exuberant girl-group riff in "She's in Love;" and scheming sea witch Ursula, who offers Ariel human transformation in exchange for her voice, vamps about the evil old days before she was banished in "I Want the Good Times Back."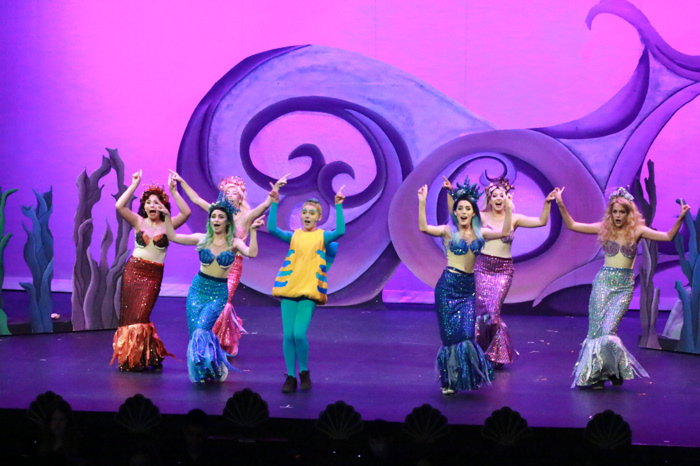 Somewhat different from the film Ursula (a cross between Mae West, Divine, and Bea Arthur), Daisy Tye creates the most fully formed character. She deadpans her cutting remarks with casual aplomb and brings venomous relish to "Poor Unfortunate Souls," all with eight moving interactive tentacles that form an Elizabethan-like skirt. (Although I'm still a bit puzzled how a merman and a squid can be brother and sister!)

Aside from some neat transitions early on between above and below sea, the show generally is most persuasive when the gorgeous color palette and delicate lighting strokes take the descriptive lead. And despite the original idea to eliminate wires, it's the simple wire works of Prince Eric's near-drowning scene in the storm and Ariel's underwater transformation from mermaid to human that come closest to engendering a sense of wonderment.

The design team consists of technical genius Joe Batte for Sets, Faith Burke for Lighting and Christina Perez and Ning Tung Tong for Costumes. Makeup Designer is Caitlyn Wang. For the performers' movements, Choreographer Diane Makas is fantastic. She has the actors wear Heelys wheeled footwear, dubbed "merblades", which endowed their wearers with the ability to skim hard surfaces, gliding with a near-balletic lightness (a feat much more difficult than it looks when you're being attacked on all sides by an aggressive ocean). But - We got no troubles…Life is da bubbles Under The Sea!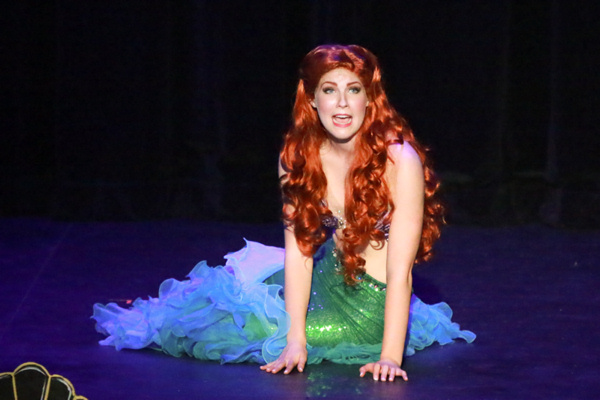 Disney's The Little Mermaid remaining performances are October 13th through the 15th. Seats are scarce, so use the following website for tix @ www.hbapa.org/see. You may also check for Groupon and student discounts, which may be available. Enjoy the show!

Performed October 6 - 15, 2017

Chris Daniels
National Youth Arts

~ Cast ~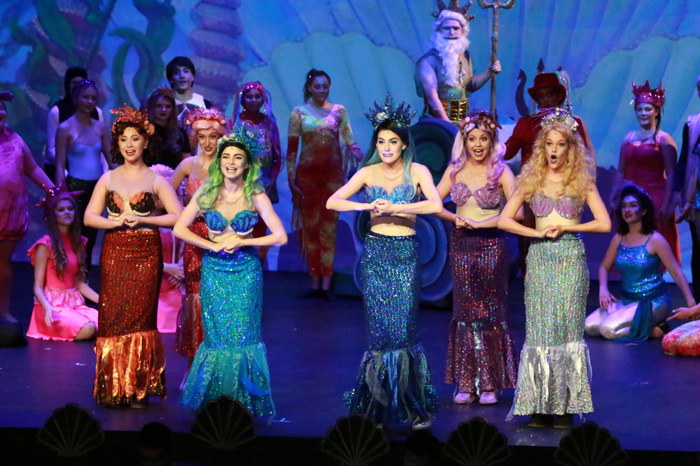 Add Artist Page

Ariel: Allison Bossart
Prince Eric: Austin Schulte
Sebastian: Marcus Veyette
Ursula: Daisy Tye
Scuttle: Damon Williams
King Triton: Patrick McCormick
Flotsam: Seth Merrill
Jetsam: Malia Merrill
Flounder: Matthew Rangel
Grimsby: Lucas Wilson
Chef Louis
Carlotta/Leeward: Tani Song

MALE ENSEMBLE
Sailor/Fish/Chef/Courtier/Sea Creature/Gulls
Kai Arroya, Trey Burr, Jordan Halloran, Jacob Kurihara, Ben Ransom, Austin Skaggs, Luke Jacobs, Will Logan, Danny Duarte, Blake Laszio, Josh Outman, Clayton Zarate, Chris Vournas, Alberto Hernandez, Matthew Rangel

FEMALE ENSEMBLE
Princess/Fish/Sea Creature/Maid/Gulls
Mia Buck, Savvy Freshwater, Grace Gillett, Chloe Hubbard, Anneliese Leach, Kenzie Riddle, Bella Sapporito, Jordan Schohet, Natalie Segundo, Victoria Stewart, Dori Rakhshani, Josie Yadrick, Kelsey Colbun, JuJu Foster, Alyssa Graves, Erin Greenlaw, Lauren Harvey, Mackenzie Jones, Monique Miley, Jillian Ponchak, Sheridan Reineck, Sheridan Scarborough, Elizabeth Schlosser, Sydney Stapp, Clare Bowen, Cassidy Dorain, Grace Houchen, Darla Jacobs, Tessa Rawlinson, Amy Twisselmann, Allyssa Petelo, Natasha Sokoloff, Delaney Blair, Arista Bomalick, Rochelle Burton, Cara Fitzgerald, Klarice Gabbard, Marilyn Hamm, Breea Hayes, Rachel Houchen, Kaileigh Jenkins, Ainsley Langerud, Melayna Laske, Isabella Lopez, Kailyn McMullen, Sydney Milo, Pilar Rigby, Staciabella Roy, Sara Subviboon
Director: Tim Nelson
Costume Designer: Christina Perez/Ning Tung Tong
Set Designer: Joe Batte
Lighting Designer: Faith Burke
Sound Designer: Marley Timmerman
Hair/Makeup Designer: Caitlyn Wang
Choreographer: Diane Makas
Music Director: Tim Nelson

ADDITIONAL CAST MEMBERS ALTERNATE DAYS:
Alberto Hernandez..............................King Triton
Sean McCrimmon...............................Flotsam
Anna Fujii............................................Jetsam
Novalee Smedley................................Flounder
Tessa Rawlinson................................ Aquata
Bailee O'Connell/Maddie Webb........ Andrina
Grace Houchen/Cassidy Love.......... Arista
Darla Jacobs/Marina Loukatos.........Atina
Jessie Ruggiero/Marlee Tierney........Adella
Sarah Bielicki/Hannah Schooner.......Allana
Trey Burr/Jordan Halloran.................Pilot
Teegan Kennedy.................................CarLotta/Windward