The The Huntington Beach High School Academy for the Performing Arts Theatre Department presents the high drama, "Inherit The Wind," running from November 9th through the 11th at the Historic Auditorium and Bell Tower, Huntington Beach High School.

The tightly written script, full of courtroom histrionics, Bible-thumping, and chest-beating, punctuated by good old gospel music, is a marvel of stagecraft. Inherit the Wind is a fictionalized account of the 1925 Scopes "Monkey" Trial, which resulted in John T. Scopes' conviction for teaching Charles Darwin's theory of evolution to a high school science class, contrary to a Tennessee state law. The role of Matthew Harrison Brady is intended to reflect the personality and beliefs of William Jennings Bryan, while that of Henry Drummond is intended to be similar to that of Clarence Darrow. Bryan and Darrow, formerly close friends, opposed one another at the Scopes trial. The character of E. K. Hornbeck is modeled on that of H. L. Mencken, who covered the trial for The Baltimore Sun, and the character of Bertram Cates corresponds to Scopes. However, the playwrights state that it is not meant to be a historical account, and there are numerous instances in the play where events have been substantially altered or invented.

Jerome Lawrence explained in a 1996 interview that the drama's purpose was to criticize the then-current state of McCarthyism. The play was also intended to defend and expand intellectual freedom. Lawrence explains, "we used the teaching of evolution as a parable, a metaphor for any kind of mind control… It's not about science versus religion. It's about the right to think."

William Boyer-Montgomery, as Matthew Harrison Brady, gives us an unexpectedly sympathetic portrayal of the pompous, blustering Brady, humanizing this self-appointed emissary from God and capturing simultaneously the lampoon of William Jennings Bryan from the original trial, and the deep beliefs of the religiously rigid patrons who idolize him. Constantly mopping sweat from his brow, he conveys a man who literally overheats himself on the fire of his misguided self-belief.

Daniel Lesnick as the feared Henry Drummond (stand-in for the famous, atheist defense lawyer Clarence Darrow), gives a performance that, like Boyer-Montgomery, is totally flawless. In true adversarial spirit these two icons take over center stage, and do not yield. The court becomes like a boxing ring, each "Objection" signifying the end of another legal round. He also cunningly refocuses attention on the women on the perimeters of the story, most notably Rachel Brown, Mrs. Brady and E.K. Hornbeck.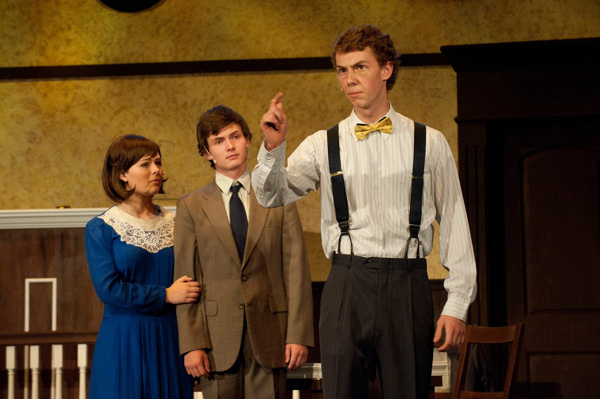 Watching the two of them banter back and forth in the stifling courthouse heat, we see how Lesnick's characterization of Drummond makes his long-time friendship with Brady more understandable, and their mutual admiration shines through many of their most heated discussions. His razor-sharp timing is technically superb, displaying panther-like stealth, prowling the stage while drenching as many lines as possible in withering sarcasm.

Christopher Delfino as Bertram Cates gives a very strong performance, but it is Isabelle Krajewski, who portrays Rachel, the Reverend Jeremiah Brown's daughter, that tugs most at our sensibilities. This confused character is being forced to choose between her father and Cates, the man she loves, and Baltimore journalist E. K. Hornbeck (Julia Quang) makes the choice even more painful for Rachel, mocking her and all of Hillsboro for their bigotry, fundamentalist beliefs and narrow-minded views about evolution.

Yes, Hornbeck is usually played by and as a man. But Quang's wisecracking, condescending, world-weary reporter (or "critic," as she describes herself) takes a page from "His Girl Friday" and presents Hornbeck as a gimlet-eyed feminist with no patience for what she sees as small-minded fundamental Bible toters. Picture her, perching on the edge of Drummond's desk, one eyebrow at a skeptical half-mast, as if awaiting a chance to unleash some new verbal mischief.

The most chilling moment comes courtesy of Rev. Brown's violent rejection of his daughter after she pleads with him for mercy for the jailed Bert Cates. As Brown (Jake Schroeder) throws his daughter on the ground, we see that Rachel isn't just afraid of her father's harsh words - his fists have also undoubtedly landed on her over the years. Schroeder's hellfire-and-damnation characterization was indeed phenomenal and stood in sharp contrast to the kindness of Mrs. Brady (Ayla Valantine) and of her husband, who seemed genuinely aghast at how far Brown's imprecations against the "godless" have gone.

Brady himself also browbeats Rachel on the witness stand. Only Mrs. Brady's sharp one-word rebuke — "Matt!" — stops it. But William Boyer-Montgomery's take on Brady, with all its emotional austerity, gives us some aching insight into a man who is addicted to the spotlight, and who is approaching the end of life with palpable fears that he is just a fossil of his former self.

"Inherit The Wind," the film, came out in 1960 starring Spencer Tracy and Fredric March and had a terrific impact on me. I have never forgotten it. But I think APA's interpretation, directed by Jamie Roberts, has become an even stronger impression. Only one more performance remains, and the show ends tonight, November 11th. Don't fail to see APA's fabulous cast if you can. It will be one that lingers for years to come.

Performed November 9 - 11, 2017

Chris Daniels
National Youth Arts

~ Cast ~
Add Artist Page

Matthew Harrison Brady: William Boyer-Montgomery
Melinda: Destiny Van Wormer
Howard: Dominic Brack
Meeker: Malakai Smith
Mrs. Goodfellow/Storekeeper: Catlynn Yates
Mrs. Krebs: Chloe Riederich
Hot Dog Seller: Kara Tran-Wright
Mrs. McLain: Kylie Martinson
Mrs. Blair: Tatum Allen
Esther: Olivia Pfost
Tammy: Isabella Aparicio
Tom Davenport: Stone Sharp
Judge: Carson Taylor
Dunlap/Dr. Arronson: Benjamin Jara
Mr. Krebs: Kenny Cook
Doc Kimble: Brennan Eckberg
Cooper: Nate Johnson
Reuter's Reporter/Dr. Keller: Jackie Urquieta
Photographer/Dr. Page: Alisha Sweeting
Harriett Y. Esterbrook/Radio Woman: Isabel Ucar
TOWNSPEOPLE/SCIENTISTS/HAWKERS/REPORTERS/JURORS/SPECTATORS
Jani Ali, Brooke Holder, Blake Laszlo, Evan Ling, Sophie Nagatoshi, Carolyn Nguyen, Skyler Ramon, Sydney Rincon, Kelsey Schneider, Alisha Sweeting, Kara Tran-Wright, Isabel Ucar, Jackie Urquieta, Cassie Walsh

Director: Jamie Roberts
Costume Designer: Hannah Kugler McLaughlin
Set Designer: Henry Lynam, Maya Matthews
Lighting Designer: Riley Russell
Sound Designer: Marly Timmerman
Hair/Makeup Designer: Karen Fisher