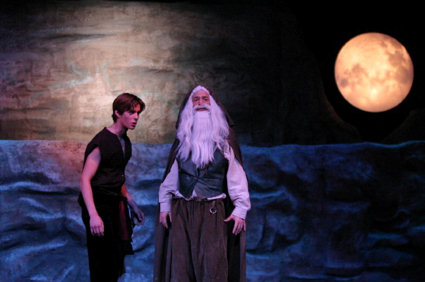 A long time ago in the Smoky Mountains, a witch-boy named John had a Conjure Woman transform him into a man so that he could live with the humans and be the husband of the beautiful Barbara Allen. But in Howard Richardson and William Berney's Little Mermaid-like tale, based on an old folksong, the transformation will only endure so long as Barbara Allen marries him and remains faithful for a year, giving both John and the all-too-human community time to threaten ruin on their young, idealistic concept of love.

Director Robert Rotenberry's production of this American tragedy is beautifully brought to life on stage in all facets, aided by a group of all-student designers. These include a gorgeous set by Margaux Schindler and Elizabeth Gibson that serves as the show's canvas, illuminated gorgeously by Robert Armstrong which features the lovely but ominous full moon under which the witches dance. Lauren Vizzini, Kiley Masters, Nicole Russick, and Jordan-Marc LaPorte combined for the costumes including the witch's clothing that's a good mix of natural and otherworldly. They've even got a six-piece bluegrass band, with vocals by Erin Crawford, that adds much to the show and atmosphere and scene changes. And they've got a great cast.

Kyle Selig, who earlier in the year wowed as the dashing Don Lockwood in APA's Singin' in the Rain, here plays the witch boy John with an eerie calm that you don't want to rattle and a devotion to Barbara Allen that can turn cold on a dime. Emma Degerstedt shines as the sweet, naïve Barbara Allen who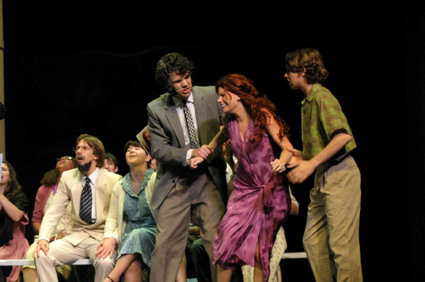 loves life, has a weakness for "mighty stout" men like the strong and self-assured John, and who doesn't like the sad songs as she does the gay ones. But when her song turns sad, Emma makes Barbara Allen's fear and loss palpable.
Getting John and Barbara Allen legally bound together is James Sabala as the happily hypocritical preacher Haggler who has a hankering for the local "mountain dew," is always blissfully secure in his self-righteousness to both humorous and chilling effect. Also a bit chilling are the Fair and Dark Witches (Lexi Harvey and Heather Wessel), like cats calmly and hypnotically playing with mice they know will not escape them. While other strong performances come from Barbara Allen's concerned but ignorant parents (Lindsay Mintz and Daniel Baker), Amanda Page as an evil Conjur Woman, an ensemble of mesmerizing, dancing witch folk choreographed by Lauren Slack, and a town full of gossipy townsfolk who commit their evils masqueraded as religious love by the dark of the moon.
Performed April 22 - 25, 2010
Rob Hopper
Facebook
Instagram

Executive Director
National Youth Arts
~ Cast ~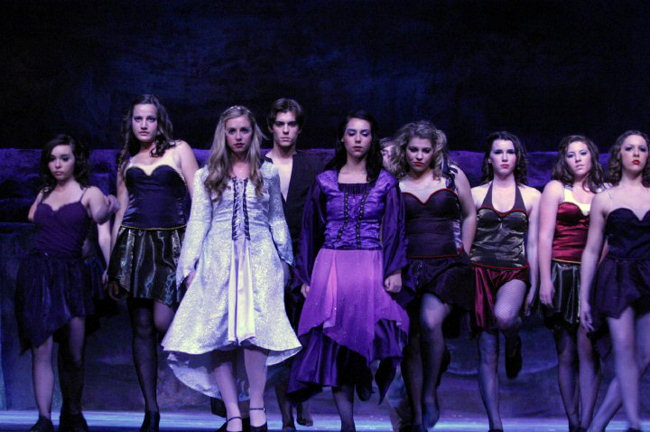 Add Artist Page

John: Kyle Selig
Barbara Allen: Emma Degerstedt
Preacher Haggler: James Sabala
Mrs. Allen: Lindsay Mintz
Mr. Allen: Daniel Baker
Floyd Allen: Zach Canter
Conjur Man: Garrett Brown
Fair Witch: Lexi Harvey
Dark Witch: Heather Wessel
Conjur Woman: Amanda Page
Marvin Hudgens: Jake Gonzalez
Mrs. Summey: JoAnna Hubbard
Mr. Summey: Shawn Roselius
Edna Summey: Heather Hamacek
Uncle Smelicue: Michael Donavan
Miss Metcalf: Sam Mintz
Hank Gudger: Cason Dewey
Mrs. Bergen: Maddy Holstein
Mr. Bergen: Bryce Miller
Ella Bergen: Danielle Brown
Burt Dinwitty: Mitchell Webb
Mr. Atkins: Austin Kottkamp
Jenkins: Mason Prescott
Greeney Gorman: Rachel Longoria
Leafy: Molly Peters
Hattie Hefner: Catherine Yee
Harmon Putnam: Corey Provost
Rome Agar: Braeden Miller
Dancing Witches:
Josh Arnold
Riley Davidson
Anniessa Glover
Bethany Glover
Jake Gonzalez
Devon Gutierrez
Hana Kipnis
Julia Robbins
Steven Sass
Micayla Vermeeren
Susana Villavaza
Townspeople:
Sarah Ashley
Jackalynn Baldwin
Kaitlyn Courie
Mollie Davis
Marina Demendoza
Adrianna Gregory
Alyssa Grimaldi
Shelby Jack
Marilee Jooste
Melissa May
Megan O'Donnell
Dagger Salazar
Natalie Sanford
Keziah Silva
Angelica Stramer
Lee Tagney
Allison Strout
Susana Villavazo
Michael Whyte
Lauren Zike

Musicians/Singers:
Banjo: Michael Donovan
Acoustic Guitar:
Austin Myers
Anthony Grisham
Patrick Hudson
Mandolin, Bass: Ian Arnold
Violin: Sarah Lubin
Vocals: Erin Crawford

Director: Robert Rotenberry
Technical Director: Joe Batte
Costume Supervision: Courtney Suter
Lighting Design: Robert Armstrong
Sound Engineer: Dannielle Kisner
Assistant Director: Taylor Thomas
Production Coordinator: Alin Silcock
Choreographer: Lauren Slack
Fight Choreographer: Kyle Selig
Assistant Costume Supervisors: Vincent Ha, Marlene Yarosh
Original Music: Michael Simmons
Vocal Coach: Nicole Kubis
Sound Designer: Randy Stevens
Stage Manager: Danny Nguyen
Assistant Stage Managers: Ian McGinnis, Bradley Smith
Scenic Designers: Margaux Schindler, Elizabeth Gibson
Fly Master: Mathew Drake
Stage sound Tech: Jayden Fishbein
Properties Master: Michelle Hakam
Props Assistants: Danielle Watson, Courtney Liss
Run Crew:
Carly Manno
Robyn Beisswenger
Eduardo Ponce
Audrey Marrtin
Jonathan Puffpaff
Jessica Stephens
Christian Canter
Michael Bennett
Madison Summers
Costume Designers:
Lauren Vizzini
Kiley Masters
Nicole Russick
Jordan-Marc LaPorte
Costume Crew: Crystal Halbeck, Rachel Laing