Brigadoon! - A testament to the heritage of Director Tim Nelson, and the unique synergy that occurs on a stage when APA's full cast and ensemble "gie it laldy!" (Gives it 100%), opened to standing room only crowds this past weekend.

Starring familiar faces as well as a few rising luminaries in the leading roles, Lerner & Loewe's "Brigadoon" launched in full fanfare January 12th at the Huntington Beach Union High School District Studio Theater. In fact, this is their annual Musical Theatre Fundraiser for the year and features eight thrilling performances which resumes this next weekend, January 19th – 21st. The preliminary show featured bountiful silent auctions, raffles, wheel of fortune wine prizes, an array of desserts and beverages and center entertainment from select members of APA students.

Also Musically Directed by Tim Nelson, and spiritly choreographed by Diane Makas and Jennifer Simpson-Matthews, the show features mesmerizing, vibrant highland dancing deftly blended with ballet most notably in the festive Broadway ballad, "I'll Go Home with Bonnie Jean."

Basically, "Brigadoon" is a musical about an enchanted Scottish town that lives for a day only to disappear for a century, and was the first hit show from one of American musical theater's most successful teams — Alan Jay Lerner and Frederick Loewe, who went on to write My Fair Lady and Camelot. The plot of this early romantic fantasy sounds like it could have been woven into an episode of The Twilight Zone, but it's more than that. It boasts an infectious buoyancy of spirit as well as a total absence of postmodern flourishes. And considering the time period is just after World War II…yes, no cell phones.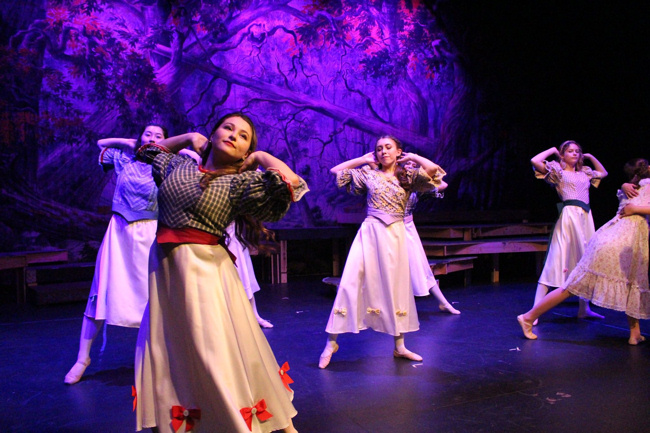 So, the tartan kilts flap and fly, the bagpipes pipe away, and rapturous music, including the show's signature song, "Almost Like Being in Love," flows forth from start to finish, unapologetic for its deep-dyed romanticism. The Scottish atmosphere is inextricably woven into the music and the story line, lying as thick over the proceedings as the mist that shrouds the town of Brigadoon.

I do remember the movie well. Gene Kelly and Cyd Charisse in a very well choreographed film. From a performance standpoint, Gene Kelly in the starring role was as graceful as ever. Cyd Charisse also had flawless dancing in the movie, but unfortunately was burdened with the worst Scottish accent ever in the history of cinema. APA, however, seems to have mastered this very challenging dialect quite well.

Our story begins as American tourists Tommy Albright (Marcus Veyette) and Jeff Douglass (Jack Borenstein) get lost on vacation in the Scottish Highlands, and they stumble into a small enchanted village not on any map - a mythical village that, according to the town spokesman, appears for only one day every 100 years. As kindly town leader Mr. Lundie (Alberto Hernandez) puts it – it's a miracle! As it happens, the inhabitants of the Scottish town of Brigadoon had their own harrowing experience with war two centuries earlier, and paying the price by living under a protective spell that, since 1746, has allowed them to come to life for only one day every century.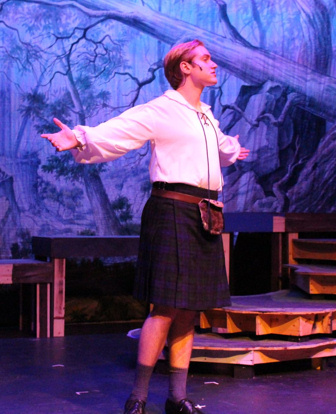 The two outsiders are warily welcomed by the townspeople, who are preparing to celebrate the wedding of two of their own, Jean MacLaren (Tessa Rawlinson) and Charlie Dalrymple (Austin Schulte). But it's Jean's single sister, Fiona (Hanna Schooner), a wee bonnie lass who catches Tommy's eye—which is the problem, because, upon returning home, he's about to get married to a woman he's not sure he really loves, and also because of the whole existing-one-day-a-century thing.

Needing to pick up a few things for the ceremony, Fiona accepts Tommy's offer to help. Together, they find love roaming the heather on the hillside. But because of the town's 'blessing,' their lifetime of happiness is cut short. Now it's up to Tommy to keep love from vanishing. No outsider can stay in Brigadoon unless they fall in love, and no resident can ever leave or the village will vanish forever. So Tommy is forced to choose between returning to the world that he knows—or taking a chance on life and love and staying in the mysterious Brigadoon.

Big, beautiful and beguiling - Brigadoon is a ravishing romantic fairy tale full of real-life echoes. But mostly it is a vintage beauty — awash in gorgeous songs performed by a cast with heavenly voices, lush orchestrations, an exquisite blend of traditional Scottish dance and balletic storytelling, and a minimum set that is a clever mix of old and new stagecraft.

Brigadoon has a strong cast overall with Malia Merrill as one of the standouts. Her Meg Brockie is a loose, plucky, aggressive maiden desperate for love in all the wrong places. She is best served with Jack Borenstein's Jeff Douglas (Jack, replacing Damon Williams on this performance), who's a well-meaning but shallow drunk with the best zippy one-liners, especially as he rebuffs Meg's advances during her vivaciously raunchy love quest, "The Love of My Life." Somewhat of a comic relief in the role, Jeff's coupling with Meg is more flirtatious and the antithesis of the real affection between Tommy and Fiona.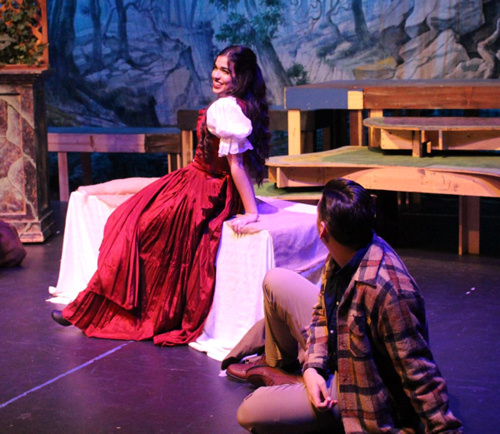 As Tommy and Fiona, Marcus Veyette and Hannah Schooner are sweet and earnest in their mutual adoration. Hannah's voice soars in their three duets, "The Heather on the Hill," "Almost Like Being in Love," and "From this Day On," and Marcus is all precision and grace, pulling off the songs with his usual impeccable vocals, robustly filling the theatre with rich, hearty melodies of hope.

Seth Merrill, whose lovesick, forlorn and misunderstood Harry Beaton threatens Brigadoon's very precarious existence, but steals center stage with "The Sword Dance and Reel" at Charlie and Jean's wedding celebration, zealously leaping, pouncing, and swooping with competitive hostility. And, in a kilt no less! Harry Beaton's anger at being confined to living in the village made the scene in which he attempts to leave Brigadoon quite climactic.

Rounding out the cast is Patrick McCormick as Andrew MacLaren, Lucas Wilson as Harry's father, Archie, and literally a host of ensemble, too numerous to name. Most memorable are the dances. The colorful swirling of skirts on the lads and lassies. The kilts added much to the whimsical spectacle by costume designer Carole Zelinger. All different varieties of tartan are sashed and skirted to identify family clans. Scenically designed by Chris Caputo and Carly Mano, the Lighting is by Josh Behrens and Sound is by Tim Nelson.

This "Brigadoon" truly infatuates as vibrant entertainment. It inspires with fervent relational conviction. It enchants with a high lovability factor. But beware! As the mist is in the gloaming, this "Brigadoon" will disappear within a week. Get your tickets now at https://www.hbapa.org/see


Performed January 12 - 21, 2018

Chris Daniels
National Youth Arts

~ Cast ~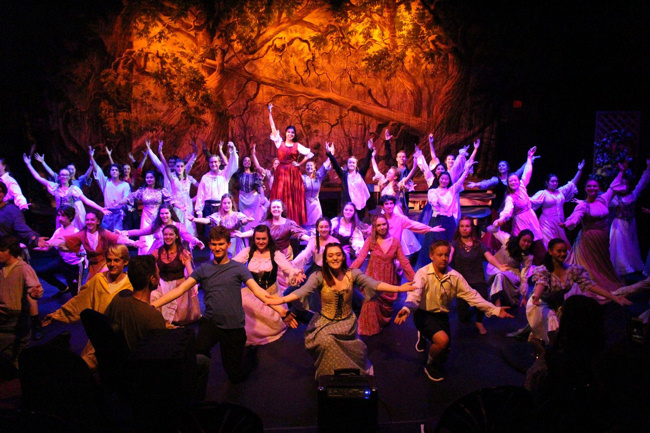 Add Artist Page

William Tommy Albright: Marcus Veyette
Fiona MacLaren: Hannah Schooner / Allison Bossart
Jeff Douglas: Jack Borenstein / Damon Williams
Meg Brockie: Malia Merrill / Maddie Webb
Charlie Dalrymple: Austin Schulte
Jean MacLean: Tessa Rawlingson / Cassidy Love
Harry Beaton: Seth Merrill
Mr. Lundie: Alberto Hernandez
Andrew MacLean: Patrick McCormick
Archie Beaton: Lucas Wilson
Jane Ashton/Ensemble: Natalia Segundo / Anneliese Leach
Frank/Ensemble: Austin Skaggs
Angus MacGuffie/Ensemble: Sean McCrimmon
Sandy Dean/Ensemble: Jordan Halloran
MacGregor/Ensemble: Paul Rasoe
Maggie Anderson/Ensemble: Olivia Aniceto / Alyssa Graves
Male Ensemble:
Ethan Ahlstrom, Kai Arroyo, Jack Borenstein, Max Hardy, Jacob Kurihara, Will Logan, Kyler Naef, Josh Outman, Ben Ransom, Kole Williamson
Girls Specialty Ensemble:
Kelsey Colburn, Juju Foster, Anna Fujii, Savvy Freshwater, Grace Gillett, Lauren Harvey, Gracie Houchen, Darla Jacobs, Mackenzie Jones, Bailee O'Connell, Sheridan Scarborough, Jordan Schochet, Natasha Sokoloff, Victoria Stewart, Marlee Tierney, Daisy Tye
Girls Ensemble:
Ava Brackett, Mia Buck, Rachelle Burton, Cassidy Dorain, Kala Fister, Cara Fitzgerald, Jaedynn Latter, Monique Miley, Pilar Rigby, Zoe Rivers, Amanda Sprowls, Sydney Stapp
Girls Split Night Ensemble (1/12, 1/14, 1/21):
Jillian Ponchak, Quinn Ewing, Arista Bomalick, Rachel Bronder, Sara Subviboon, Ainsley Langerud, Melayna Lasky, Klairyce Gabbard
Girls Split Night Ensemble (1/13, 1/19, 1/21):
Rachel Houchen, London Baskerville, Delaney Blair, Kailyn McMullen, Gracie Hill, Katy Houchen, Sheridan Reineck, Isabella Lopez

Director: Tim Nelson
Costume Designer: Carole Zelinger
Set Designer: Chris Caputo
Lighting Designer: Josh Behrens
Sound Designer: Tim Nelson
Hair/Makeup Designer: Carole Zelinger/Marissa Sellers
Choreographer: Diane Makas/Jennifer Simpson-Matthews