Theatergoers recently hopped on board and fastened their seatbelts for one of the funniest comedies of this year's high school theater season. On Sept. 10th, Huntington Beach High School performed its first theatre production, "Boeing-Boeing."

Set as a 1960's fanciful French farce about love, friendship, and polygamy, a suave American architect named Bernard is having the time of his life. He is managing to juggle three stunning stewardesses at one time. Claiming them all as his fiancées, each has no idea about the other two. Each are flying for different airlines and Bernard is able to keep them from meeting through careful planning. That is until an old school chum, Robert, shows up and is invited for the weekend. Fate finally steps in and decrees that flight schedules change and the women ultimately end up at Bernard's apartment at the same time. As plans fall apart for Bernard, his perfect life gets bumpy, timid Robert is forgetting which lies to tell to whom, and catastrophe looms.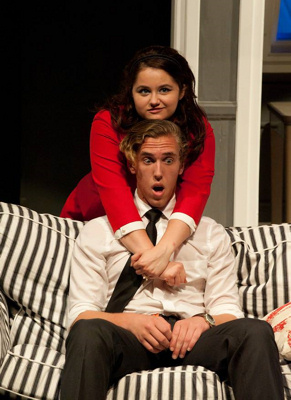 Sam Johnson was smooth and confident as the sly, triple-timing Bernard. Bernard's maid and closest confidant, the saucy melodramatic Berthe, played by Rosella Juliano, helped keep order and the fiancées at bay as the over-the-top plot bounces wildly from one romantic entanglement to another. Berthe's timing was near perfect, as she scurried back and forth to accommodate her "monsieur" and his hectic love life. Robert, ingeniously played by Jacob Menke, was also indeed quick to react, and caused uproarious laughter from the audience.
Robert Rotenberry and his talented cast executes the complicated staging with more precise timing than an air traffic controller at LAX. The show incorporates a variety of acting styles from the wildly overdone prancing of stewardess Gloria (Shannon Mahoney) to the understated mumbling of the complaining Berthe. Gabriella is perfectly portrayed by Rachel Fishbough, and Alyssa Hall plays an outstanding Gretchen.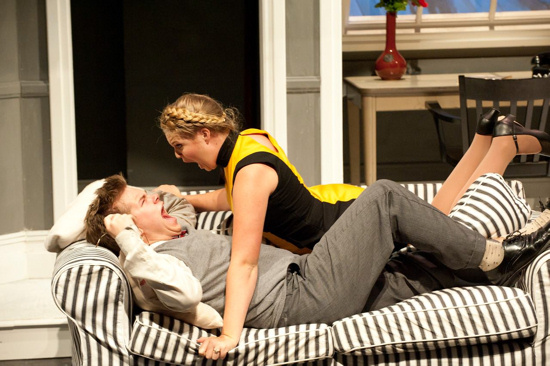 Accents were spot-on from all and so well performed. I very much enjoyed Berthe's accent with the attached long-suffering melodrama. The set was the same one used at UCI recently for their production of Boeing Boeing and amply fit inside the Black Box's limited space with room to spare. The entire cast operated with an almost mathematical precision as they moved the script along. All in all, the whole production had a hilarious script and a risqué plot, and I thought the entire performance was a great ride. I loved it so much, I saw it twice!
Performed September 10 - 13, 2015
Chris Daniels
National Youth Arts
~ Cast ~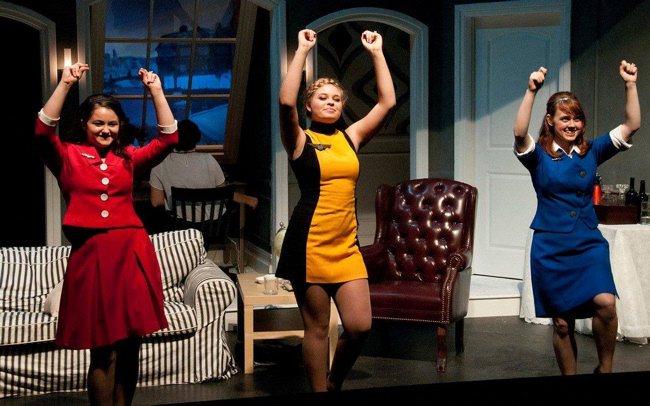 Add Artist Page

BERNARD: Sam Johnson
GLORIA: Shannon Mahoney
BERTHE: Rosella Juliano
ROBERT: Jacob Menke
GABRIELLA: Rachel Fishbough
GRETCHEN: Alyssa Hall

Director: Robert Rotenberry
Costume Design: Rachel Engstrom / Reanne Wang / Jordan Carabajal
Hair/Makeup: Reanne Wang / Jordan Carabajal / Bella Molina / Megan Terkeusrt
Set: Keith Bangs / Pam Marsden/ Julie Keen
Lighting: Josh Behrens / Seth Haden
Sound Design: Bradon O'Connell