The Round Barn used to be the home to cows and horses. Built in 1910 by Fred Aker, it's just as impressive architecturally now as it was then – one of the dwindling number of magnificent round barns that still exist. Several years ago it was moved to Amish Acres, a sort of historical tourist site that allows you to see what was once an Amish farm. And it is inside the round barn (it's inside being even more impressive than its outside) that Amish Acres puts on their Round Barn Theatre productions. Which this year included one youth production – the ever-popular Disney's High School Musical.

Seventeen students from eleven different high schools in the Nappanee area (not far from South Bend, Indiana) came together under the direction of Sue Frost-Mayse and Scott Saegesser to put on this show about high school students trying to overcome peer pressure from their cliques to do what they want to do. And what star basketball player Troy Bolton and math whiz Gabriella Montez want to do is have a romance. Tryouts for the upcoming school musical provide them with an opportunity for that romance to blossom, but doing so puts them on a collision course with the other school clique – the drama club and its prima donna leader Sharpay Evans (who wants Troy for herself).

Tanner Smale from Elkhart Memorial High School is Troy, and he gives a good performance as the good-guy jock who leads his fellow basketball-bouncing jocks in a strong version of Get Your Head in the Game, while delivering pretty solid vocals both there and in his duets with Gabriella. Emily Laudeman from Lakeville, Indiana is Gabriella – a triple-threat actress with fantastic stage presence. She makes the character of Gabriella feel real, and her outstanding vocals are soaring and flying.

The supporting cast includes Jackie Jerlecki as a hair-tossing, hips-swaying Sharpay Evans who sings well, bringing some comedy in her idolizing and mimicking of their drama teacher Mrs. Darbus (Kim McCutchan). Sharpay's twin brother Ryan is her leading man in all the school plays. Usually a dynamic character, Thomas Reid portrays a sullen and moody Ryan, perhaps tired of being dominated by his sister. Nicole M. Tompkins is Gabriella's brainiac friend Taylor, whose instant regret at interfering in Gabriella's romance is palpable. Ann Thompson is a standout as Kelsi, the shy playwright of the upcoming high school musical, who comes bubbling out of her shy shell with hilarious enthusiasm when Troy and Gabriella help give her newfound confidence.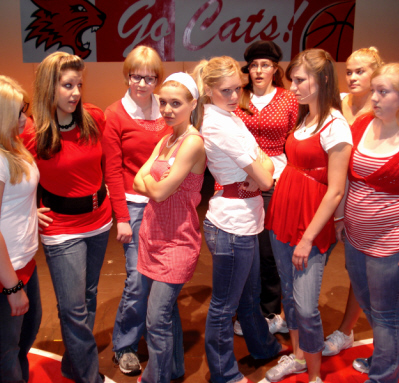 Though it sometimes feels a bit rushed, overall the production is very successful with some great musical numbers and bits of creativity like having Mrs. Darbus teach her detention students to become a wagon and having Troy and Gabriella trying to encourage the students who want to break out of their cliques in Stick to the Status Quo.

The ensemble is highlighted by nerdy jock James (Lance Mullins), a terrific character actor who amuses throughout. Tyler Miller does a nice job as Zeke Baylor, the jock with a passion for baking. The small cast of nineteen (including the two adult teachers) makes it difficult to generate the kind of energy that larger ensembles are able to create, without even enough cast members for a group of cheerleaders who usually get the big numbers going. But they do exceptionally well for their size, and by the closing number and their mega mix encore, you may not notice that it's such a small class making such big music.

Performed May 12-13, 2007.

Rob Hopper
National Youth Theatre

~ Cast ~

Gabriella Montez: Emily Laudeman
Troy Bolton: Tanner Smale
Sharpay Evans: Jackie Jerlecki
Ryan Evans: Thomas Reid
Chad Danforth: Luke Fattorusso
Kelsi Nielson: Ann Thompson
Jack Scott: Tom Eiser
Taylor McKessie: Nicole Tompkins
Zeke Baylor: Tyler Miller
Martha Cox: Susan Grothouse
Ripper: Brandon McCutchan
Susan: Janelle Morris
Cathy: Jami Spry
Jason: Tyler Struckyer
James: Lance Mullins
Cyndra: Corrie Henke
Ensemble: Madison Slovinski
Coach Bolton: Sam Brown
Mrs. Darbus: Kim McCutchan

Director: Sue Frost-Mayse and Scott Saegesser
Musical Direction: Ashley Frost
Choreography: Scott Saegesser
Lighting Design: Rich Snyder
Sound Design: Paul Dodds