Frank Wedekind's controversial play explicitly portraying adolescents dealing with their new sexual desires, as well as violence and abortion, has awoken cries for censorship since its inception. But its musical version by Duncan Sheik and Steven Sater, opening on Broadway one hundred years after the first production of Wedekind's play debuted in Germany, went on to become a huge hit and earned the 2007 Tony Award for Best Musical.
Of course, more outcries are certain to follow the story as it now becomes available to regional theatres, including youth theatres, beginning with the West Coast Premiere currently being staged by ACT-San Diego. The show is, indeed, about youth – teenagers living in a repressive society where they are still told of baby-toting storks. Where physical and sexual abuse of children is kept hushed. Where adolescents wanting to understand the changes they're undergoing and the hormones flooding their bodies, feeling unable to seek advice from those who might best help, are instead forced to rely on whispered rumors and myths. Or on uninformed experimentation. All resulting in confusion, shame, and tragedy. A setting reflecting a small German town in the early 1890s, or perhaps a modern-day suburb near you.
The Production:
Director Leigh Scarritt makes certain that the West Coast Premiere sets a high precedent for all others to follow with a production that rocks in all facets with dynamic choreography by Tiffany Jane splashed with some great lighting effects by Andrew Miller and Lace Flores, excellent period costumes by Janet Pitcher, a band that nails the score, and a cast of some of San Diego's best youth and recently graduated performers.
Many of the roles are double cast. Charlie Gange gives a strong portrayal of Melchior, the intelligent and confident student whose parents haven't sheltered him, who knows the facts of life in theory. He takes theory into practice with the deeply sheltered Wendla played this night by Darienne Orlansky who yearns to know the things her mother keeps hidden and to understand the horrors that her abused friend faces. The two of them work well together as they hesitantly introduce each other to pain and love.
Derrick Gaffney stars in the choice role of Moritz, Melchior's friend whose hormones are definitely on overload, compounding his problems both in school and with his demanding father. Derrick delivers a fantastic performance as does his father played by adult actor Marc Sylwestrzak whose frustration and eventual regret is riveting. But Moritz's father is a saint next to the monster who raised Ilse, an older girl who ran away from the sexual abuse to live a Bohemian life with artists. Megan Martin delivers a powerful performance as the sad and lonely Ilse as well as offering phenomenal vocals in her duet with Moritz of Don't Do Sadness/Blue Wind.
The deep cast includes strong performances by Jordan De Leon as sexually abused Martha who doesn't know what to do, as well as Peter Armado and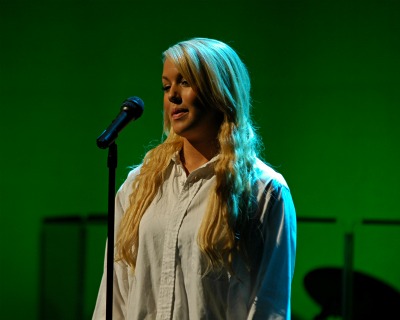 Dylan Mulvaney as Hanschen awakens young Ernst to feelings he didn't know he had. The cast is complemented by a handful of adults including great performances by Eileen Bowman as Wendla's mother uncomfortable with raising a daughter, Danielle Forsgren as Melchior's mother, Heidi Maretz as a piano teacher giving private lessons to Georg (Michael Parrott), and creepy and sometimes humorous teachers including Douglas Lay and Tiffany Jewell who care far more about their school than they do their students.
The full cast of students shine in so many musical numbers with great singing, dancing, and emotion from Mama Who Bore Me to The Bitch of Living to The Song of Purple Summer. The production demonstrates great attention to detail throughout and clearly a cast that wants to make each precious moment count – and does so. If you can handle the adult themes and a fair share of profanity, this premiere is a show not to miss.
Performed August 5 - 14, 2011
Rob Hopper
Facebook
Instagram

Executive Director
National Youth Arts
~ Cast ~
Add Artist Page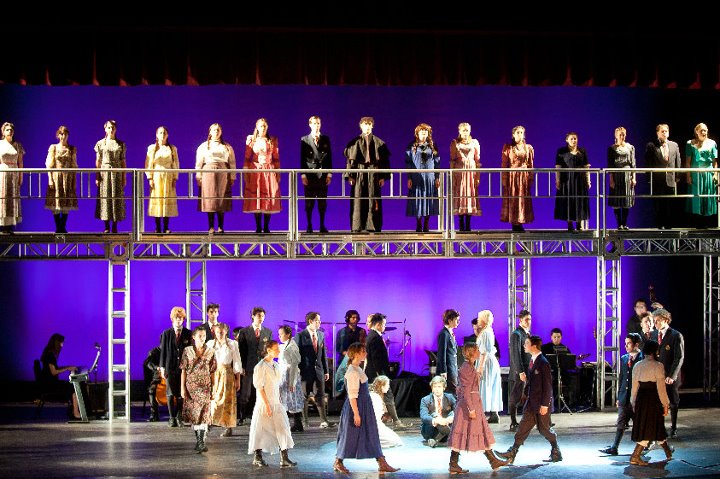 Melchior: Charlie Gange
Wendla: Darienne Orlansky
Moritz: Derrick Gaffney
Ilse: Megan Martin
Hanschen: Peter Armado
Georg: Michael Parrott
Martha: Jordan De Leon
Ernst: Dylan Mulvaney
Otto: Apollo Blatchley
Anna: Lindsay Mitgang
Thea: Lily Detwiler
Dieter: Landon Akiyama
Reinhold: Sebastian Alberdi
Rupert: Patrick Clark
Ulbrecht: Marc Akiyama
Schmidt: Scott Williams
Father Kaulbach: Steven Silvers
Wendla's Friends:
Kimberly Alexander
Michelle Cantrell
Krista Feallock
Maddy Fitzgerald
Larissa Garcia
Brianna Hebert
Beth Jade
Katie Kreitzer
Lindsay McKamey
Alexis Park
Tina Peterson
Sami Pollak
Haley Silvers
Emily Stewart
Canon Thomas
Frau Bergman: Eileen Bowman
Herr Knochenbruch: Douglas Lay
Herr Stiefel: Marc Sylwestrzak
Frau Gabor: Danielle Forsgren
Herr Gabor: Alex Ford
Frau Grossebustenhalter: Heidi Maretz
Frau Knuppeldick: Tiffany Jewell
Dr. Von Brausepulver: Fred Harlow
Child: Tess Maretz

Director: Leigh Scarritt
Music Director: Shane Simmons
Choreographer: Tiffany Jane
Stage Manager: Kristen Osborn
Assistant Stage Manager: Jamie Cabral
Production Manager/Lighting Designer: Andrew Miller
Co-Lighting Designer: Lace Flores
Production Assistant: Laura Garcia
Sets: Scott Jones, Andrew Miller
Costume Designer: Janet Pitcher
Costumes: Gayle Case, Laura Ford, Kristen Nevarez
Props: Jamie Cabral, SeeJay Lewis, Kristen Osborn
Dance Captain: Canon Thomas
Spot Light Operators: Kathleen Garcia, Chris Taylor
Photographers: Ted Kakuris, Doug Pence, Mark Pitcher
Publicity: Marg Stark, Staci Vanderwiel
Communications: Robin Orlansky
Program Design: Barbara Maisel, Brenton Maisel, Robin Orlansky
Business Manager: Barbara Maisel

The Band:
Musical Director/Conductor/Pianist: Shane Simmons
Keyboards: Sarah Sabesky
Upright & Electric Bass: Robert Johnson
Acoustic & Electric Guitar: Ian Lewis
Drums & Percussion: Jacob Russell
Viola & Violin: Jeremy Panlasigui
Cello: Elijah Grote