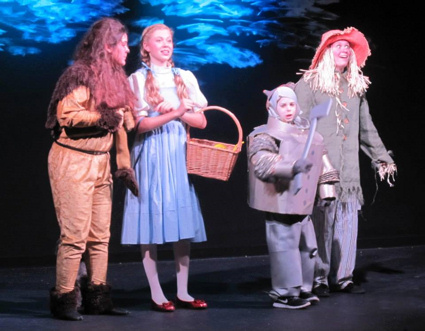 This Jim Gradillas original adaptation of L. Frank Baum's The Wizard of Oz takes us down the yellow brick road in his patented style with lots of quirky comedy and characters, enlivened by actors who get to have input into their dialogue and antics. The former Creative Stages Youth Theatre is now Acting Zone, performing in an auditorium in the Montessori in the Park school behind a restaurant in Goodyear, Arizona. It isn't the easiest to find, but the uniqueness of the program is worth the search.
Lauryn Steitz is our Dorothy Gale, bringing a nice blend of wide-eyed wonder, a bit more savvy than usual, and a sharp humor to mix it up with the array of attitudes she encounters in Oz. Marnie Gyorrfy animates Dorothy's friend Scarecrow with amusing expressions and a penchant for taunting apple-throwing apple trees (until one of the apples hit their mark). Easton Dana is a delightful ham, or perhaps Spam, as the Tin Man, telling his backstory about how he "was in love" (raising an eyebrow a couple times to the audience), slamming his axe into his tin chest repeatedly to show he doesn't have a heart there, and when sad burying his head into the neck of his can like a turtle. Just as the three of them begin worrying about "lions and tigers and hares," Kaylee Kasper enters as the cowardly Lion, doing a hilarious job as the classic Lion persona who starts out acting brave in the hopes of scaring them off (she threatens to turn Tin Man in for ten cents) but soon is forced to acknowledge her cowardice and wonder why the others are willing to be seen with her ("Don't you have any dignity?").
Nikki Corcoran will try to scare them all as the Wicked Witch – a wickedly hilariously physical comedian who plays it cool when Glinda exorcises her from Munchkinland ("Very well, I do have some errands to run"), struggles to predict the future with a Magic 8 Ball, and struggles to work her fire magic with a temperamental Bic lighter ("Stupid lighter!"). Countering her magic is Grace Hughes as Glinda with a great New York accent and New York personality (breaking the sleeping poppy spell by coming by with a bag of snow and throwing handfuls at them – including some in Tin Man's mouth for good measure), as well as the great and powerful and entertainingly melodramatic Wizard of Oz featuring Emilio Cress.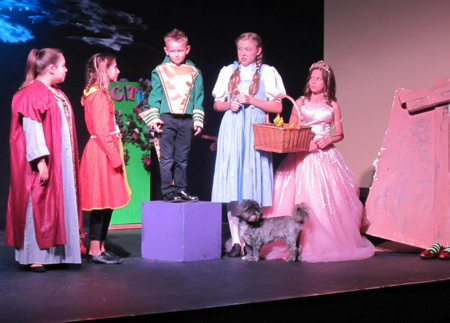 The ensemble also brings the comedy. There are the crazed flying monkeys led by a psychotic Nikko (Holly Chavet), and tons of sass emanating from Trees, Poppies, Crows, Emerald City citizens, and Munchkins that include a pretty tough Lullaby League. The Munchkins also feature humorous turns by Will Dana as the Mayor and Makayla Wood as the Coroner who doesn't bother with trickery or subtlety as she steals the dead witch's ruby slippers and puts them on Dorothy's feet (chucking Dorothy's old shoes offstage). But when Glinda tells the Wicked Witch that the ruby slippers are now on Dorothy, the Munchkins still do a big reveal with jazz hands and a chorus of "Watch-ah!" Of course, there's Toto, too. Dorothy's/Lauryn Steitz's real dog Max who makes his acting debut showing plenty of sass as well, especially when the Wizard accidentally trips over him and Toto barks a ferocious Shih Tzu bark and seems to be sort of pretending that his leash is the only thing holding him back from attacking the humbug behind the curtain.
Performed August 15 - 23, 2014
Rob Hopper
Facebook
Instagram

Executive Director
National Youth Arts
~ Cast ~
Add Artist Page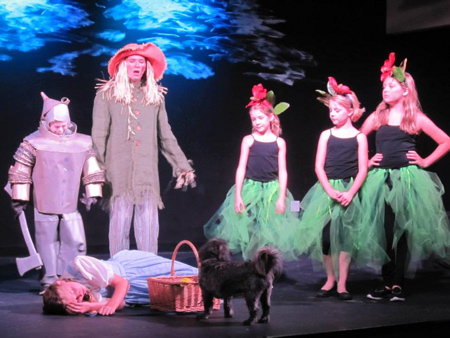 Dorothy Gale: Lauryn Steitz
Aunt Em: Holly Chavet
Uncle Henry: Spencer Tennyson
Farmhand 1/Scarecrow: Marnie Gyorrfy
Farmhand 2/Tin Man: Easton Dana
Farmhand 3/Lion: Kaylee Kasper
Miss Almira Gultch/Wicked Witch of the West: Nikki Corcoran
Professor Chester Marvel/Wizard of Oz: Emilio Cress
Glinda: Grace Hughes
Crows:
Holly Chavet
Grace Hughes
Sydney Hall
Trees:
Spencer Tennyson
Hanna Addy
Makayla Wood

~ Emeraldn City Host/Hostesses ~
Herby: Will Dana
Evrose: Serenity Starr Foreman
Evanna: Sydney Hall
Clia: Emily Carey

~ Munchkins ~
Mayor: Will Dana
Coroner: Makayla Wood
Barrister: Emily Carey
Mother: Hannah Addy
Girl Munchkin: Julia Strick

~ Lullaby League ~
Lily: Serenity Starr Foreman
Milly: Emma Tennyson
Joy: Lauren Strick

Emerald City Guard: Lauren Strick
Winkie General: Makayla Wood

~ Winkies ~
Omby: Julia Strick
Tollydiggle: Will Dana
Busby: Spencer Tennyson
Jinniky: Grace Hughes

Nikko: Holly Chavet

~ Flying Monkeys ~
Monkey: Sydney Hall
Lilibeth: Emily Carey
Kloey: Emma Tennyson
Leeza: Hannah Addy

~ Poppys ~
Ariel: Serenity Starr Foreman
Fanta: Lauren Strick
Piffle: Julia Strick
Razzly: Emma Tennyson

Writer & Director: Jim Gradillas
Assistant Director/Stage Manager: Peyton Dennis
Lighting Designer/Operator: Tammy Chavet
Hair and Make Up Design: Peyton Dennis
Fight and Dance Choreography: Peyton Dennis
Costume, Sound, Props, and Set Designer: Jim Gradillas