The Woodlands Repertory Theatre Presents The Sound of Music at
at The Nancy Bock Center for Performing Arts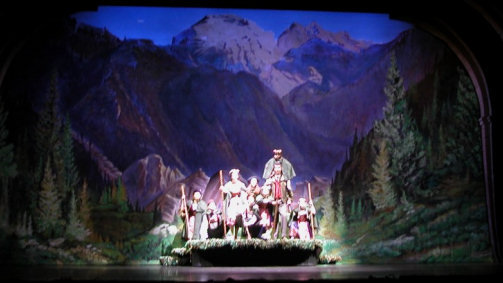 The Woodlands, Texas… The Woodlands Repertory Theatre, part of the Class Act Productions family, will proudly present The Sound of Music on November 20, 22 & 23. When a postulant proves too high-spirited for the religious life, she is dispatched to serve as governess for the seven children of a widowed naval captain. Her growing rapport with the youngsters, coupled with her generosity of spirit, gradually captures the heart of the stern captain, and they marry. Upon returning from their honeymoon they discover that Austria has been invaded by the Nazis who demand the Captain's immediate service in their navy. The family's narrow escape over the mountains to Switzerland on the eve of World War II provides one of the most thrilling and inspirational finales ever presented in the theatre. This final collaboration between Rodgers & Hammerstein was destined to become the world's most beloved musical and the motion picture version remains the most beloved movie musical of all time.
The show has been cast, rehearsals are underway, and all the many facets of creating a show of this scale are in full swing. In keeping with Class Act Production's reputation of offering Broadway caliber productions, coupled with the many visual elements required to simulate the splendor of Austria, several set back drops and set pieces have been secured from the Pittsburgh Civic Light Opera.
Performances of The Sound of Music will be held November 20, 22 & 23 at 8:00 PM and November 23 at 2:30 PM at the Nancy Bock Center for Performing Arts –, 3800 S. Panther Creek Drive, The Woodlands, TX 77381.
Tickets can be purchased online at www.thewoodlandsrep.org or by calling 936-273-3395. Individual tickets are $20, and groups of 10 or more are $15 each.
The Woodlands Repertory Theatre is a community theatre located in The Woodlands, Texas.

It is a part of the Class Act Productions family, a not-for-profit corporation dedicated to providing professional-quality musical theatre performance opportunities for all ages. Its

mission is to culturally enrich, educate, and entertain through the art of musical theatre and theatrical performance and to encourage community participation in all aspects thereof.