OOOH OOOH!! Pick Me! Pick Me! VYT Presents Shrek The Musical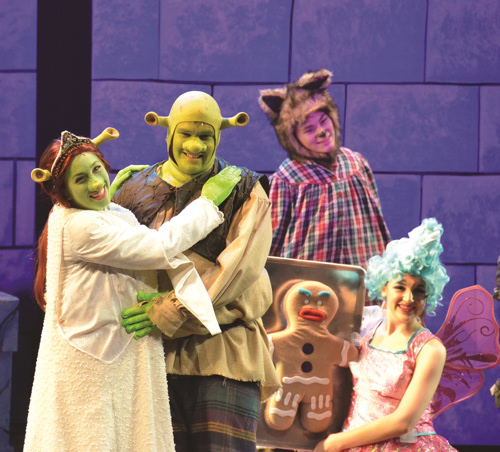 SHREK THE MUSICAL August 11 – 27, 2017
Performance days and times:
Thursday(s), August 17, 24 | 7pm
Friday(s), August 11, 18, 25 | 7pm
Saturday(s), August 12,19, 26 | 2pm & 7pm
Sunday(s), August 13, 20, 27 | 2pm
(Phoenix, Arizona) Valley Youth Theatre (VYT) is transforming the Herberger Theater's Center Stage into a swamp fit for an ogre! Everyone's favorite fairytale characters will come to life when VYT raises the curtain on its first production of its 2017-2018 Season, Shrek The Musical.
Based on the Oscar-winning DreamWorks film, Jeanine Tesori's Shrek The Musical is a Tony Award-winning fairytale adventure that brings all the beloved characters you know from the film to life on stage, and proves there's more to the story than meets the ears.
Meet Shrek, an unlikely hero who finds himself on a life-changing journey alongside a wisecracking donkey and a feisty princess. With 39 talented young actors from around the Valley playing a variety of fun characters, a colorful, eye-popping set designed by the late Paul Bridgeman, and foot-tapping songs brought to life by a live orchestra, this magical production proves that beauty is truly in the eye of the ogre.
Shrek The Musical is presented by Valley Youth Theatre (VYT) at the Herberger Theatre Center 222 East Monroe Street Phoenix, AZ 85004 in Downtown Phoenix. The show runs August 11 - 27, 2017. Ticket prices range for $16.50 to $34.50 not including fees. For more information or to purchase tickets call the Herberger Theater box office at (602)252-8497 Monday thru Friday 10am – 5pm or Saturday & Sunday 12pm – 5pm or visit www.vyt.com.
---------- About Valley Youth Theatre -------------
Established in 1989, Valley Youth Theatre (VYT) is an award-winning, professional quality, 501(c)(3) non-profit theatre dedicated to helping young people achieve their full potential through meaningful engagement, education and excellence in the performing arts. Alumni include award-winning celebrities including: Emma Stone, Jordin Sparks, Kimiko Glenn, Chelsea Kane, Charity Dawson, Krystina Alabado and many others. VYT is the winner of nearly 100 National Youth Arts awards, voted "Best Star-Making Machine" and "Best Live Theater" on azcentral.com, heralded as "Best Place to Take a Bow" by Phoenix Magazine and rated one of the "Top Ten Places to Become a Future Star" by The Arizona Republic. VYT produces six main stage shows each season including two at the Herberger Theater Center. For more information, visit VYT.com or call (602) 253-8188.
Photo Credits: Shrek The Musical photos are courtesy of VYT archives