A Winnie-the-Pooh Christmas Tail Celebrates its
21st Production at Valley Youth Theatre.
Phoenix, Arizona (November 15, 2016) Everyone's favorite "stuffed with fluff" character takes the Valley Youth Theatre (VYT) stage December 2nd for his 21st production of A Winnie-the-Pooh Christmas Tail.
This production is a holiday must-see for the whole family, whether it's a yearly tradition or the first time, this Christmas classic's 21st production is filled with amusing, colorful songs that accompany you through the snow-covered Hundred Acre Woods sharing the holidays with Tigger, Eeyore, Owl, Kanga, Roo, Piglet and Winnie-the-Pooh.
Through the years A Winnie-the-Pooh Christmas Tail has boasted some serious talent including two Award-winning actresses - Emma Stone, best known for such movies as The Help, Crazy Stupid Love and The Amazing Spider-Man, and Kimiko Glenn who currently stars in the television series Orange is the New Black.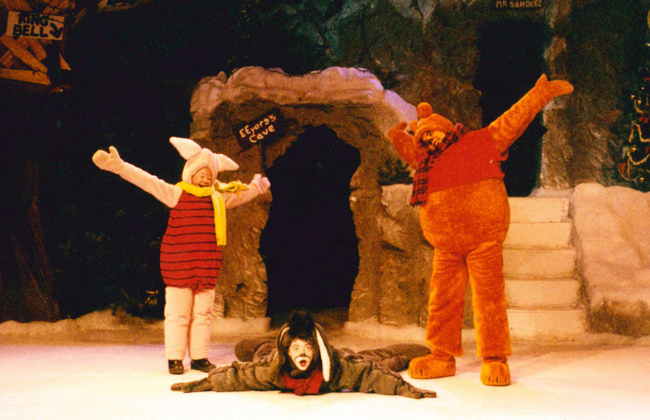 The audience will experience some adorable up-and-coming entertainers this year too! Owen Watson, playing Christopher Robin, returns for his eighth Valley Youth Theatre production and second appearance in A Winnie-the-Pooh Christmas Tail; in 2014 he played a Woodland Creature/Beaver (see photo). His other roles at VYT include: James in James and the Giant Peach, a Children's Chorus member is Joseph and the Amazing Technicolor Dreamcoat, Edmond in the production of Narnia, a Lost Boy in Peter Pan and Max the Dog in Seussical, The Musical. Owen, who attends Arizona School for the Arts, is 12-years-old.
Winnie-the-Pooh is a showcase of talented, cute, fluffy, fun characters from around the Valley including: Sophie Vaughan (Scottsdale) makes her VYT debut playing Winnie-the-Pooh; Olivia Fearey (Phoenix) returns for her second year to play Piglet; Riley Thornton (Gilbert) plays the lovable, old, grey donkey, Eeyore; Phoenix Cyphert (Glendale) plays the very practical Rabbit; Alexander Silver (Phoenix) plays crazy, bouncy Tigger; Ava Woods (Phoenix) plays the wise old Owl; Stephanie Larson (Phoenix) plays Kanga and Elliot Noah Thompson (age 7, Scottsdale) plays the adorable baby Roo.
Rounding out the cast of A Winnie-the-Pooh Christmas Tail are many cute, imaginative, up-and-coming performers playing adorable, fuzzy Woodland characters that children will love. After each performance, patrons (big and little) can meet the cast in the lobby. Children can talk with all their favorite Hundred Acre Woods characters, get autographs and pose for pictures.
Returning to direct the production for her eleventh time is VYT Alum Christine Merrow. Merrow has performed, choreographed and/or directed 28 productions with VYT including: Cats, Joseph and the Amazing Technicolor Dreamcoat, Winnie the Pooh Christmas Tail, Cinderella, and AIDA.
A Winnie-the-Pooh Christmas Tail is a musical based on A.A. Milne's delightful children's stories. Its book, music and lyrics are written by James W. Rodgers.
A Winnie-the-Pooh Christmas Tail, opens on December 2, 2016 and runs through December 23, 2016. Show times vary according to the day and ticket prices are $18 not including fees. For more information or to purchase tickets call the box office Monday – Friday 10 am to 3 pm at 602.252.8188 or visit www.vyt.com
Photo credits

1: The cast of the 2015 production of A Winnie-the-Pooh Christmas Tail
2: Kimiko Glenn (Piglet), Emma Stone (Eeyore) amd Molly Robinson (Pooh) The 2001 production of A Winnie-the-Pooh Christmas Tail

3: Emma Stone (Rabbit) and Chad Gilbert (Christopher Robin) The 2002 production of A Winnie-the-Pooh Christmas Tail

4: Olivia Fearey (Piglet), Ethan Shanker (Eeyore) and Jessica Sinodis (Pooh) The 2015 production of A Winnie-the-Pooh Christmas Tail
Established in 1989, Valley Youth Theatre (VYT) is an award-winning, professional quality, 501(c)(3) non-profit theatre dedicated to helping young people achieve their full potential through meaningful engagement, education and excellence in the performing arts. Alumni include award-winning celebrities including: Emma Stone, Jordin Sparks, Kimiko Glenn, Chelsea Kane, Charity Dawson, Krystina Alabado and many others. VYT is the winner of nearly 100 National Youth Arts awards, voted "Best Star-Making Machine" and "Best Live Theater" onazcentral.com, heralded as "Best Place to Take a Bow" by Phoenix Magazine and rated one of the "Top Ten Places to Become a Future Star" by The Arizona Republic. VYT produces six main stage shows each season including two at the Herberger Theater Center. For more information, visit VYT.com or call (602) 253-8188.