Valley Youth Theatre
Celebrates Pinkalicious' 10th Birthday in a Pink-a-riffic Way.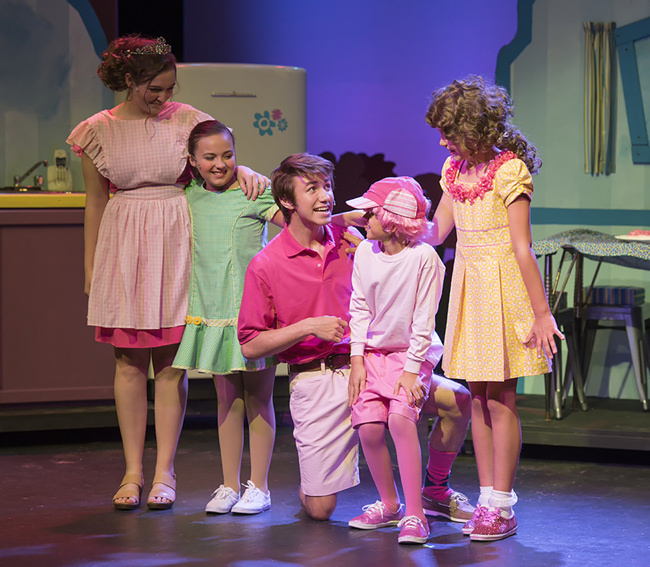 Phoenix, Arizona (April 13, 2016) Pink princesses of all ages filled the seats of Valley Youth Theatre (VYT) donning tiaras and wands and dressed in their favorite color for the opening weekend of Pinkalicious The Musical.
Pinkalicious is currently on stage at Valley Youth Theatre and has been extended through May 8th due to popular demand.
Next month marks the 10th birthday of the first Pinkalicious book, published in May 2006. Written by New York Times bestselling authors Victoria and Elizabeth Kann, Pinkalicious was the first in a series of books that taught children meaningful life lessons using their favorite colors.
Pinkalicious is a girl who loves everything pink and she can't stop eating pink cupcakes. She eats so many that she develops Pinkititis, a disease that turns her pink from head to toe – a girl's dream come true. At first, she's thrilled, but she eventually realizes that a world without other colors isn't that much fun.
The Pinkalicious character that came to life for children everywhere and even made pink cool for boys was inspired by Victoria Kann's real life daughters – two girls with vibrant imaginations who loved cupcakes, dress up, playing princess and all things pink.
Pinkalicious, The Musical is based on the original book and was adapted for the stage by its authors. "The musical, like the book, is clever, funny and teaches good lessons about temperance and family," says Bobb Cooper, Valley Youth Theatre's Producing Artistic Director. "It places children in a world where their pink dreams and imaginations collide. They can see and associate with the main characters of their favorite books," continues Cooper. "After each show, the children are invited to meet the cast. It is magical to see their faces as they take pictures with their favorite pink characters. And special, for this show, they love the have pink cupcakes we have available at concessions!"
Pinkalicious is directed by Bobb Cooper, choreographed by VYT alum Katie Casey and musically directed by Tristan Peterson-Steinert, also a VYT alum. The vibrant costumes are designed by Karol Cooper and the bright and colorful set design is by Dori Brown.
Makenna Jacobs returns to the VYT stage as the main character, Pinkalicious. Some of her other VYT credits include Lucy in The Chronicles of Narnia, a Lost Boy in Peter Pan and a Woodland Friend in A Winnie the Pooh Christmas Tail. "She is the perfect Pinkalicious," says Cooper "her spunk and vest for life are perfect for her character. Contrary to Pink, Makenna is a very sweet, well-mannered young lady."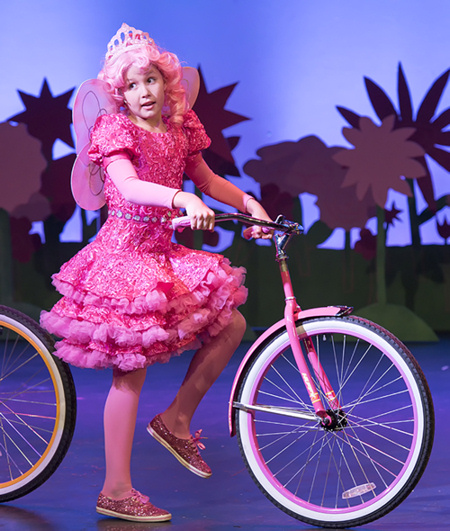 Peter, the mischievous, attention seeking little brother is played by 10-year-old Ian Gray. A few of Ian's other roles with VYT include P.J. in The Emperor's New Clothes, Fred in Snow White and as a member of the Children's Choir in Joseph and the Amazing Technicolor Dreamcoat.
Carly McClain, who plays the very organized Mrs. Pinkerton, has appeared in many Valley Youth Theatre productions including: Joseph and the Amazing Technicolor Dreamcoat(Wife),
Into the Woods (Granny), and The Musical Adventures of Flat Stanley (Mrs. Cartero). Carly is a junior at Xavier College Preparatory.
Mr. Pinkerton is played by a Vincent Pugliese who has been seen in many shows around the Valley. His VYT credits include: Joseph and the Amazing Technicolor Dreamcoat, Into the Woods and The Musical Adventures of Flat Stanley. Vincent is a voice student of Kelli James, Kristin Drathman and Tom Jones and takes acting lessons from D. Scott Withers.
Rounding out the cast is Pinkalicious' best friend Allison, played by Rosamond Aaliyah Kuhlman, Dr. Wink played by Tatum Dial and many other young talented performers, dancing around the stage as Bee's, Butterfly's and Birds.
Pinkalicious The Musical opened on April 8th and, due to popular demand, has been extended through May 8th. Shows times vary according to the day and ticket prices are $18 not including fees. For more information or to purchase tickets call the box office 602.252.8188 or visit www.vyt.com
Established in 1989, Valley Youth Theatre is a professional quality, 501(c)(3) non-profit theatre dedicated to helping young people achieve their full potential through meaningful engagement, education and excellence in the performing arts. Winner of nearly 100 National Youth Arts awards, voted "Best Star-Making Machine" and "Best Live Theater" onazcentral.com, heralded as "Best Place to Take a Bow" by Phoenix Magazine and rated one of the "Top Ten Places to Become a Future Star" by The Arizona Republic, VYT produces six main stage shows each season including two at the Herberger Theater Center. For more information, visit VYT.com.
Photos by Moran Imaging