Valley Youth Theatre
presents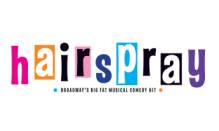 August 12th thru 28th
at
Herberger Theater Center
Valley Youth Theatre kicks off its 23rd season by having a rockin' good time with the smash hit musical, Hairspray! at the Herberger Theater Center. Experience the doo-wop fun as Tracy Tumblad, a pleasantly plump teen , turns 1962 Baltimore on its head when she gets to dance on the popular Corny Collins show! Can she vanquish the reigning Teen Queen, win the affections of heartthrob Link Larkin and integrate a TV network- all without denting her do? With show-stopping hits like "You Can't Stop the Beat", "Good Morning, Baltimore", and "Welcome to the Sixties", your toes will be tapping the night away!
Tickets go on Sale June 10th at the Herberger Theater Box Office
Tickets range from $17.00 to $33.00 (plus HTC charges) and are available online at www.herbergertheater.org or by calling the Herberger Box Office at 602-252-8497.
About Valley Youth Theatre
Valley Youth Theatre named by the Arizona Republic as one of the "Top Ten Places to Become a Future Star" targets young people age 7 – 19 for participation in, and attendance, at quality live theatre productions. VYT's mission is to inspire young people to be the best they can be, by providing them with lifelong lessons through a wide range of performing arts opportunities. VYT is an award-winning theatre and was recently selected as the Best Arizona Children's Performing Arts Theatre and received the 2008 Governor's Arts Award for Arts in Education. Alum include American Idol Jordin Sparks, Dancing with the Stars, Chelsea Kane (Staub), movie actress and Golden Globe Nominee Emma Stone who starred in "Easy A," "Superbad," "House Bunny" and "The Rocker" and Broadway Star Max Crumm. VYT is supported in part by the Arizona Commission on the Arts with funding from the State of Arizona and the National Endowment for the Arts. Partial funding also is provided by the Phoenix Arts Commission through appropriations from the Phoenix City Council. Valley Youth Theatre is a member of Theatre Communications Group, the national organization for the American Theatre. For more information, or to donate to VYT, visit www.VYT.com.