"The Secret Garden"
A Lavish Musical for the Entire Family
Valley Youth Theatre, downtown Phoenix
October 7 – 23, 2005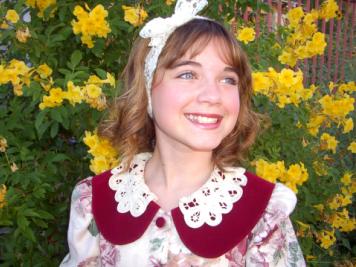 (Phoenix) – The classic children's story, "The Secret Garden", comes to life on the Valley Youth Theatre

stage, in a magical musical for the entire family, October 7 – 23, 2005. Valley Youth Theatre is located at 525 N. 1st Street in downtown Phoenix. Tickets are $15 each, call 602.253.8188 ext. 2.

Based on the novel by Frances Hodgson Burnett, "The Secret Garden" is the story of a lonely young girl

named Mary, who moves to England to live with her uncle and cousin, after being orphaned by a cholera epidemic that swept through her homeland of India. Upon her arrival in England, Mary discovers that a dark cloud hangs over the home of her relatives, that their lives are filled with sadness too. After settling in, Mary discovers a magical garden that has the power to bring life and happiness back to her family.

"The songs in this musical are incredible," said Bobb Cooper, Producing Artistic Director. "Honestly,

this is one of the most beautiful musicals I have ever been a part of."

"The Secret Garden"

runs from October 7 – 23, 2005 at Valley Youth Theatre, 525 N. 1st Street, downtown Phoenix. Showtimes are: Fridays at 7pm; Saturdays at 2pm and 7pm; Sundays at 12:30pm and 4:00pm. Tickets are only $15 each. Call 602.253.8188 ext. 2 or visit www.vyt.com for more information.

Valley Youth Theatre is one of the most acclaimed theatres in Arizona, voted "Rep's Best" in 2005.

"Rep's Best Place to Get Your Child Into Show Biz" in 2003, "Arizona Parenting's Favorite Children's Theater" in 2003 by the readers and editors of the magazine and received 79 ariZoni Award-nominations honoring excellence in theatre for the 2003-2004 season.