"LEAPING HOLIDAY LIZARDS"
AT THE MIAMI SCIENCE MUSEUM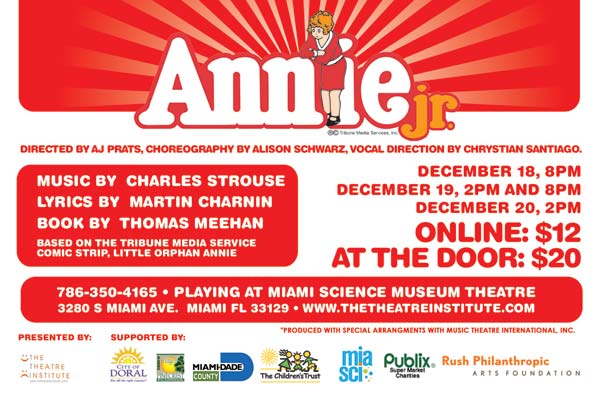 MIAMI, FL – This Holiday season, the Miami Science Museum welcomes The Theatre Institute of South Florida as they present Annie Jr., based on the Tribune Media Service Comic Strip, "Little Orphan Annie", directed by AJ Prats with additional direction by Alison Schwarz.

Eleven-year-old Annie has been living in an orphanage her whole life run by cruel Miss Hannigan. After unsuccessful escape attempts, Grace Farrell comes to take the child home to live two weeks with billionaire Oliver Warbucks during Christmas. The quirky orphan works her way into the hearts of the staff and Mr. Warbucks and even the president of the United States! Even though Mr. Warbucks wants to adopt her, she is still looking for her real parents who left a locket with her when they dropped her off at the orphanage. Miss Hannigan's brother and his sleazy girlfriend pose as Annie's parents to gather the reward that Warbucks has offered to Annie's real parents. Great family musical for all ages!

Annie Jr. will run from December 18-19 at 8pm and 19-20 at 2pm at the Miami Science Museum Theatre located at 3280 S Miami Ave. Tickets are available online for $12.00 or can be purchased at the door for $20.00. Annie Jr. is presented through special arrangements with Music Theatre International with Music by Charles Strouse, Lyrics by Martin Charnin and Book by Thomas Meehan.

Annie Jr. is a main series student company production offered by The Theatre Institute, Inc. (TTI), a not-for-profit theatre arts academy serving as a repertory theatre of children and adult performers. Their mission is to create a developmental exchange of talent by bridging the artistic divide between children and adult performers. They accomplish this through programs that combine students and professionals and offers them collaborative opportunities in a repertory setting. Their repertoire represents a collection of children's, commercial, educational, and experimental forms of theatre. They insist upon using traditional and non-traditional methods in their programs and theatrical repertoire to educate, entertain, and enrich the lives of the participant, as well as the spectator.

Proceeds from this event will help further benefit the children's and educational theatre programs of The Theatre Institute of South Florida. For more information please call TTI at 786-350-4165 or Miami Science Museum at 305-646-4200. You may also visit www.miamisci.org or www.thetheatreinstitute.com.