Temecula Performing Arts Company Presents
Godspell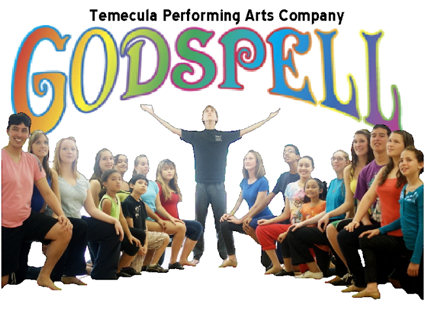 TEMECULA, CA – Experience the energy of one of the most popular musicals of the 1970s during the Temecula Performing Arts Company production of Godspell. Take a modern journey through the last seven days of the life of Jesus Christ, based on the Gospel According to St. Matthew. Performances run:November 12 – 20 at the Old Town Temecula Community Theater.
"Godspell is one of those shows that seem to inspire a populace following whenever and wherever it is performed," says Jillian Stones the show's director.
The original Off-Broadway production, with music and lyrics by Stephen Schwartz, debuted in 1971 and its costumes and sets were reflective of the 1970s culture and a small cast of 9. TPAC's 2010 version however, will encompass a more contemporary feel and a larger cast with much more dancing showcasing the talents of 20 of our local youth ages 7 thru 19. The talented cast is headlined by Brandon Olsen as Jesus and Michael Brambila as John the Baptist / Judas.
The all-ages-appropriate Godspell performance can be enjoyed by the entire family. Stones believes that those who experience the musical for the first time will add it to their list of favorites; and patrons who are familiar with the show will be delighted by fresh aspects of the production.
Tickets for Godspell are $10-$15 and available online at www.temeculatheater.org or through the OTTCT Box Office, 1-866-OLD-TOWN . Show times are 7:30 p.m., Nov 12, 13 19 & 20; and 2 p.m., Nov 14 and 20. Performances are held in the Old Town Temecula Community Theater located at 42051 Main Street in Old Town Temecula.
For more information on Temecula Performing Arts Company visit: www.temeculaperformingarts.com
Fine Arts Network dbaTemecula Performing Arts Company
is a non-profit theatrical education corporation 501 (c)(3)