Our YouthWorks Season Opens With The Little Prince Sept. 22- Oct. 8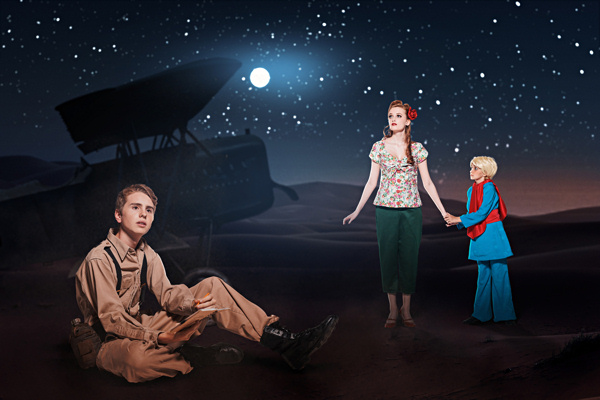 Adapted from one of the most published, translated, and cherished books of all time, The Little Prince features an Aviator and the Little Prince he meets when his plane crashes in the Sahara. We meet a menagerie of characters through the Little Prince, including Rose, Fox, Snake, King, Lamplighter, Geographer, and more who will teach us all about life, love and wonder.
Director Paul Pedersen says, "The Little Prince has been my favorite book since the first time I read it in the 7th grade and at every stage of my life, including now, different lessons and themes have stood out to me. The themes of love, friendship, and maintaining a relationship with your inner child are truly universal. I set our version in 1942, the year that the author, Antoine de Saint-Exupéry, wrote and illustrated the original manuscript of the book. This places the tale right in the middle of WWII, so it felt very natural to make our narrator, the Aviator, a military war pilot and so we see and hear a lot of war-time inspiration in his imaginings of the Little Prince's stories. This cast of young artists quickly realized that this classic fable is so much more than a "children's story" and they are doing an amazing job tackling all of the inner workings that make this piece of theatre so special."
· The Little Prince will be presented in the McMillin Theater at the Peoria Center for the Performing Arts:10580 N. 83rd Drive, Peoria, AZ 85345. Performance dates are September 22nd- October 8th, 2017. Showtimes are 7pm on Friday and Saturday nights (September 22, 23, 29, and October 6 & 7), and Sundays at 2:30pm (September 24, October 1& 8).
· Single tickets are $16; discounts available for seniors, students, and groups.
· Contact the Box Office at (623) 815-7930 or visit www.theaterworks.org.
· The Little Prince, the play, drama by Rick Cummings and John Scoullar, Adapted by the book by Antoine de Saint-Exupéry,courtesy Dramatic Publishing.
· Theater Works YouthWorks season is sponsored by the Constance W. McMillin Trust
Theater Works at the Peoria Center for the Performing Arts is celebrating its 32nd season of providing exceptional theater to the West Valley. Theater Works is a non-profit 501(c)(3) organization whose mission is to provide opportunities for children, patrons and artists to experience theater that inspires, enriches and enlightens through the experience of the performing arts. Theater Works acts as the managing tenant for the Peoria Center for the Performing Arts which features more than 200 events a year including: live theater, classical concerts, jazz, popular music, dance, comedy, cultural events, festivals, youth and adult education classes and much more. For more information, call 623.815.7930 or visit www.theaterworks.org.