Original Musical TWILIGHT'S QUEST Closes
Theater Works Youth Works Season
Onstage May 6 - 22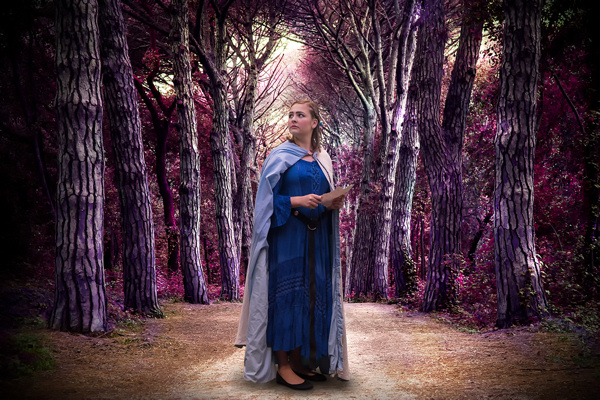 (Peoria, AZ) Theater Works 30th Season comes to a close with the YouthWorks production Twilight's Quest opening Friday, May 6. This tale is an original musical fantasy, with echoes of the Wizard of OZ and Alice and Wonderland and a whole lot of magic sprinkled on top. Twilight is on a quest to solve a mysterious riddle and forever vanquish darkness in the magical forest of Callowell. On her journey, she encounters all kinds of mystical creatures; Fairies, Mermaids, Gypsies and Pirates. Twilight's Quest is an original fantasy musical written by Chris Hamby, Theater Works' very own Director of Education and Outreach and one of Arizona's leading theater artists.
Theater Works will be participating in Free Comic Book Day on Saturday, May 7. Free comic books will be given out to anyone with a paid ticket to Twilight's Quest while supplies last. Doors open at 6pm. Comic books are provided by Critical Threat Comics. Critical Threat Comics & Games is the locally-owned geek headquarters for Tempe featuring comics and graphic novels for any reader, open gaming tables, a demo game library, and events every day of the week. www.criticalthreatcomics.com.
Theater Works will also be holding a Cosplay night on Saturday, May 14. Dress as your favorite fantasy character or creature and join in a costume parade that will cross the stage during intermission. Participants are invited to be creative and inventive with their costumes. No weapons, sharp objects or masks allowed and keep costumes to a PG-13 rating. Costumes must be able to be worn while sitting in the theater without obstructing the view of other theater-goers. All costumes or props must be for looks only, not functional and may not generate emissions of any kind.
Twilight's Quest was originally written by Chris Hamby as a play. With the help of Melissa Alvarez, Joseph Martinez and Stephen Schermitzler, the production was transformed into a musical. Leading the cast of 31 talented youth actors is Lily Castle who is making her Theater Works debut as "Twilight". Lily is joined by returning Theater Works actors Emily Benoit, Quincy Janisse, Josh Pike and Camden Wawro.
This production is supported by the Constance W. McMillin Trust and Deborah Jamieson and Scott Dewald.
Twilight's Quest will be on stage at the Peoria Center for the Performing Arts November 6 –22, 2015. General admission tickets are just $15. The production takes place in the Gyder Theater of the Peoria Center for the Performing Arts (8355 West Peoria Avenue, Peoria, AZ 85345). To purchase tickets or find out more about Theater Works and the Youth Works productions, contact the Box Office at (623) 815.7930 or visit www.theaterworks.org.
Theater Works, at Peoria Center for the Performing Arts is entering its 30th season of providing exceptional theater to the West Valley. As a destination, it features more than 200 events a year including: live theater, classical concerts, jazz, popular music, dance, comedy, cultural events, festivals, youth and adult education classes and much more. Theater Works is a non-profit 501(c)(3) organization.