Theater Works Presents A Tale of True Friendship in
Youth Works Production Charlotte's Web
On Stage November March 4 - 20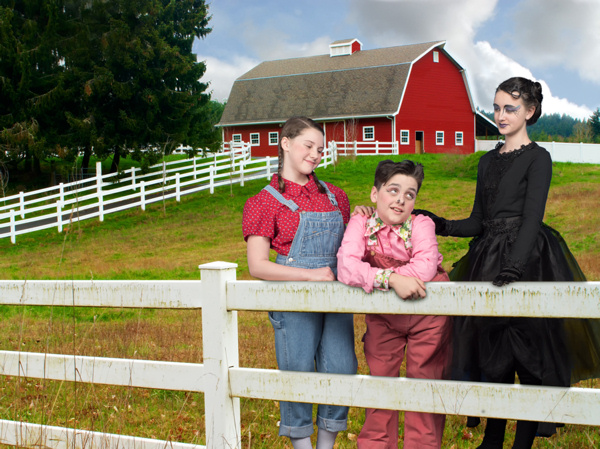 (Peoria, AZ) Theater Works 30th Season continues with the YouthWorks production Charlotte's Web opening Friday, March 4. Get caught up in Charlotte's web as this colorful, fun and timeless story is spun on to the stage. Meet all the fascinating characters: Wilbur, an endearing piglet in grave danger of becoming bacon; Fern, a young girl who loves animals and wants to save him; Templeton, the gluttonous rat who can occasionally be talked into a good deed; and Charlotte, the wise and winsome spider who proves what true friendship is all about.
Charlotte begins her campaign to save Wilbur with the "miracle" of her web in which she writes, "Some pig"… and it's the beginning of a victorious campaign. Based on the book by E.B. White, Charlotte's Web was named by the Children's Literature Association as "the best American children's book of the past two hundred years." Charlotte's Web was adapted by Joseph Robinette. Produced by special arrangement with THE DRAMATIC PUBLISHING COMPANY of Woodstock, Illinois.
The cast of 23 will be directed by Chris Hamby, who serves as Theater Works' Education and Outreach Director, as well as the puppetry director for the Puppet Works program. Most recently Chris directed the award-winning productions of A Year With Frog and Toad, The Tales from the Arabian Nights, and Avenue Q: School Editionfor YouthWorks. This season he also directed The Secret Garden. Theater Works is thrilled to see the return of Alexa Pedersen (Charlotte), Josh Pike (Wilbur), andTabetha Horney (Fern Arable) leading the cast of talented young people.
Charlotte's Web will be on stage at the Peoria Center for the Performing Arts March 4 – 20, 2016. The Youth Works 2015-16 season concludes with an original production written by Hamby, Twilight's Quest opening May 6 and running through May 22.
Tickets for Charlotte's Web are now on sale. General admission tickets are just $15. The production takes place in the McMillin Theater of the Peoria Center for the Performing Arts (8355 West Peoria Avenue, Peoria, AZ 85345). To purchase tickets or find out more about Theater Works and the Youth Works productions, contact the Box Office at (623) 815.7930 or visit www.theaterworks.org.
Theater Works, at Peoria Center for the Performing Arts is entering its 30th season of providing exceptional theater to the West Valley. As a destination, it features more than 200 events a year including: live theater, classical concerts, jazz, popular music, dance, comedy, cultural events, festivals, youth and adult education classes and much more. Theater Works is a non-profit 501(c)(3) organization.