Theater Works Presents
Cinderella's Glass Slipper
Opening Friday, April 25, 2014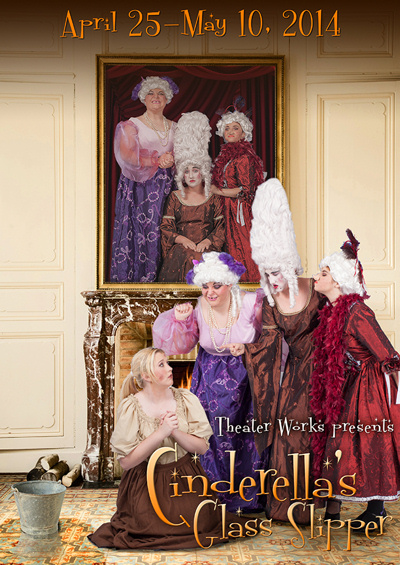 Peoria, Arizona Theater Works - Peoria Center for the Performing Arts Resident Youth Theatre Company presents Cinderella's Glass Slipper, opening Friday April 25, 2014.

Cinderella works hard in the home of her cruel stepmother. Her silly stepsisters, Brunhilda and Cleopatra, see themselves as beautiful and think the prince will marry them. Of course, the handsome prince spends most of the evening at a palace ball trying to escape from them! The story is ages old, but you'll meet playful new characters in this fresh adaptation: a brave mice, a hesitant cat and the amazing Pumpkinhead, who changes into a coach! Our Fairy Godmother has her hands full tutoring an apprentice but still makes time for Cinderella. Amazing (yet simple!) stage magic sends our heroine off to the palace ball. As we know, she loses her glass slipper as she tries to run out before the clock strikes midnight. As the ladies of the kingdom try to fit into the crystal shoe, the prince finally finds the girl he is to marry. This well-known classic is filled with songs by Bill Francoeur that create their own magic, such as the prologue 'Once Upon a Time,' the stepsisters' 'Ladies of Fashion' and Cinderella's 'Dream of Tomorrow.

Cinderella's Glass Slipper, is directed by Jason Washburn and features a talented cast of over 30 young actors.The stage version is based on the classic fairytale. The production features musical direction by Jennifer Whiting and choreography by Alicia Cardoza.

Cinderella's Glass Slipper, opens April 25th, 2014 and plays through May 10th, 2014 on selected dates and times. Tickets are only $15 including all fees. Call or email the Theater Works box office for more information, 623-815-7930 or boxoffice@theaterworks.org.

Theater Works, the resident theatre company of Peoria Center for the Performing Arts, resides in the heart of old-town Peoria, Arizona. Beginning with a group of patrons who shared a common vision, it has grown into one of Arizona's most acclaimed theatre companies. Theater Works is a non-profit 501(c)(3) organization. For more information, call the box office at 623.815.7930 or visit www.theaterworks.org.
Pictured: Kyrsten Smith, Savannah Wilson, Quincy Janisse, Savoy Graca
Photo By: Wade Moran
Book by Vera Morris
Music and Lyrics by Bill Francoeur
"Cinderella's Glass Slipper is presented by special arrangement with Pioneer Drama Service, Inc., Englewood, Colorado"