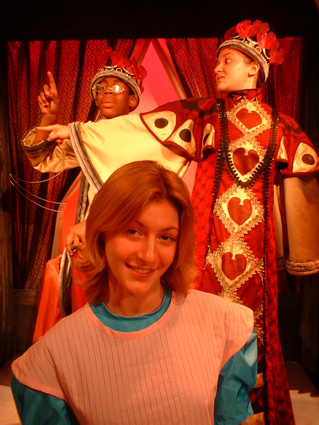 Music by Eric Rockwell Lyrics by Joanne Bogart
Book by William Brooke
Choreography by Joanna Greer
Direction by
Janine Nina Trevens
April 25- May 17

In celebration of the 150th Anniversary of Lewis Carroll's original work, Alice in Wonderland, the Drama Desk Award-Winning TADA! Youth Theater will present THE TRIALS OF ALICE IN WONDERLAND, an original Off-Broadway musical performed by talented kids, for kids. ALICE opens on April 25th and runs through May 17th at TADA! 15 West 28th Street.

Based on the classic books by Lewis Carroll, this original musical starring TADA!'s RESIDENT YOUTH ENSEMBLE, follows Alice and all the (un)usual suspects in the topsy-turvy world of Wonderland. The musical starts in modern day Coney Island, where Alice, a young girl, doesn't fit in with the other kids on the boardwalk and runs away to an abandoned fun house. The other kids follow and become the characters in the world of Wonderland, where Alice is on trial for growing and changing.
Will Tweedle Dee or Tweedle Dum defend Alice against the unruly judge, The Queen of Hearts? What does the King of Hearts have to say about all the goings on? Will Alice ever fit in and find her garden? Will she be found innocent or guilty? Will she keep her head? Who wins the game of croquet - Alice or The Queen? The witnesses (Cheshire Cat, Caterpillar, Mad Hatter, March Hare and the Dormouse) testify and share the adventures they have with the different size Alices and the jurors will decide her fate. Come and see what awaits you in this world where we are all mad!

TADA! original musicals are approximately one hour long and are intended for family audiences. Bring the whole family to TADA! for less than the price of one Broadway ticket!
THE TRIALS OF ALICE IN WONDERLAND has music by Drama Desk Nominee ERIC ROCKWELL and lyrics by Drama Desk, Lucille Lortel Award and Drama League nominee JOANNE BOGART with book by WILLIAM BROOKE. JANINE NINA TREVENS, Executive and Artistic Director of TADA! directs the production, TADA! Associate Artistic Director and Resident Choreographer, JOANNA GREER, will choreograph and ADAM JONES serves as musical director. STEVE O'SHEA, TADA! Resident Scenic & lighting Designer does set and lighting design, MEGAN TUREK designs the costumes and KEATON C. GRANT stage manages.

DATES: April 25th – May 17th ~ Opening Night: Saturday, April 25th @ 7pm
Saturdays & Sundays @ 2pm & 4pm (no perf. May 10th Mothers' Day)
Special Dates: Wed. May 6th @ 10am & 12pm & Fri. May 1st & 15th @ 7pm
THEATER: TADA! ~ 15 West 28th Street (bet. Broadway & 5th Ave.)
TICKETS: $15 Children ~ $25 Adults ~ Limited discounted seats available to be purchased
by April 18th: $10 Children ~ $20 Adults ~ suggested 5 years & up
RESERVATIONS: www.tadatheater.com

Now celebrating 30 years, TADA! has provided young people of all different backgrounds, the opportunity to explore and perform musical theater together, in an educational, supportive and professional environment. Every year, TADA! produces three original musical theater productions with a discounted ticket program; free pre-professional training and youth development opportunities through the Resident Youth Ensemble, composed of approximately 80 NYC kids ages 8-18 annually; renowned Arts Education residency programs both in-and after-school programs that are often subsidized by our funders; and theater classes and camps for kids 2-13, taught by professional teaching artists and for which need-based scholarships are readily available.
TADA!'s mission is two-fold: to provide high-quality musical theater productions performed by talented kids for family audiences and to provide a safe, creative and nurturing place where kids can harness their inherent energy, build their self-assurance and realize their true potential through the unique collaborative art form that is musical theater. Through TADA!'s high-quality work, young people gain confidence and learn commitment, responsibility, communication and teamwork...skills that are critical to their success both in school and in life.
TADA! Youth Theater is a 501(c)3 non-profit theater company.