Spotlight Arts' Students Spend Spring Break in Neverland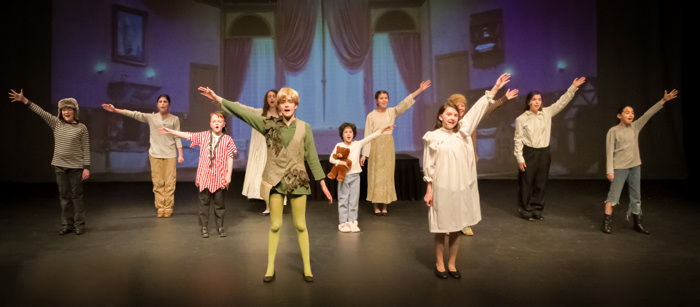 Second star to the right and straight on till morning." Those words, written by J. M. Barrie are known from his 1904 play and 1911 book, PETER PAN. Many adaptations have since followed including Walt Disney's 1953 wildly popular animated musical movie and many Broadway productions.
On March 24th, twelve students performed Peter Pan Jr., to a welcoming crowd of family, friends and little ones experiencing their first taste of live theatre! Peter Pan Jr. was Spotlight Art Inc.'s Spring Break Musical Theatre Intensive Workshop. The students have only four days of rehearsal and perform on the afternoon of the fourth day!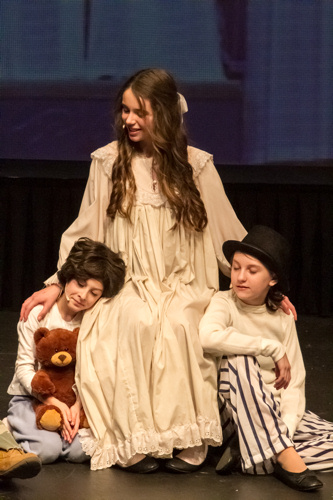 Students work to improve their acting, singing, and dance skills, acquire new technique, learn lines, lyrics and blocking and then put up a show in less than a week! This unique training and performing experience is designed to provide the student with a condensed and highly intensive rehearsal process. The performance took place at The Harvey School in Katonah with lights, sound, costume and set under the direction of Stephanie Rubino.
Coming this August, children ages 10 – 18 can participate in two special Musical Theatre Intensive workshops. Fame Jr. will take place August 1- August 5 and Mulan Jr. from August 15-19. Space is limited for these workshops. For more information, to find out about early registration discounts and to register visit www.spotlightartsinc.com.call 845.444.ARTS or email spotlightartsinc@gmail.com.
---
###
About Spotlight Arts Inc.
Spotlight Arts provide our students with high-quality, fun learning environment. Our students learn skills such as acting, dancing and singing. We offer weekly classes, Mainstage productions, Master Classes and Musical Theatre Intensive Workshops. In addition, students of the performing arts also learn skills such as collaboration, creativity, focus, problem-solving, self-confidence, communication and more!