San Diego Junior Theatre Presents "Tales of a Fourth Grade Nothing"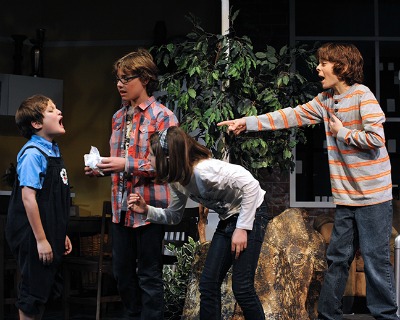 Students from throughout San Diego County are producing and performing "Tales of a Fourth Grade Nothing" through San Diego Junior Theatre, March 1-17. Based on beloved author Judy Blume's book of the same name, it centers on the escapades of fourth grader Peter Hatcher as he woefully deals with the mischievous antics of his little brother, Fudge. The show is being held at Balboa Park 's Casa del Prado Theater on Fridays at 7 p.m. and weekends at 2 p.m. Tickets range from $10 to $15 and are available online at juniortheatre.com and by calling (619) 239-8355. The March 16 performance is being presented along with American Sign Language interpretation.
Directed by San Diego Junior Theatre alumna Teri Weisenberg Ang, "Tales of a Fourth Grade Nothing" exhibits the talent and dedication of dozens of students, both onstage and behind the curtain. With guidance from adult professionals, the crew members prepare costumes, apply make-up, run the stage lights and sound systems, and carry out most all other fundamental theater responsibilities.
San Diego Junior Theatre is committed to the region's youth by encouraging the development of their creativity, self-esteem and enjoyment of theater arts. Positively affecting students of all abilities, ages 3 through 18, the non-profit organization thrives through show ticket sales, class and camp enrollments and the generosity of its alumni and community members. Contributions to San Diego Junior Theatre are tax-deductible.
Adapted for the stage by Bruce Mason, "Tales of a Fourth Grade Nothing" features music by Andrew Lippa. It is being presented through special arrangement with Plays For Young Audiences, a Partnership of Seattle Children's Theatre and Children's Theatre Company in Minneapolis . The production is also sponsored in part by the City of San Diego Commission for Arts and Culture, the City of San Diego Park and Recreation Department and the County of San Diego.
Photo by Ken Jacques
# # #