The Hills are Alive at San Diego Junior Theatre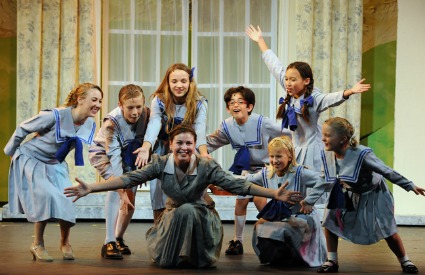 Forty-six students from throughout San Diego County are performing in San Diego Junior Theatre's production of The Sound of Music. Based on the autobiography "The Trapp Family Singers," the beloved musical is set during the 1930s in Austria where an aspiring nun, Maria, is assigned by the head of her abbey to be a governess. Maria's vivaciousness and generous heart attract the love of the seven children and their widowed father, decorated Navy Captain Georg Von Trapp.
The Sound of Music was the final collaboration between renowned composer Richard Rodgers and lyricist Oscar Hammerstein. With a book by Howard Lindsay and Russell Crouse, The Sound of Music premiered on Broadway in 1959. Presented by San Diego Junior Theatre through special arrangement with R&H Theatricals and directed by Rayme Sciaroni, The Sound of Music is recommended for adults and children 6 years of age or older.
The Sound of Music runs Friday, October 26 through Sunday, November 18 at the Casa del Prado Theatre. Tickets range from $10 to $15 and are available online at juniortheatre.com or by calling (619) 239-8355. Like all San Diego Junior Theatre shows, The Sound of Music showcases the dedication and skills of its students, both onstage and behind the curtain. With guidance from adult professionals, student crew members run most of the behind the scenes elements of the show.
San Diego Junior Theatre is committed to the region's youth by encouraging the development of their creativity, self-esteem, and enjoyment of theatre arts. Positively affecting students of all abilities ages 3 through 18, the non-profit organization thrives through show ticket sales, class and camp enrollments, and the generosity of its alumni and community members. Contributions to San Diego Junior Theatre are tax-deductible. "The Sound of Music" is sponsored in part by the City of San Diego Commission for Arts and Culture, the City of San Diego Park and Recreation Department, and the County of San Diego.
Photo by Ken Jacques Photography: Talia Berkstein as Maria and the VonTrapp Family singers (names from L-R: Kelly Prendergast as Leisl, Lane Palhegyi as Frederich, Ruby Ross as Louisa, Pierre Cozic as Curt, Camille Fundingsland as Brigitta, Emma Holley as Marta and Kathryn Dawson as Gretl)
###