AT JUNIOR THEATRE, "KNOWLEDGE IS POWER"
Based on the ABC-TV educational animated series, Schoolhouse Rock
Directed by Desha Crownover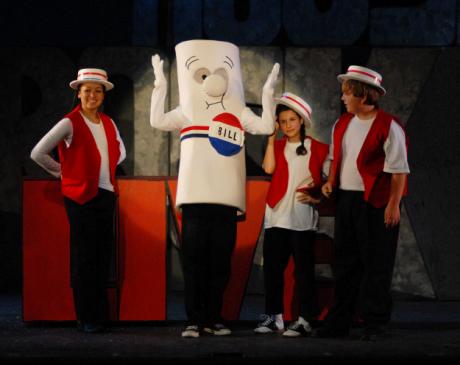 BALBOA PARK – Tom, a young teacher, is nervously preparing for his first day on the job. A singing and dancing ensemble suddenly appear from School House Rock, the 1970's educational animated series. Manifestations of the different sides of Tom's personality, they have gathered to give Tom the confidence he needs and to show him how to win his students over with imagination and music. By the time the show is over, Tom is ready to face his first day – school's in! "Schoolhouse Rock, Live is the perfect show to kick off our 60th Anniversary season as it combines theatre, education and nostalgia," says Artistic Director Desha Crownover.
Written by Scott Ferguson, Kyle Hall and George Keating with lyrics by Lynn Ahrens, Bob Dorough, Dave Frishberg, Kathy Mandry, George Newall and Tom Yohe, "School House Rock Live!" can be seen at the Casa del Prado Theatre in Balboa Park from October 26 – November 11, 2007. Show times are Fridays at 7 p.m., Saturdays and Sundays at 2 p.m. Admission prices are $ 8- $11 for children under 14 and seniors, $10- $13 for adults. Group rates are available Please call the box office at 619.239.8355 for ticket purchases and availability or visit our website at www.juniortheatre.com.
San Diego Junior Theatre is committed to the encouragement of our city's youth and the development of their creativity, self-esteem and enjoyment of theatre arts. San Diego Junior Theatre wishes to thank the City of San Diego Commission for Arts and Culture.