GO BACK TO SCHOOL AT WAYSIDE SCHOOL WITH
JUNIOR THEATRE'S SIDEWAYS STORIES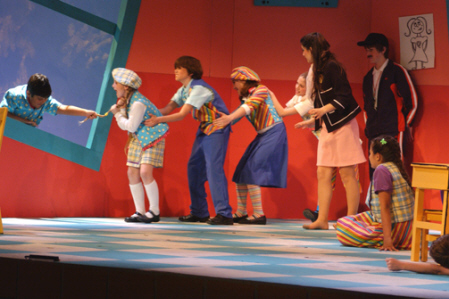 SAN DIEGO – Every school should be as much fun as Wayside School, where the zany class on the thirtieth floor has never had a boring day. Expect the unexpected, since creative classmates always have a surprise in store. But don't get too comfortable, or the teacher, Mrs. Gorf, might turn someone into an apple. From the author of 'Holes', Sideways Stories from Wayside School is recommended for all ages.
Based on the Wayside School novels by Louis Sachar, Sideways Stories from Wayside School will open at the Casa del Prado Theatre in Balboa Park on March 2. Show times are Fridays at 7 p.m., and Saturdays and Sundays at 2 p.m. through March 18. Ticket prices are $8 - $13 and can be purchased online at juniortheatre.com, on site or by calling the Junior Theatre box office at (619) 239-8355. Tickets for each of the remaining shows of the season are also currently available online.
San Diego Junior Theatre has embarked on their 59th season with thirteen productions for three locations (Balboa Park, Chula Vista and La Jolla). Their primary mission continues to be to provide all youth ages 3-18 the opportunity to experience the theatre arts through innovative classes, camps and outreach programs. San Diego Junior Theatre thanks the City of San Diego's Commission for Arts and Culture and Department of Parks and Recreation.
# # #