Almost, Maine
A heartwarming exploration of the ups and downs of love.
San Clemente High School
Performances: Thursday, November 13th, Friday, November 14th, and Saturday, November 15th at 7pm (Student Preview show Wednesday November 12th at 4pm $5 at the door).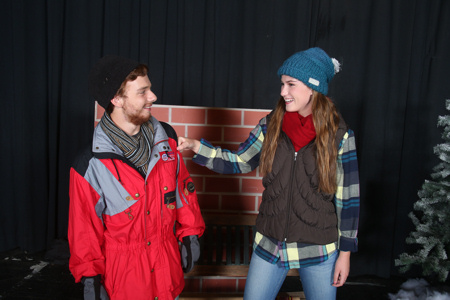 Tickets available online at www.SCHSTheatreArts.com. Adults $12/ Students $10

In the north of Maine, isolated from other cities, lies a town ¾ Almost, Maine. In this harsh environment, tiny miracles occur all the time. Some say that they come from the northern lights and others say that cold weather breeds warm folks.


Almost, Maine, by John Cariani, is a heart-warming play that includes nine scenes with nineteen different characters who explore the contrasting aspects of love through short vignettes. Each vignette includes two or three characters that interact under the northern lights at nine o'clock on a Friday night. Some find love and some lose it, but all teach the audience a lesson about the miracles of love that can happen on a winter evening.

In "Sad and Glad", there is incredible tension as Sandrine (Julia Becker) runs into her ex-boyfriend, Jimmy (Josh Pavlis), at a resturaunt. The awkward moment is heightened as the ditzy waitress (Delaney Marchant) assesses their relationship status. This hilarious and heartbreaking scene will have audiences laughing and crying until the very end. All ages will love " Getting it Back", the story of Gayle (Paris Hull), a woman who just wants to be loved as much as she is deserved, and her confused boyfriend, Lendall (Draco Tudor), who has no idea why his angry girlfriend has turned up on his doorstep in the middle of the night. They both learn how much they truly love one another through a humorous dispute over who loves who more that will have audiences chuckling the whole way through. In "Where it Went", the heartbreaking tale of Marcie (Sophia Racke) and Phil (Evan Harris), the audience gets a glimpse into their troubled marriage. Fighting over everything down to wishes on a star, the couple must face the difficult decision of whether they truly love each other anymore. Viewers will be teary-eyed by the end of this modern day tragedy.

Students will assuredly relate to the problems faced by the characters in Almost Maine. The circumstances of the scenes already pull at the heartstrings of all of the cast and crew. Love is a common theme in the life of the average high school student. This fact has been a driving force in how the cast and crew have been able to connect with the show and form an understanding of the script. As the northern lights shine, the students hope to make a memorable experience for all who walk through the doors and into the winter wonderland of a Friday night faraway in Maine.

Produced by the San Clemente High School drama students, the untraditional but oh-so-enjoyable romantic comedy will have you laughing and crying right along with the characters as they go on their journey to find love. We hope to see you there!

Cast Members: James, Bacon, Julia Becker, Korina Camel, Annie Combs, Jonathan Crawford, Ruth Flynn, Luke Gianeli, Evan Harris, Colin Horan, Paris Hull, Jonathan Jackson, Daniel Klevit, Delaney Marchant, Matt McCoy, Geoffrey Osuna, Josh Pavlis, Sabrina Poei, Danielle Pribyl, Sophia Racke, Saffron Sener, Alex Schultz, Draco Tuder, William Wakeman, Noah Willis