Poway High School to revisit the 1950s with upcoming production of Bye Bye Birdie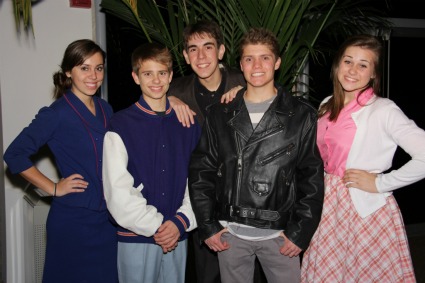 POWAY, CALIFORNIA, January 19, 2012 – The students of Poway High School are gearing up to take the stage in Bye Bye Birdie, this year's school musical. Opening Thursday, February 2, the show boast a stellar cast of 45 high-schoolers, not to mention a live orchestra, eye-catching sets, and colorful costumes. All performances start at 7pm, playing February 2, 3, 9, 10, and 11 at the beautiful Poway Center for the Performing Arts, 15498 Espola Road, Poway, CA 92064. Following last year's sold-out run of Fiddler on the Roof, the students and creative staff are eager to share their latest musical offering with the community. 

Bye Bye Birdie premiered on the Broadway stage in 1960, with book by Michael Stewart (Hello, Dolly!), music by Charles Strouse (Annie), and lyrics by Lee Adams. The show is an affectionate satire on American society in the late 1950s, especially the generation gap that surrounded the emergence of rock-and-roll. In other words, the creators of the show were having a good-natured laugh at the society in which they were living. The humor is always honest, but never cruel. At the heart of the piece is a sweet romantic comedy, where optimism and loyalty prove, once again, to be integral aspects of the American spirit. 50 years after its premiere, the stage version of Bye Bye Birdie still has the ability to capture the heart and make it laugh.
 
The Poway High School production of Bye Bye Birdie has been helmed by Stephen Knoll-Gentry as director, Amy Knoll-Gentry as choreographer, and PHS choral director Nancy Gray as musical director. The orchestra will be conducted by PHS band leader Sylvester Sybilski. 
 
Tickets may be obtained ahead of time by contacting Michele Ulrich at (858) 486-0549 or ulrichfamily@cox.net. Tickets may also be obtained at the door.