Beauty And The Beast – A Tale as Old as Time…
Ovation Theatre performs August 11-20, 2017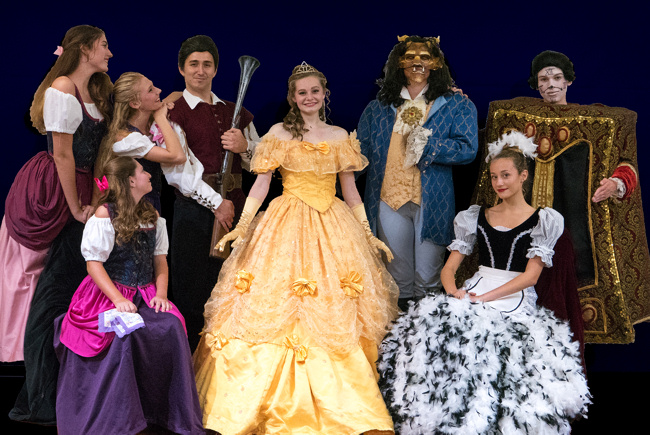 For Immediate Release July 2017, Encinitas, CA — In mid-August, Ovation Theatre will bring its sumptuous production of the Disney classic Beauty And The Beast to the stage in North County. Featuring many of the most talented and dedicated young actors in San Diego, Ovation Theatre's award-winning productions showcase brilliant vocalists, extraordinary ensembles, and an attention to detail reminiscent of the very best that Broadway has to offer. From the music, to the choreography, to the costumes and staging, prepare for an emotional experience you will be talking about for months.
Ovation Theatre's version includes all of the wonderful songs written by Alan Menken and the late Howard Ashman, along with new songs by Mr. Menken and Tim Rice. The original Broadway production ran for over thirteen years and was nominated for nine Tony Awards, including Best Musical. Susie Dycus, dance captain for numerous Off-Broadway productions of Beauty And The Beast, has been engaged as the show's choreographer. Artistic and stage direction by Pamela Laurent, and musical direction by Scott Gregory—the driving force behind Ovation's mounting list of critically acclaimed productions.
Hannah LeBeau is featured as Belle, a beautiful and intelligent young woman who feels out of place in her provincial French village. Dante Velez portrays the Beast, a grisly and fearsome monster trapped in his gruesome form by an enchantress. Belle is constantly brushing off advances from the arrogant Gaston, played by Chad Theriault. Nathan Haug appears as LeFou, his dim-witted lackey. When Belle's father, Maurice (played by Kerry Witkin), is imprisoned in the Beast's castle, her attempt to rescue him leads to her capture. The Beast's enchanted household is populated by such beloved characters as Mrs. Potts (Sophia Papalia), Lumiere (Colin Gasperoni), Cogsworth (Max Pedrazanni), Madame de la Bouche (Allie Price), Babette (Elena Mangiamele), and Chip (Abigayle Fulton/Samuel Hendricks).
Performances are August 11, 12, 18, and 19 at 7:00pm and August 12,13, 19, and 20 at 2:00pm at the Howard Brubeck Theatre at Palomar College, 1140 W. Mission Rd, San Marcos, and are suitable for all ages.
Tickets will be on sale to the public starting July 25, 2017. Ticket prices are $18 for adults/$13 for children 10 and under online, and $20/$15 at the door. Tickets are available at
http://www.brownpapertickets.com. Group rates are also available. Check out http://www.ovationtheatre.org/, call (760) 487-8568 or email info@ovationtheatre.org for more information.

About Ovation Theatre
Ovation Theatre, a 501(c)(3) based in Encinitas, serves the greater North County, San Diego
area and prides itself on promoting professional quality youth and adult theatre within the
community. Ovation Theatre is an award-winning studio and production company where
students of all ages, levels, and abilities can stretch their wings, hone their skills, and become
comfortable in the world of theater arts. Ovation Theatre with NCSA has won numerous awards
from National Youth Arts in the past seven years —including Outstanding Production for The
Music Man (2017) and Peter Pan; Best Ensemble and Best Direction for Into The Woods
(2016); and other awards for musical direction, choreography and outstanding ensembles.
Their cast members have also garnered many Best Actor/Actress awards.