THEATRE SCHOOL @ NORTH COAST REP
PRESENTS HANSEL AND GRETEL
Recommended for audiences ages 5 to 95!
The Theatre School @ North Coast Rep is proud to present one of the most famous Brothers Grimm classic tales of all time – Hansel and Gretel. The play, adapted by Joe and Cody Powers and directed by Matt Thompson and Chelsea Whitmore, will run March 27, 28, 29, 2008 at 7 p.m. and March 29 & 30 at 2 p.m. There will also be school matinees on March 28, 2008 at 10 a.m.
Hansel and Gretel are the children of a poor wood cutter. Fearing starvation, the wood cutter's wife convinces him to lead the children into the forest and abandon them there. Lost in the forest, they find a house made of bread with sugar windows, which they begin to eat. The old woman who lives there invites them in for a special feast. Join us to see what unfolds in this splendid fairy tale. .North Coast Rep invites their audiences to experience the enchantment of this timeless story.
"There are many versions of Hansel and Gretel to be seen, read and heard. In the adapting of this story Cody and I tried to stick as closely to the Grimm's Brother story as possible. To keep the magic of the original story while making it fun, fresh, and palatable to today's audiences and the sensibilities of young theatre goers." It was a pleasure to work with my son on this project thus giving it a dual perspective: today's youth and yesterday's child." – Joe Powers
We are pleased to present the fabulous cast and crew
for our exciting production of Hansel & Gretel: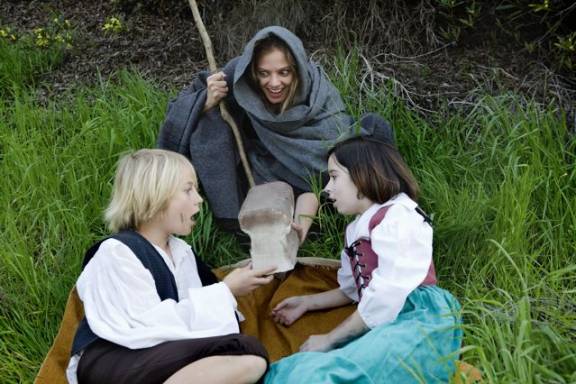 The cast for Hansel and Gretel include the following: Amanda Cowles, Antonio Romero, Melanie Kaplanek, Alex Jankowski, Natalie Dorosewicz, Cameron Bell, Gabe Krut and Sunny Smith (adult actor/mentor).
Crew for Hansel & Gretel are Kate Chamberlain, Eva Loeser, Peter Lillian, Victoria Buccholz, and Austin Evans.
Each season the Theatre School @ North Coast Rep produces four productions designed for young audiences and families. The school also offers several informative, educational and enjoyable courses for students to enhance their knowledge of the theatre and allow them to grow artistically.
Tickets are available now. Tickets may be purchased by calling 858-481-1055, or online at

www.northcoastrep.org

. Ticket prices are $9-$12. North Coast Repertory Theatre is located in the Lomas Santa Fe Plaza at 987 Lomas Santa Fe Drive, Suite D, in Solana Beach, just east of Interstate I-5. The box office is open daily from noon to 4 p.m. and from noon to 7 p.m. on performance days.