Rumplestiltskin tackles truth at
The Theatre School @ North Coast Repertory Theatre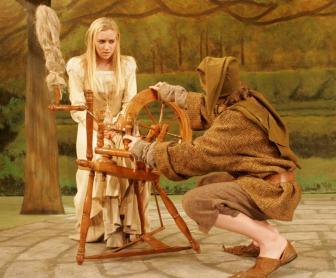 Solana Beach—The classic fairy tale Rumplestiltskin is set to be performed by the Theatre School at North Coast Repertory Theatre Thursday, March 2nd at 7 p.m. through Sunday, March 5th at 2 p.m. The story is newly adapted and directed by Joe Powers, the Director of the Theatre School and Educational Outreach. Powers says fairy tales stay alive because they say different things to different generations. "A small child may only see the surface, and muse at the antics of the fun and funny characters. The older child and adult can extract universal themes. Rumplestiltskin deals with the consequences of not telling the truth, including consequences of wanting things without working honestly for them."
Powers has been the Director of the Theatre School and Educational Outreach since 1997. He has just been awarded "2006 Honoree of Distinction" by Soroptimist International of Rancho Bernardo for his work in education through theatre, particularly the development of the Behind the Mask program, which provides an outlet for creative expression to foster children through drama classes in their group homes. "Joe has recognized and developed talents and confidence in hundreds of young people through his work as director, teacher, and director of the programs that take drama into schools or group homes. As a result, young audiences are falling in love with theatre. We're proud his talents are being recognized," said Libba Jackson-D'Ambrosi, Chair of NCRT's Education Committee.
The production is appropriate for anyone able to sit quietly. Reserved seats, $12 adults, $9 students, may be booked through the box office 858-481-1055, or the website, www.northcoastrep.org. One of two shows for school groups on Friday, March 3rd is sold out. Call the box office for group rates. North Coast Repertory Theatre is located at 987 Lomas Santa Fe Drive Suite D, in Solana Beach.
Cast and crew of Rumplestiltskin include: Eilee K. Bissell, Victoria Buchholz, Amanda Cowles, Christina Denning, Julia D'Ambrosi, Rachel Epstein, Sara Epstein, Austin Evans, Michelle Guefen, Melanie Kaplanek, Carina Kolodny, Cindy Mersten, James Patterson, Cameron Peterson , Garrett Peterson, Shauna Peterson, Robert Shepard, and Natty Zwail. All Theatre School productions include the casting and participation in rehearsals of an adult actor/mentor. Marty Burnett, whose set designs often make NCRT sparkle, will be seen onstage as the King.
Theatre School Classes, which meet once a week for eight weeks, are open to youth from third grade through high school. The next session begins April 8th.

Class descriptions, and complete Theatre School season, for both the Theatre School and the Mainstage shows are posted on the website or in brochure form at the box office.