THE THEATRE SCHOOL@NCRT PRESENTS:
The Lion, The Witch, and The Wardrobe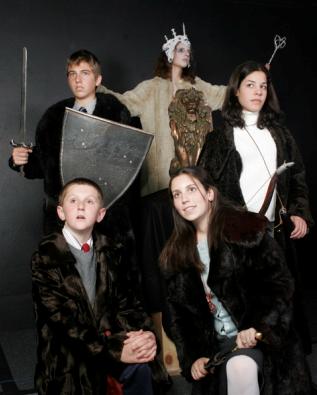 Solana Beach--The Theatre School @ North Coast Repertory Theatre presents The Lion, the Witch and the Wardrobe, based on the classic book by C.S. Lewis, November 17th-20th. Joe Powers, who directs both the production and the Theatre School, says the play will reveal to old and young alike the importance of the imagination. "But most importantly, we become aware that magic . . . honour . . . hope and truth live vibrantly in our world; that all we must do is search them out and . . . believe."

The production runs for four days only, starting Thursday, November 17th at 7 p.m., ending Sunday, November 20th, with shows at 2 p.m. and 6 p.m. A Friday morning performance is scheduled to offer a school field trip opportunity. Reserved seats, $12 adults, $9 students, may be booked through the box office 858-481-1055, or the website, www.northcoastrep.org. North Coast Repertory Theatre is located at 987 Lomas Santa Fe Drive Suite D, in Solana Beach.

Theatre School cast and crew include: Kelsey Barnhill, Eilee K. Bissell, Victoria Buchholz, Michael Burton, Shannon Chin-Najmabadi, Julia D'Ambrosi, Natalie Dorosewicz, Rachel Epstein, Sara Epstein, Allison Finn, Jeannette Fox, Meagan Fry, Tyler Hauptman, Melanie Kaplanek, Carina Kolodny, Eva Loeser, Garrett Peterson, Robert Shepard, and Natty Zwail.

The philosophy of the Theatre School includes casting of adult actor/mentors, who teach the thespian students through their inclusion in the rehearsal process. Theatre School graduate Sean McStravick plays the lion Aslan, and Joe Powers plays Father Christmas.

Theatre School Classes, which meet once a week for eight weeks, are open to youth from third grade through high school. The next session begins January 14th. Class descriptions, and complete Theatre School season, for both the Theatre School and the Mainstage shows are posted on the website.