Musical Theatre of Anthem Presents Disney's 101 Dalmatians KIDS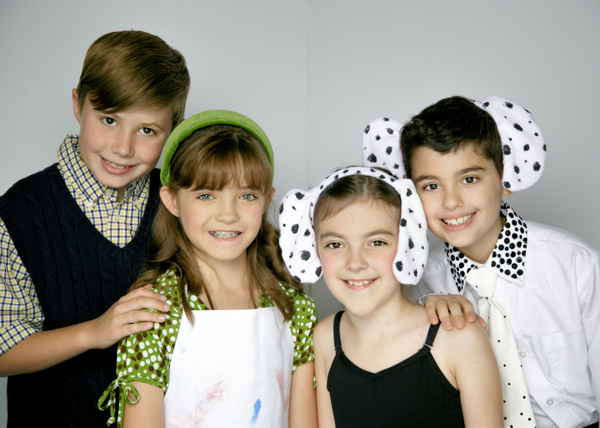 Anthem, Ariz. February 25, 2016 – Musical Theatre of Anthem (MTA) announces their upcoming production of Disney's 101 Dalmatians KIDS, a musical based on the classic animated film. Disney's 101 Dalmation KIDS is a fur-raising adventure featuring Cruella De Vil, Disney's most outrageous villain, and 101 of the most adorable heroes to set their paws onstage. Artistically-inclined pet owners Robert and Anita live happily in London with Dalmatian parents Pongo and Perdita, stalwart dogs devoted to raising their puppies. Everything is quiet until the monstrous Cruella De Vil, Anita's former classmate, plots to steal the puppies for her new fur coat! Join all the dogs of London as they daringly rescue the puppies from Cruella and her bumbling henchmen. With a high-spirited score and lovable characters, this stage adaptation is certain to charm and delight all audiences.
The talented cast, comprised of award winners and nominees ages 6-10, presents the show May 12 - 22 in Anthem. The award-winning production staff includes Director/Choreographer/Stage Manager Sarah Brayer, Vocal Director Jackie Hammond and Assistant Stage Manager Jessica Kishbaugh.
"We are so proud of our wonderful cast," says director and choreographer, Sarah Brayer. "They shine on stage and really make Disney's 101 Dalmatians come to life!"
Performances take place Thursday – Sunday, May 12 – 22, 2016 at Musical Theatre of Anthem, 42323 N. Vision Way, Anthem, AZ 85086. Times vary, so please see website for details. Tickets may be purchased online at www.musicaltheatreofanthem.org. Adult tickets are $19 and Students, Seniors and Children 12 and under are $16.
Disney's 101 Dalmations KIDS is presented through special arrangement with Music Theatre International (MTI). All authorized performance materials are also supplied by MTI. 421 West 54th Street, New York, NY 10019 Phone: (212) 541-4684 Fax: (212) 397-4684 www.MTIShows.com
Photo Credit: Michele Celentano
About MTA
Musical Theatre of Anthem (MTA) is an award-winning, non-profit theater company located in Anthem, Arizona. The mission of MTA is to develop youth and adults within the field of performing arts while enhancing their intrinsic creativity and brokering their vast talents. MTA trains and educates youth so that they can become the artists, patrons, and leaders of tomorrow while providing opportunities to adults that empower them and foster their creativity. MTA's principles include casting all who audition in select productions, presenting high quality shows that everyone can enjoy, and providing a positive environment where performers can practice teamwork and communication skills while experiencing the pride of accomplishment.