Musical Theatre of Anthem Announces 2016-17 Season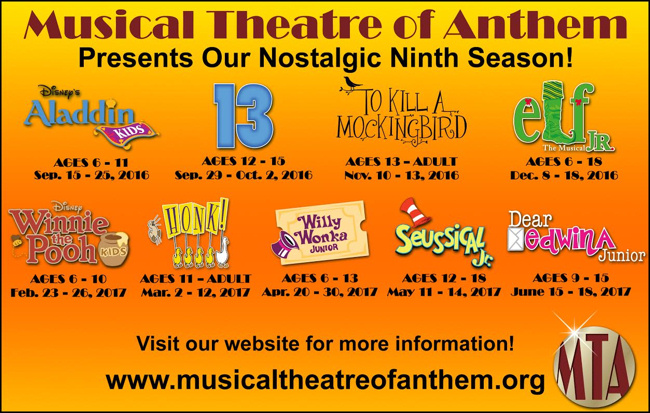 Anthem, Ariz., February 25, 2016 – Musical Theatre of Anthem (MTA) is proud to announce their 2016-2017 Nostalgic 9th Season, bringing back some popular favorites from over the years. MTA will produce nine shows offering tremendous opportunities for performers of all ages, including no-cut productions for performers ages 6-19, as well as the opportunity for adult performers to be cast in the productions of Honk! and To Kill A Mockingbird. "I am really excited about our Nostalgic Ninth Season which includes beloved Disney favorites, Harper Lee's classic, To Kill a Mockingbird, the pop sensation 13 the Musical, the Hans Christian Anderson story of Honk!, the very well-known Willy Wonka Jr. and Elf the Musical Jr., and more!" said Jackie Hammond, MTA's Producing Artistic Director. "There is something for everyone in this incredible season that is sure to delight audience members and provide cast members learning experiences that they will never forget!"
MTA's 2016-17 Season:
Disney's Aladdin KIDS
No-cut production for ages 6-11
Auditions July 30-31, 2016
Show Dates September 15-25, 2016
Welcome to Agrabah, and the Academy Award-winning adventure of the street rat that became a prince! Based on the iconic animated film, with an Academy Award-winning score by Alan Menken, Howard Ashman, and Tim Rice, Disney's Aladdin KIDS is sure to send audiences soaring on a flying carpet ride filled with romance and adventure. When the street urchin Aladdin vies for the attention of the beautiful princess Jasmine, he uses a genie's magic power to become a prince in order to marry her. Iago, Jafar, the Genie, and more are here in Disney's Aladdin KIDS, a musical adventure filled with magic, mayhem, and the power of love.
13 the Musical
No-cut production for ages 12-15
Auditions July 30-31, 2016
Show Dates September 29-October 2, 2016

A hilarious, coming-of-age musical about discovering that "cool" is sometimes where we least expect it. Geek. Poser. Jock. Beauty Queen. Wannabe. These are the labels that can last a lifetime. With an unforgettable rock score from Tony Award-winning composer Jason Robert Brown, (Parade, The Last Five Years, Bridges Of Madison County) 13 is a musical about fitting in - and standing out!
Evan Goldman is plucked from his fast paced, preteen New York City life and plopped into a sleepy Indiana town following his parents divorce. Surrounded by an array of simpleminded middle school students, he needs to establish his place in the popularity pecking order. Can he situate himself on a comfortable link of the food chain or will he dangle at the end with the outcasts?!
The cast is comprised entirely of teenagers, but the stories that come to life here are ageless, the emotions they explore timeless, the laughter and the memories they provide priceless.
To Kill a Mockingbird
Production for ages 13-adult (production fee, if cast, for ages 13-19)
Auditions September 24-25, 2016
Show Dates November 10-13, 2016

It's 1935, and racial tensions are high in Maycomb, Alabama. Nonetheless, young Jean Louise Finch -- or Scout, as she is fondly called -- manages to live a rather carefree, privileged existence, insulated from issues of race. All that changes when Scout watches her father, Atticus Finch, defend an innocent man, Tom Robinson, against a potential death sentence, which looms threateningly against him because of prejudice due to race. Scout begins to realize that just because society portrays something as being true doesn't mean that it actually is fact. With the the help of Atticus, and her older brother Jem, Scout learns that "growing up" often means doing what is right, even when it comes at great cost. To Kill A Mockingbird is now considered an American masterpiece about the power of childhood innocence, morality, and love. However, it is important to note that the author, Harper Lee always defined it as a simple love story.
Elf the Musical Jr.
No-cut production for ages 6-18
Auditions October 22-23, 2016
Show Dates December 8-18, 2016

Based on the beloved holiday film, this hilarious fish-out-of-water comedy follows Buddy the Elf in his quest to find his true identity. Based on the cherished New Line Cinema hit, Elf JR. features songs by Tony Award nominees Matthew Sklar and Chad Beguelin, with a book by Tony Award winners Thomas Meehan and Bob Martin.
Buddy, a young orphan mistakenly crawls into Santa's bag of gifts and is transported to the North Pole. The would-be elf is raised unaware that he is actually a human, until his enormous size and poor toy-making abilities cause him to face the truth. With Santa's permission, Buddy embarks on a journey to New York City to find his birth father and discover his true identity. Faced with the harsh reality that his father is on the naughty list, and his stepbrother doesn't even believe in Santa, Buddy is determined to win over his new family and help New York remember the true meaning of Christmas.

Disney's Winnie the Pooh KIDS
No-cut production for ages 6-10
Auditions January 14-15, 2017
Show Dates February 23-26, 2017

Pooh Bear and all of his friends from the classic children's books and animated film band together to rescue their friend Christopher Robin. Disney's Winnie The Pooh KIDS is a delightful show based on the beloved characters of A.A. Milne and the 2011 Disney animated feature film. Featuring favorite songs from the film as well as new hits by the Academy Award-winning Robert and Kristen Lopez (Frozen), this honey-filled delight is as sweet as it is fun.
Welcome to the Hundred Acre Wood, where Winnie the Pooh is once again in search of honey. Along the way, he meets his pals Tigger, Piglet, Rabbit, and Owl but soon discovers that Christopher Robin has been captured by the mysterious Backson! As they prepare for a rescue operation, the animals learn about teamwork, friendship, and of course…sharing snacks.
Filled with all of their favorite characters, Disney's Winnie The Pooh KIDS is a favorite for children to perform.
Honk!
Ages 11-adult (no-cut for ages 11-19)
Auditions January 14-15, 2017
Show Dates March 2-12, 2017

This delightful adaptation of one of the most beloved fables of all time is a quackingly good time. Since it first hatched in 1993 Stiles & Drewe's musical Honk! has winged its way around the world in over 8000 productions and in many different languages. Winner of multiple awards, including the 2000 Olivier Award for Best Musical, this heart-warming celebration of being different is sure to delight audiences of all ages with its sparkling wit and memorable score.
Ugly looks quite a bit different from his darling duckling brothers and sisters. The other animals on the farm are quick to notice and point this out, despite his mother's protective flapping. Feeling rather foul about himself, the little fowl finds himself on adventure of self discovery all the while unknowingly outwitting a very hungry Cat. Along the way Ugly meets a whole flock of unique characters and finds out being different is not a bad thing to be.
With its bouncing score and universal story, the touching musical with plenty of heart will captivate audiences.
Roald Dahl's Willy Wonka Jr.
No-cut production for ages 6-13
Auditions March 11-12, 2017
Show Dates April 20-30, 2017

Roald Dahl's timeless story of the world-famous candy man and his quest to find an heir is a golden ticket to adventure. The delicious adventures experienced by Charlie Bucket on his visit to Willy Wonka's mysterious chocolate factory light up the stage in this captivating adaptation of Roald Dahl's fantastical tale. Featuring the enchanting songs from the 1971 film starring Gene Wilder in addition to a host of fun new songs, Roald Dahl's Willy Wonka JR. is a scrumdidilyumptious musical guaranteed to delight everyone's sweet tooth.
Roald Dahl's Willy Wonka JR. follows enigmatic candy manufacturer Willy Wonka as he stages a contest by hiding five golden tickets in five of his scrumptious candy bars. Whoever comes up with these tickets will win a free tour of the Wonka factory, as well as a lifetime supply of candy. Four of the five winning children are insufferable brats, but the fifth is a likeable young lad named Charlie Bucket who takes the tour in the company of his equally amiable grandfather. The children must learn to follow Mr. Wonka's rules in the factory--or suffer the consequences.
Seussical Jr.
No-cut production for ages 12-18
Auditions April 1-2, 2017
Show Dates May 11-14, 2017
"Oh, the thinks you can think" when Dr. Seuss' best-loved characters collide and cavort in an unforgettable musical caper! Horton the Elephant, The Cat in the Hat, and all of your favorite Dr. Seuss characters spring to life onstage in Seussical JR., a fantastical musical extravaganza from Tony winners Lynn Ahrens and Stephen Flaherty.
Transporting audiences from the Jungle of Nool to the Circus McGurkus, the Cat in the Hat narrates the story of Horton the Elephant who discovers a speck of dust containing tiny people called the Whos. Horton must he protect the Whos from a world of naysayers and dangers, and he must also guard an abandoned egg that's been left in his care by the irresponsible Mayzie La Bird. Although Horton faces ridicule, danger and a trial, the intrepid Gertrude McFuzz never loses faith in him. Ultimately, the powers of friendship, loyalty, family, and community are challenged and emerge triumphant!
Dear Edwina Jr.
No-cut production for ages 9-15
Auditions June 5, 2017
Show Dates June 15-18, 2017

13 year-old problem solver Edwina dishes out advice with the help of her friends and a little song and dance. Dear Edwina JR. is a heartwarming musical about the joys of growing up, from the creators of Junie B. Jones, The Musical. Written in a "show-within-a-show" format, Dear Edwina JR. is the perfect "girl power" musical (with plenty of boy roles, too!) for a new generation.
Dear Edwina JR. follows the adventures of plucky advice-giver extraordinaire Edwina Spoonapple as she directs the neighborhood kids in a series of buoyant production numbers for the latest edition of her weekly "Advice-A-Palooza." Edwina and her friends share wisdom on everything from trying new foods to making new friends through clever, catchy and poignant songs.
In addition to the eight shows next season, MTA will continue to offer audition preparation workshops, tap, ballet, vocal, and acting classes, and a full summer program. MTA also offers MTA Minis, six week sessions for ages 3-5 with themes such as Disney and Broadway. For more information about MTA's upcoming events including auditions, workshops, and performances, please visit www.musicaltheatreofanthem.org.
All shows take place at MTA's theatre at 42323 N. Vision Way, Anthem, AZ 85086. Reserved seating tickets may be purchased online at www.musicaltheatreofanthem.org. Tickets for most shows are $19 General Admission and $16 for Students, Seniors and Children 12 and under.
About MTA
Musical Theatre of Anthem (MTA) is an award-winning, non-profit theater company located in Anthem, Arizona. The mission of MTA is to develop youth and adults within the field of performing arts while enhancing their intrinsic creativity and brokering their vast talents. MTA trains and educates youth so that they can become the artists, patrons, and leaders of tomorrow while providing opportunities to adults that empower them and foster their creativity. MTA's principles include casting all who audition in select productions, presenting high quality shows that everyone can enjoy, and providing a positive environment where performers can practice teamwork and communication skills while experiencing the pride of accomplishment. Supported in part by the Arizona Commission on the Arts which receives support from the State of Arizona and the National Endowment for the Arts.