Musical Theatre of Anthem Presents Annie Jr.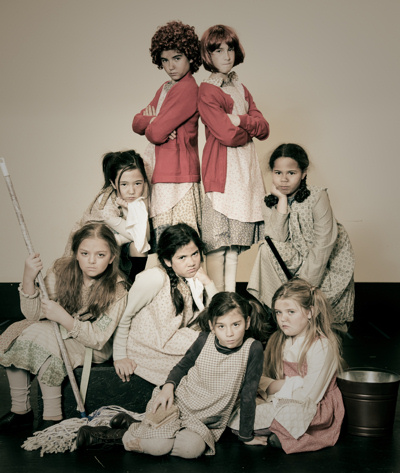 Anthem, Ariz. – Musical Theatre of Anthem (MTA) announces their upcoming production of Annie Jr. A musical based on the Tony® Award winning Broadway play and winner of seven TONY Awards, including Best Musical, Annie Jr. features some of the greatest musical theatre hits ever written, including "Tomorrow." With equal measures of pluck and positivity, little orphan Annie charms everyone's hearts despite a next-to-nothing start in 1930s New York City. Determined to find her parents after being abandoned years ago on the doorstep of the New York City Orphanage run by the cruel, embittered Miss Hannigan, Annie escapes to the wondrous world of NYC, foils Miss Hannigan's evil machinations, befriends President Franklin Delano Roosevelt and eventually finds a new home and family in billionaire Oliver Warbucks, his personal secretary Grace Farrell, and a lovable mutt named Sandy.
The talented cast, comprised of award winners and nominees ages 6-14, presents the show December 3-13 in Anthem. The award-winning production staff includes director and choreographer Sherry Henderson, vocal director Jackie Hammond, assistant choreographer Lyndsie Clymer, stage manager Sarah Brayer and assistant stage manager Jessica Kishbaugh.
"'You're Never Fully Dressed Without a Smile', 'Tomorrow is Just a Day Away' , and 'The Sun WILL Come Out Tomorrow' - these lyrics from the musical Annie Jr. are why this show just makes people feel good," said Sherry Henderson, director and choreographer. " I 'Bet your bottom dollar' that you will love it!"
Performances take place Thursday – Sunday, December 3 - 6 and 10 - 13 at Musical Theatre of Anthem, 42323 N. Vision Way, Anthem, AZ 85086. Times vary, see website for details. Tickets may be purchased online at www.musicaltheatreofanthem.org. Adult tickets are $19 and Students, Seniors and Children 12 and under are $16.
Annie Jr. is presented through special arrangement with Music Theatre International (MTI). All authorized performance materials are also supplied by MTI. 421 West 54th Street, New York, NY 10019 Phone: (212) 541-4684 Fax: (212) 397-4684 www.MTIShows.com.
Photo by Michele Celentano
About MTA
Musical Theatre of Anthem (MTA) is an award-winning, non-profit theater company located in Anthem, Arizona. The mission of MTA is to develop youth and adults within the field of performing arts while enhancing their intrinsic creativity and brokering their vast talents. MTA trains and educates youth so that they can become the artists, patrons, and leaders of tomorrow while providing opportunities to adults that empower them and foster their creativity. MTA's principles include casting all who audition in select productions, presenting high quality shows that everyone can enjoy, and providing a positive environment where performers can practice teamwork and communication skills while experiencing the pride of accomplishment.