Musical Theatre of Anthem Presents SHREK THE MUSICAL JR.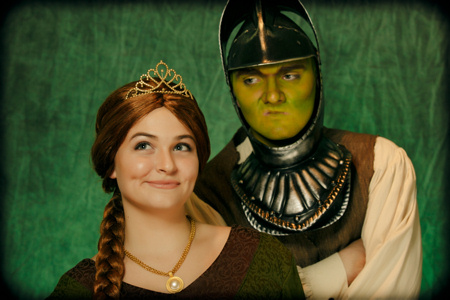 Anthem, Ariz. August 10, 2015 – Musical Theatre of Anthem (MTA) announces the opening of their 2015-2016 season with performances for their upcoming musical production Shrek the Musical Jr. It's a "big bright beautiful world" for everyone's favorite ogre in Shrek The Musical Jr., based on the Oscar-winning DreamWorks Animation film. Featuring a host of over-the-top roles for an expandable cast, there's a part for everyone in this dazzling adventure story. In a faraway kingdom, the green ogre Shrek finds his swamp invaded by banished fairytale misfits, runaways who've been cast off by Lord Farquaad, a tiny terror with big ambitions. This fairy tale wouldn't be complete without unexpected twists and turns along the way. Part romance and part twisted fairy tale, Shrek The Musical Jr. is an irreverently fun show for the whole family.
The talented cast, comprised of both ariZoni and NYA award winners and nominees, ages 6 – 18, presents the show September 24 - October 4 in Anthem. The award-winning production staff includes Director Cydney Trent, Choreographer Shawna Weitekamp, Vocal Director Karen Blanzy and Assistant Choreographer Lyndsie Clymer.
"Working with MTA has been a light in my life," said Trent. "Watching these kids grow, have fun and build confidence is inspiring. Shrek, Jr, while being one of the most hysterical and well written pieces of theatre, also carries one of my favorite messages for kids and adults of all ages…'true beauty comes from within'."
Performances take place Thursdays – Sundays, September 24 – October 4 at Musical Theatre of Anthem, 42323 N. Vision Way, Anthem, AZ 85086. Times vary, see website for details. Tickets may be purchased online at www.musicaltheatreofanthem.org. Adult tickets are $19 and Students, Seniors and Children 12 and under are $16.
Shrek The Musical Jr. is presented through special arrangement with Music Theatre International (MTI). All authorized performance materials are also supplied by MTI. 421 West 54th Street, New York, NY 10019 Phone: (212) 541-4684 Fax: (212) 397-4684 www.MTIShows.com
About MTA
Musical Theatre of Anthem (MTA) is an award-winning, non-profit theater company located in Anthem, Arizona. The mission of MTA is to develop youth and adults within the field of performing arts while enhancing their intrinsic creativity and brokering their vast talents. MTA trains and educates youth so that they can become the artists, patrons, and leaders of tomorrow while providing opportunities to adults that empower them and foster their creativity. MTA's principles include casting all who audition in select productions, presenting high quality shows that everyone can enjoy, and providing a positive environment where performers can practice teamwork and communication skills while experiencing the pride of accomplishment.

Supported in part by the Arizona Commission on the Arts which receives support from the State of Arizona and the National Endowment for the Arts.