Musical Theatre of Anthem Presents Wizard of Oz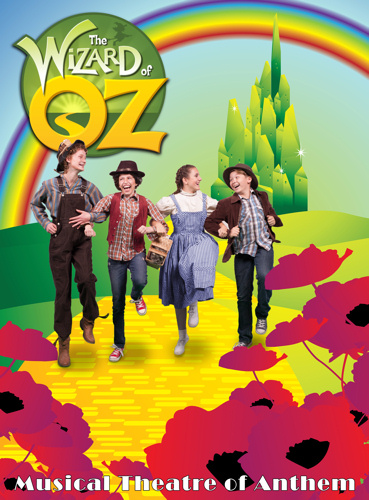 Anthem, Ariz. April 1, 2015 – Musical Theatre of Anthem (MTA) announces performances for their upcoming musical production Wizard of Oz, one of the most popular stories of all time. Little Dorothy Gale of Kansas, like so many girls her age, dreams of what lies over the rainbow. One day a twister hits her farm and carries her away over the rainbow to another world. Come join Dorothy, the Scarecrow, the Tinman, the Cowardly Lion and Toto as they travel the universe of Dorothy's imagination.
Follow the yellow brick road with the cast of 6-13 year olds as they present the show April 30 – May 17 in Anthem. The show is double-cast, with each cast of 50 performing eight shows. The Zoni and NYA award-winning production staff includes Co-Directors Lynzee Foreman and Sarah Brayer, Co-Vocal Directors Karen Blanzy and Ginette Rossi, Choreographer Sherry Henderson, and Live Accompanist Karen Blanzy.
"I am so excited to be working on my first show at Music Theatre of Anthem and with such an amazing, talented cast," said Foreman. "Wizard of Oz is one of my all-time favorite stories, and the audience can expect the classic version of this timeless story, with a few new modern twists. Be ready to be swept off your feet!!"
Performances take place Thursdays – Sundays, April 30 – May 17 at Musical Theatre of Anthem, 42323 N. Vision Way, Anthem, AZ 85086. Times vary, see website for details. Tickets may be purchased online at www.musicaltheatreofanthem.org. Adult tickets are $19 and Students, Seniors and Children 12 and under are $16.
The Wizard of Oz is produced by arrangement with, and the music and dialogue material furnished by TAMS-WITMARK MUSIC LIBRARY, INC., 560 Lexington Ave., New York, NY 10022.
Photo: MTA presents
Wizard of Oz
April 30 - May 17. (L-R): Erin Burgard, Ava Siegel, Savannah Foy and Brody Wurr.
Photo courtesy of Wade Moran.
About MTA
Musical Theatre of Anthem (MTA) is an award-winning, non-profit theater company located in Anthem, Arizona. The mission of MTA is to develop youth and adults within the field of performing arts while enhancing their intrinsic creativity and brokering their vast talents. MTA trains and educates youth so that they can become the artists, patrons, and leaders of tomorrow while providing opportunities to adults that empower them and foster their creativity. MTA's principles include casting all who audition in select productions, presenting high quality shows that everyone can enjoy, and providing a positive environment where performers can practice teamwork and communication skills while experiencing the pride of accomplishment.

Supported in part by the Arizona Commission on the Arts which receives support from the State of Arizona and the National Endowment for the Arts.