Disney's Aristocats KIDS
Presented by Musical Theatre of Anthem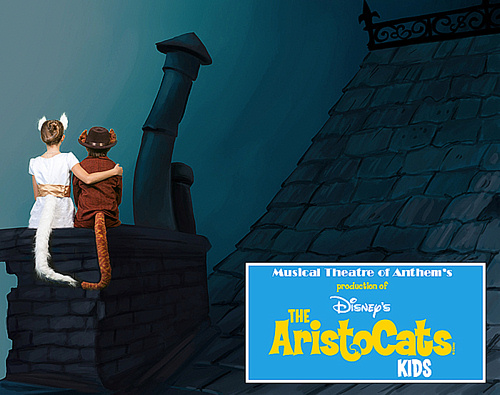 Anthem, Ariz. April 18, 2014 – Musical Theatre of Anthem (MTA) announces performances for the musical production, Disney's Aristocats KIDS, based on the popular Disney film. When Madame's jealous butler Edgar cat-naps Duchess and her Aristokittens and abandons them in the Parisian countryside, what's a cat to do? Luckily, Thomas O'Malley and his rag-tag bunch of alley cats come to their rescue! Fun for the whole family, this feline adventure is sure to get your feet tapping with the hip, jazzy Disney favorites "The Aristocats," "Scales and Arpeggios" and "Ev'rybody Wants to Be a Cat."
Presented by a cast of area youth, the show is directed and choreographed by Zoni-winner Sherry Henderson, and vocal directed by Ginette Rossi. Performances take place May 15 - 18 at Musical Theatre of Anthem, 42323 N. Vision Way, Anthem, AZ 85086. For show times and tickets, go to www.musicaltheatreofanthem.org. Adult tickets are $18 and Students, Seniors and Children 12 and under are $15.
Photo courtesy of David Powell Photography
About MTA
Musical Theatre of Anthem (MTA) is an award-winning, non-profit theater company located in Anthem, Arizona. The mission of MTA is to develop youth and adults within the field of performing arts while enhancing their intrinsic creativity and brokering their vast talents. MTA trains and educates youth so that they can become the artists, patrons, and leaders of tomorrow while providing opportunities to adults that empower them and foster their creativity. MTA's principles include casting all who audition in select productions, presenting high quality shows that everyone can enjoy, and providing a positive environment where performers can practice teamwork and communication skills while experiencing the pride of accomplishment.