Musical Theatre of Anthem Announces Performances for 42nd Street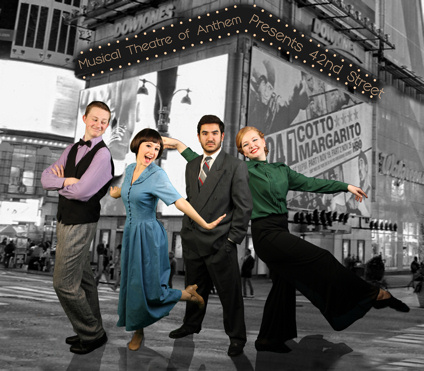 Anthem, Ariz. February 1, 2014 – Musical Theatre of Anthem (MTA) announces performances for one of the most beloved musicals of all time, 42nd Street, the story of hard work, being in the right place at the right time, talent and love. A talented cast ages 13 and up will tap their way into your hearts as they present this celebration of Broadway and the people involved in shows, Feb. 27 – March 2. Musical hits include You're Getting to Be a Habit with Me, Dames, I Know Now, We're In the Money, Lullaby of Broadway, Shuffle Off to Buffalo and of course, the title song Forty-Second Street.
"I have been waiting to produce 42nd Street for the past six years, and am elated to be able to bring it to our community," said Jackie Hammond, MTA's Producing Artistic Director. "It is sure to knock your socks off and amaze you with the level of professionalism and quality executed in this production!" The award-winning production staff includes co-directors Laura O'Meara and Sherry Henderson, choreographer Sherry Henderson, music director and conductor Joe Bousard, and vocal director David Simmons.
Performances take place on February 27, 28 and March 1 at 7:00 p.m. and March 1 and 2 at 3:00 p.m. at MTA's theatre performance space at 42323 N. Vision Way, Anthem, AZ 85086. Tickets may be purchased online at www.musicaltheatreofanthem.org. Adult tickets are $18 and Students, Seniors and Children 12 and under are $15.
Photo Caption: (L-R): Cody Seaver as Billy Lawlor, Taylor Ellsworth as Peggy Sawyer, Alex Martinez as Julian Marsh, and Ann Emilie Tjorhom as Dorothy Brock in Musical Theatre of Anthem's production of 42nd Street, running Feb. 27 - March 2 in Anthem. Photo courtesy of Barbara Stitzer Photography.
About MTA
Musical Theatre of Anthem (MTA) is an award-winning, non-profit theater company located in Anthem, Arizona. The mission of MTA is to develop youth and adults within the field of performing arts while enhancing their intrinsic creativity and brokering their vast talents. MTA trains and educates youth so that they can become the artists, patrons, and leaders of tomorrow while providing opportunities to adults that empower them and foster their creativity. MTA's principles include casting all who audition in select productions, presenting high quality shows that everyone can enjoy, and providing a positive environment where performers can practice teamwork and communication skills while experiencing the pride of accomplishment.