Musical Theatre of Anthem Presents Family Musical Freckleface Strawberry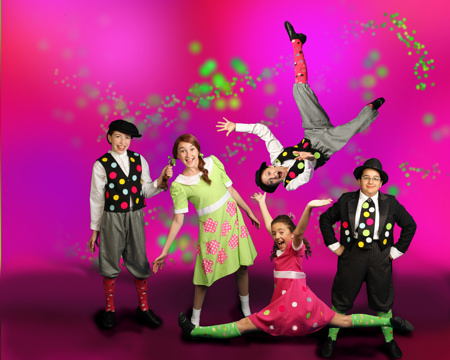 Anthem, Ariz. January 15, 2014 – Musical Theatre of Anthem (MTA) brings to stage the brand new family musical Freckleface Strawberry, based on the beloved New York Times Best Selling book by celebrated actress Julianne Moore. Presented February 20 – 23 in Anthem, the talented cast brings you inside the book's pages with Freckleface and friends as they learn to love the skin they're in.
"Freckleface Strawberry is a funny, witty, and upbeat production that audiences of all ages will enjoy! The cast features very talented 10-12 year olds who will be sure to impress you with their musical theatre abilities," said Jackie Hammond, MTA's Producing Artistic Director. The production staff includes award-winning Director and Choreographer Shawna Weitekamp, and Vocal Director and Assistant Director Ginette Rossi.
Freckleface Strawberry was just like every other girl – except she had bright red hair and something worse…FRECKLES! With the help of her loveable schoolmates including an amazingly talented ballerina, a cutie jock, a charming ditz, and a totally kooky teacher, Freckleface learns that everyone is different - and that's what makes everyone special. With soaring music, awesome dancing, and a freckleface full of laughs, your whole family will love this brand new musical for all ages...freckles or not!
Performances take place on February 20, 21 and 22 at 7:00 p.m. and Feb. 22 and 23 at 3:00 p.m. at MTA's theatre performance space at 42323 N. Vision Way, Anthem, AZ 85086. Tickets may be purchased online at www.musicaltheatreofanthem.org. Adult tickets are $18 and Students, Seniors and Children 12 and under are $15.
Photo courtesy of Barbara Stitzer Photography.
About MTA
Musical Theatre of Anthem (MTA) is an award-winning, non-profit theater company located in Anthem, Arizona. The mission of MTA is to develop youth and adults within the field of performing arts while enhancing their intrinsic creativity and brokering their vast talents. MTA trains and educates youth so that they can become the artists, patrons, and leaders of tomorrow while providing opportunities to adults that empower them and foster their creativity. MTA's principles include casting all who audition in select productions, presenting high quality shows that everyone can enjoy, and providing a positive environment where performers can practice teamwork and communication skills while experiencing the pride of accomplishment.