Musical Theatre of Anthem Presents Broken Paths, an Original Youth Drama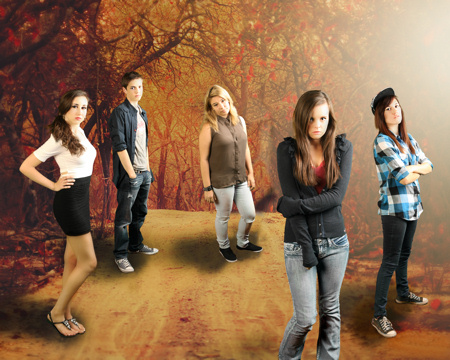 Anthem, Ariz. October 1, 2013 – Musical Theatre of Anthem (MTA) announces performances for their upcoming play, Broken Paths, a new original youth drama that follows several lives and the paths they take. This touching and gripping show looks into the world of our young people and their journey through life. The cast of 13-19 year olds, comprised of both ariZoni and NYA award winners and nominees, presents the show Nov. 14-17 in Anthem.
The show is written and directed by Jim Gradillas, an ariZoni award-winning playwright and director, co-written and assistant directed by Michelle Marie. "When I write these teenage dramas, I always ask myself, "Remember how you felt when you were an adolescent?" That helps me understand what teenagers are going through now, because I've been there," said Gradillas. "Which path in life did you choose: Did you pick the right one? Did you learn from the wrong roads? Today's teens face many of the same issues that have plagued teens of all generations. Along with my writing partner, Michelle Marie, we always want to write a realistic, creative way of telling teenage stories. We thought it might be interesting to have "inner demons" following the characters throughout the play, altering their decisions and testing their strength. Our hope is that adults and teenagers can take away many lessons from this play about their journey through life."
Performances take place on November 14 at 7:00, Nov. 15 at 8:00, Nov. 16 at 3:00 and 5:00, and Nov. 17 at 1:00 and 4:00 at MTA's theatre at 42323 N. Vision Way, Bldg. 2, Anthem, AZ 85086. Tickets may be purchased online at www.musicaltheatreofanthem.org. Adult tickets are $18 and Students, Seniors and Children 12 and under are $15.
Photo courtesy of Barbara Stitzer Photography
About MTA
Musical Theatre of Anthem (MTA) is an award-winning, non-profit theater company located in Anthem, Arizona. The mission of MTA is to develop youth and adults within the field of performing arts while enhancing their intrinsic creativity and brokering their vast talents. MTA trains and educates youth so that they can become the artists, patrons, and leaders of tomorrow while providing opportunities to adults that empower them and foster their creativity. MTA's principles include casting all who audition in select productions, presenting high quality shows that everyone can enjoy, and providing a positive environment where performers can practice teamwork and communication skills while experiencing the pride of accomplishment.