Musical Theatre of Anthem Presents Original Musical Oro and Leona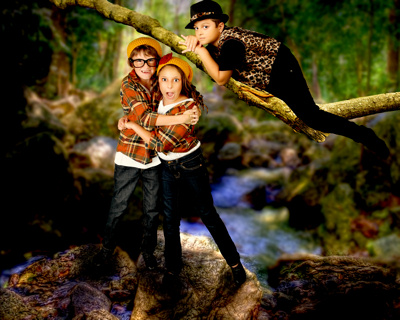 Anthem, Ariz. September 2, 2013 – Musical Theatre of Anthem (MTA) announces performances for the original musical Oro and Leona, the heartwarming story of two golden lion tamarin monkeys, who are separated from the rest of their family and must learn to survive on their own in the Amazon rainforest. A talented cast of 47 area youth, ages 6-9, presents the show October 3 - 6 in Anthem. The music is sure to transport you to the tropical rain forest with its jungle feel like The Lion King and Tarzan.
The show is directed and vocal directed by Terri Scullin and choreographed by Sarah Brayer. "Oro and Leona is an original musical written by myself and my friend Adam Vargas," said Scullin. "In addition to writing an entertaining show with good music, we also wanted the musical to contain several different lessons that we hope will resonate with our performers and our audiences. Issues ranging from taking care of the environment to learning how to be independent, we hope the show will spark conversations between parents and their kids."
When two golden lion tamarin monkeys, a brother and sister named Oro and Leona, are separated from the rest of their close knit family, they must learn quickly how to survive on their own in the Amazon rainforest. As they try to find their way back home they encounter many other rainforest creatures: poison dart frogs, hyacinth macaws, sloths and even a jaguar. Each group of animals shares their own unique perspective on life in the rainforest and valuable lessons that help the pair along their journey.
Performances take place October 3 and 4 at 7:00 p.m., October 5 at 3:00, 5:00 and 7:00 p.m., and October 6 at 1:00 and 3:00 p.m. at MTA's theater, 42323 N. Vision Way, Bldg. 2, Anthem, AZ 85086. Tickets may be purchased online at www.musicaltheatreofanthem.org. Adult tickets are $18 and Students, Seniors and Children 12 and under are $15.
Photo (L-R): Christopher Poulios - Oro, Tenley Stitzer - Leona, and TJ Rossi - Jaguar
Photo courtesy of Barbara Stitzer Photography.
About MTA
Musical Theatre of Anthem (MTA) is an award-winning, non-profit theater company located in Anthem, Arizona. The mission of MTA is to develop youth and adults within the field of performing arts while enhancing their intrinsic creativity and brokering their vast talents. MTA trains and educates youth so that they can become the artists, patrons, and leaders of tomorrow while providing opportunities to adults that empower them and foster their creativity. MTA's principles include casting all who audition in select productions, presenting high quality shows that everyone can enjoy, and providing a positive environment where performers can practice teamwork and communication skills while experiencing the pride of accomplishment.