Musical Theatre of Anthem Presents Little Shop of Horrors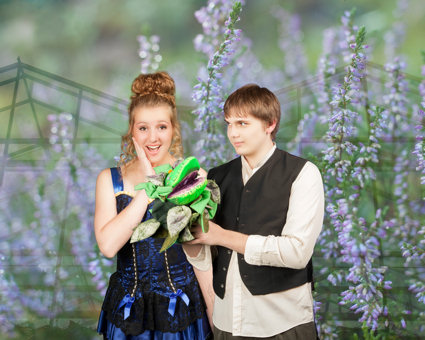 Anthem, Ariz. February 1, 2013 – Musical Theatre of Anthem (MTA) announces performances for the charming, tuneful and hilarious Little Shop of Horrors February 28 – March 10. One of the longest-running Off-Broadway shows of all time, this affectionate spoof of 1950s sci-fi movies has become a household name. With great music and intriguing characters, Little Shop never fails to entertain.
The award-winning cast is comprised of 25 Valley youth, ages 13-19. The production staff includes director Keith Huff, vocal director Cris Wo, and ariZoni-winning choreographer Shawna Weitekamp.
The show features a down-and out skid row floral assistant who becomes an overnight sensation when he discovers an exotic plant with a mysterious craving for fresh blood. Soon "Audrey II" grows into an ill-tempered, foul-mouthed, R&B-singing carnivore who offers him fame and fortune in exchange for feeding its growing appetite, finally revealing itself to be an alien creature poised for global domination!

The music, composed by Alan Menken in the style of early 1960s rock and roll, doo-wop and early Motown, includes several well-known tunes, including the title song, "Skid Row (Downtown)", "Somewhere That's Green", and "Suddenly, Seymour".
Performances take place February 28 and March 1, 2, 7, 8 and 9 at 7:00 p.m., and March 2, 3, 9 and 10 at 3:00 at MTA's performance space, 42323 N. Vision Way, Bldg. 2, Anthem, AZ 85086. Tickets may be purchased online at www.musicaltheatreofanthem.org. Adult tickets are $18 and Students, Seniors and Children 12 and under are $15.
Photo courtesy of Barbara Stitzer.
About MTA
Musical Theatre of Anthem (MTA) is an award-winning, non-profit theater company located in Anthem, Arizona. The mission of MTA is to develop youth and adults within the field of performing arts while enhancing their intrinsic creativity and brokering their vast talents. MTA trains and educates youth so that they can become the artists, patrons, and leaders of tomorrow while providing opportunities to adults that empower them and foster their creativity. MTA's principles include casting all who audition in select productions, presenting high quality shows that everyone can enjoy, and providing a positive environment where performers can practice teamwork and communication skills while experiencing the pride of accomplishment.