Musical Theatre of Anthem Presents Flat Stanley Jr.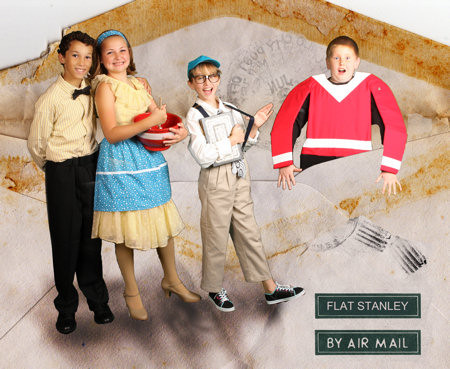 Anthem, Ariz. September 5, 2012 – Musical Theatre of Anthem (MTA) announces their upcoming musical production of The Musical Adventures of Flat Stanley Jr., which is based on the beloved children's book that has become a literary and pop cultural phenomenon. The award-winning cast of 24 area youth, ages 10-12, presents the show October 11 – 21 in Anthem.
"Flat Stanley Jr. is an upbeat, fun-loving show that will keep you entertained from beginning to end," said Jackie Hammond, MTA's Producing Artistic Director and Flat Stanley co-director and vocal director. "Most people are familiar with the book series, but the songs truly enhance Stanley's exciting adventure!" Sherry Henderson is also co-director and choreographer of the show.
Performances take place October 11-13 and 18-20 at 7:00 p.m. and October 13, 14, 20 and 21 at 3:00 p.m. at MTA's new performance space, 42323 N. Vision Way, Bldg. 2, Anthem, AZ 85086. Tickets may be purchased online at www.musicaltheatreofanthem.org. Adult tickets are $18 and Students, Seniors and Children 12 and under are $15.
In The Musical Adventures of Flat Stanley Jr., Stanley Lambchop is your ordinary, everyday, run-of-the-mill ten-year-old: normal mom and dad, normal little brother, normal life. That's just the problem...for Stanley, life is too normal. He wants to travel the world, do something amazing, something no one's ever seen before. Careful what you wish for, Stanley! Whether he's thwarting a robbery at the Louvre Museum in Paris, or 'hanging ten' off the coast of Hawaii, Stanley is closing in on his goal of being a three-dimensional boy once more.
About MTA
Musical Theatre of Anthem (MTA) is an award-winning, non-profit theater company located in Anthem, Arizona. The mission of MTA is to develop youth and adults within the field of performing arts while enhancing their intrinsic creativity and brokering their vast talents. MTA trains and educates youth so that they can become the artists, patrons, and leaders of tomorrow while providing opportunities to adults that empower them and foster their creativity. MTA's principles include casting all who audition in select productions, presenting high quality shows that everyone can enjoy, and providing a positive environment where performers can practice teamwork and communication skills while experiencing the pride of accomplishment.