Musical Theatre of Anthem Announces Performances for Peter Pan!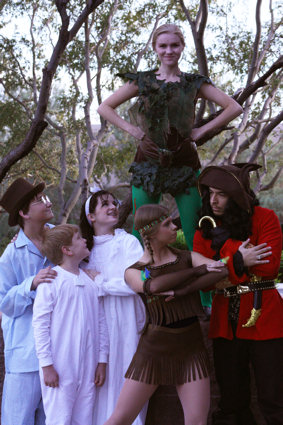 Anthem, Ariz. November 15th, 2010 – Musical Theatre of Anthem (MTA) announces performances for Peter Pan, one of the world's most celebrated musicals. Here is all the charm of J.M. Barrie's Peter Pan, Tinker Bell, the children Wendy, Michael and John, Pirates and Indians, embellished with show-stopping songs, "Never Never Land," "I Won't Grow Up" and "I'm Flying." Come join MTA in Neverland where cast members will go flying through the air with ZFX, Inc., one of the top flying companies in the entire world with offices on two continents. ZFX, Inc. flies over 400 productions annually and has flown Cathy Rigby, as well as other celebrities.
This show includes an extremely talented cast of almost 100 children and adults, many of whom have received distinguished awards for their talents. "I couldn't be more pleased with this terrific cast and truly wonderful production staff," states Jackie Hammond, Producing Artistic Director and Vocal Director. "We look forward to making this the biggest and best show the North Valley has ever seen."
Performances will be held on January 14-15, 20-22 at 7:00 p.m. and January 15, 22-23 at 3:00 p.m. at Boulder Creek High School's Performing Arts Center (Main Auditorium), 40404 N. Gavilan Peak Pkwy, Anthem, AZ 85086. Tickets prices are $18 for Adults and $15 for Students, Seniors, and Children 12 and under. SPECIAL ONLINE DISCOUNT of 15% off with the code "Tinkerbell."
MTA consistently sells out their shows, so get your tickets online now - www.musicaltheatreofanthem.org
About MTA
Musical Theatre of Anthem (MTA) is an award-winning, non-profit theater company located in Anthem, Arizona. The mission of MTA is to develop youth and adults within the field of performing arts while enhancing their intrinsic creativity and brokering their vast talents. MTA trains and educates youth so that they can become the artists, patrons, and leaders of tomorrow while providing opportunities to adults that empower them and foster their creativity. MTA's principles include casting all who audition in select productions, presenting high quality shows that everyone can enjoy, and providing a positive environment where performers can practice teamwork and communication skills while experiencing the pride of accomplishment.