Marcos de Niza High School brings
'Broadway to Your Doorstep'
with the high-energy modern musical event!
FOOTLOOSE
Wednesday, March 4 –
Saturday March 7, 2015 at 7:00pm
Marcos de Niza High School Theatre.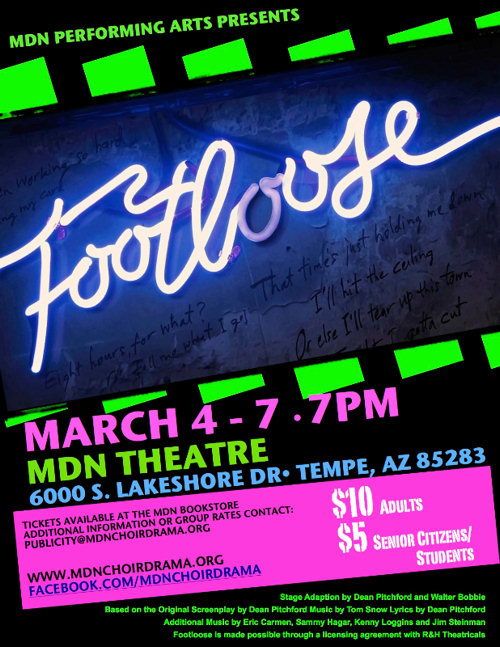 Tempe, Arizona – January 25, 2015 - Marcos de Niza High School Performing Arts Department presents the feel good modern musical event "FOOTLOOSE". The Performing Arts Department will continue the tradition of presenting the most spectacular musicals in the East Valley. FOOTLOOSE will prove to be of the same caliber as our previous shows: Cinderella, You're a Good Man Charlie Brown, Guys and Dolls and the National Youth Arts Award winning 42nd Street and Little Shop of Horrors. This production of FOOTLOOSE has over 60 performers cast from a wonderful selection of the best thespians Marcos de Niza High School has to offer. This fast paced, feel good musical theatre experience is sure to have you 'Holding On for Hero' and 'cutting loose'
FOOTLOOSE will be presented Wednesday, March 4th – Saturday, March 7th with all performances beginning at 7:oopm. Tickets are $5.00 for Students/Senior Citizens and $10.00 for Adults. For additional information and additional media requests contact Donna Petersen Publicity Director at publicity@mdnchoirdrama.org or 602-578-0764.
FOOTLOOSE
Wednesday, March 4 through Saturday, March 7, 2015
All performances are at 7:00 p.m.
Advance purchase tickets are available through the Marcos Bookstore (480) 838-3200 ext. 47640 or at box office 30 minutes prior to performance times
$10 Adults and $5 Senior Citizens/Students